Fine Motor Activities

Fine motor activities are essential to help your child develop the fine motor skills needed for good handwriting.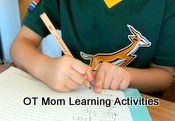 Why Use Fine Motor Activities?

Using fun activities will give your child a sense of achievement while helping to develop essential handwriting skills.
Kids with poor fine motor skills often dread paper-and-pencil activities... don't worry, there is not a pencil or a crayon in sight for most of these fun learning activities!
So let your child improve fine motor skills without forcing the use of a pencil, and you may see some improvement in handwriting ability.
Click on the quick links below to see the range of pages on my site, each containing photographed activities and/or helpful information.

Hands, Fingers and Wrists

Scissor Skills And Playdough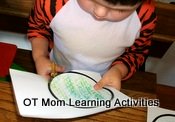 Some Questions Answered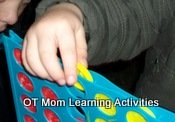 Helpful Tips

What if your child hates writing, and has developed a real attitude problem to pencil-and-paper tasks? This can make life really difficult, especially if practice is needed at forming letters and numbers.
Here are some tips that come from advice that I have given to many moms over the years - try them and see if they help you!
If you want to have all of my fine motor activities, articles and tips in a printable, easily accessible format, with bonus activities and features, check out my Fine Motor Activities E-book!

Thank you for visiting my site! I hope you found it helpful!

Please sign up for my free newsletter to receive occasional updates when I post new activities and articles.

Home › Fine Motor Activities
Was this page helpful?
Please like my page and let your friends know!
Didn't find what you were looking for? Then do a search on my site!