Scissor Cutting...
How To Help Your Child!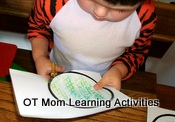 Scissor cutting is essential in many kindergarten activities, but many people don't realise that cutting with scissors is considered to be a pre-handwriting skill.

Why?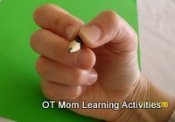 Because, correctly done, it provides the child with lots of practice in using the tripod fingers together – ie the thumb, forefinger and middle finger. Have a look at this pic of a mature pencil grip and you can see how these tripod fingers are working well together to control the pencil.
Scissor cutting, with a proper scissor grasp, will give these fingers lots of practice in working together, and will strengthen your child's hand muscles. This will help to improve fine motor skills and to develop the correct pencil grasp for good handwriting.
How scissor cutting skills develop:
"Cutting out" involves two completely separate skills:
learning to use scissors... and then...
learning how to cut out on a line
It is best to teach these skills separately!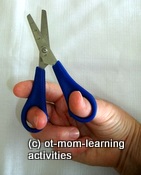 Very Important!
Make sure that the scissors are held in the right way – with the thumb through one hole and the middle finger through the other hole, and the index finger resting on the outside of the scissors. If the child's fingers are very small, it is acceptable to put the index and middle fingers through the same hole.
What about my left-handed child?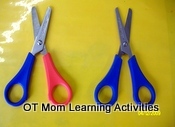 Left-handed children should always cut with their left hand, using left-handed scissors.
This is important as it helps them to make their dominant hand strong and specialised. Left handed scissors are vital to enabling them to cut successfully.
So-called "ambidextrous scissors" are a marketing ploy – it is not the comfort of the handles that makes a difference, it is the way the blades are fixed. Look at the picture above: the scissors on the left are for left-handers, and you can see how the blades differ from those on the right-handed scissors.
For more information about left-handed scissors and other left-handed products, visit this lovely site designed especially to help left-handers.
Learning to use scissors:
| | |
| --- | --- |
| | If your child has an aversion to using scissors (from previous negative experiences), try rolling out playdough sausages/worms and then snip them to make "peas" "sweets" etc. |
| | Cut narrow (1.5cm) strips of coloured paper for your child to snip across the width. This is easy to do, as the scissors only need to open and close once to be successful. This is a good way to learn the grasp-release motion of scissor cutting. Use the snipped paper in a collage. |
| | This child is cutting slightly wider strips of paper, abt 4cm wide. The scissors need to close twice in order to cut the strip. |
Learning to cut out on a line:
The shape suggestions below can be used in various
cutting activities
.
| | |
| --- | --- |
| | Begin with cutting out on thick straight lines. These can be colored before cutting and used creatively to make flowers and paper chains. |
| | Make sure that your child does not start on the line closest to the "holding hand" as shown here. Always start on the line furthest from the "holding hand", as seen by the correct photo above. |
| | Next, progress to cutting out circles. You may need to sit behind your child to guide the "holding hand" in moving the paper steadily while cutting. After you do this together a few times, your child will soon get the hang of it. |
| | Watch out that your child does not cut in the wrong direction around the circle! |
| | Next, move on to simple shapes such as squares and triangles. |
Once your child has mastered scissor cutting, and is able to cut around the corners on simple shapes, progress to more complex shapes, like a star. Or use store flyers and ask your child to choose items for a shopping list (real or wish-list). Initially trace around the items with black koki, making a simple outline to cut on. Later let your child try cutting it out without a guiding outline.
Do you want some ideas of things to make with lines, circles and simple shapes? Try these fun cutting activities with detailed instructions to make your life easier. Your child will love the flop-proof end product and will gain confidence in scissor cutting.
Did you find this advice on scissor cutting helpful? Return to
Fine Motor Activities for some more valuable insights.

Return to Home Page of OT Mom Learning Activities