What Are Fine Motor Skills?
You have probably heard about fine motor skills from your child's teacher, or through a child development book.
But what exactly are these skills and why are they important?
Fine motor control generally refers to control over the small movements of the hands and fingers, as well as the small muscles of the face and mouth (tongue) and feet. However, the focus is usually on developing the skills of the small muscles in the hands.
Why Are Fine Motor Skills So Important?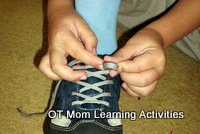 In the preschool years, being able to color with crayons, cut with scissors, paint with a paintbrush and play with small objects such as lego, beads and puzzles, are integral to your child's development.
Self care activities such as tying shoelaces and using a knife and fork to eat food, all require a degree of fine motor control. Children who struggle with any of these activities often feel frustrated and their self-esteem suffers when they can't keep up with their peers.
Once formal schooling starts, good control of the hand muscles will enable the child to learn handwriting with a minimum of effort. Many bright children falter in the early years because their great difficulty with pencil control holds them back from showing what they are really capable of.
We know that children who struggle in the early years of school often end up with a negative attitude to learning and don't live up to their potential in school. And none of us want that experience for our kids!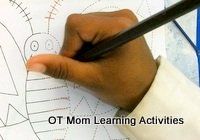 When your child has to concentrate on just trying to hold a pencil, as the child in this picture has to, there is less brain power to devote to actually learning the work! When a child can write freely and easily, it is easier for him/her to concentrate on writing a great essay, or on answering the exam questions.

Fine Motor Development:
What are the Essential Bases for good skills?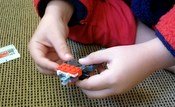 Fine Motor Skills do not develop in isolation from other skills. As with all areas of child development, a lag or delay in one area can impact on other areas of development.
In order for the small motor skills of the hand to develop, there are four Essential Bases that need to be in place.
This article on Fine Motor Development will help you to understand the importance of those bases and will also direct you to some fun learning activities to do with your child!
Visit Fine Motor Activities to get an overview of different ways to boost your child's fine motor skills

Return to Home Page of OT Mom Learning Activities