OT Mom Activity Updates

OT Mom Activity Updates is a free, occasional newsletter to support parents, teachers and occupational therapists!

When I have fresh activity ideas, exciting new pages, or in-depth answers to a question posed to me, I will share them in a newsletter that comes directly to your inbox. From time to time, I will give readers of my newsletters exclusive discounts on my e-books, as well as any discounts passed onto me from suppliers.
OT Mom Activity Updates will only be sent out when I have original and important information to share, so it may not be as regular as some ezines sent out by big companies, but it definitely won't be mindless filler clogging up your inbox!
Sign up now using the form below if you want to be the first to read new OT Mom pages, get fresh activity ideas and access my special discounts when they happen!
Looking forward to being in touch!
Was this page helpful?
Please like my page and let your friends know!
Didn't find what you were looking for? Then do a search on my site!

Get your Christmas Bonus Deal!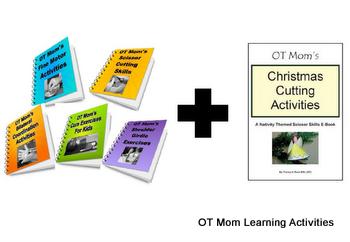 Get 15% Discount on the Mega Motor Bundle
PLUS
A free copy of Christmas Cutting Activities (worth $3.50).
Just enter the coupon code below at check-out to get your discount with the free e-book!

Christmas2017
Don't forget to "update cart" after adding the discount code!
View the deal here... or read a description of all my e-books first.
Offer ends on 31 Dec 2017.