Are You Looking For Learning Activities
That Will Help Your Child?
Whether you have an early elementary child who is struggling...
Or you want to give your preschool child the best start for school...
These fun learning activities will help you to help them.
Why use learning activities?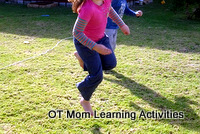 Children learn best through play, and they develop their skills through play. For children to learn new tasks, or to change the way they usually do things, it is best to engage them in fun, flop-proof activities that allow them to experience success.



You can find lists of "helpful" activities in many sites and blogs, so…
What makes this site different?
You will NOT find "lists" of things-to-do!!
Instead, you can look at activities that have been found to be the most helpful for that particular area, with step-by-step instructions, and lots of photos of real kids doing those activities!
By showing you photos, you will be able to see for yourself how to do the activities, and how NOT to do them, and in this way we hope that you will be inspired to do the learning activities with your own children at home!
These activities have been inspired by years of occupational therapy (OT) with children in various circumstances, and it is hoped that you will find them beneficial as you strive to help your child!
You can read more about why some kids need extra learning activities.
Search my site now to find learning activities suited to your child's needs, or continue below to find out more about what I offer on this website!
Custom Search
More and more topics will be added as this site progresses, but if you would like a particular topic prioritized, please contact me personally and I will do my best to help you. If you have any feedback, suggestions or questions, they will also be welcomed!
All activities should take place under close adult supervision.

What are the physical coordination skills that children need to develop, and how to improve them.
Fun fine motor activities to try at home with your child. Help improve the skills needed for handwriting!
Gross motor activities should be an essential part of every child's life. Try these activities from OT Mom to develop your child's skills.
What is hand dominance and why is a dominant hand important? These articles will answer your questions!
Find out why crossing the midline is so important for your child!
Find out more about how pencil grasp develops, what a mature pencil grip looks like, and the weird ways kids can hold their pencils!
Sensory Processing Disorder can affect children's functioning in three different ways.
These Christmas activities for kids will work on a variety of skills. Have fun doing some easy kids Christmas crafts.
Try these fun playdough activities to improve bilateral coordination and fine motor skills.
The OT Mom Learning Activities Blog will keep you up to date with all new pages and changes to the OT Mom Learning Activities website.
OT Mom E-books have been developed specifically for parents and teachers by a pediatric OT. They are full of easy-to-do exercises and activities that can be done at home.
Access a range of Occupational Therapy products and resources recommended by OT Mom
OT Mom reviews occupational therapy books that are suitable for parents, teachers and/or therapists.
Helpful links for parents and teachers!
Free Teacher Resources and OT Activities from an Occupational Therapist. Suitable for preschool, kindergarten and early elementary teachers.
Does your child struggle with school skills? Visit our free Parent Support to be encouraged by other parents.
Welcome to the Legal Stuff at ot-mom-learning-activities.com
Find what you are looking for on OT Mom Learning Activities!
Affiliate and Advertising Disclosure
Site Sponsorship: sponsoring an exclusive, targeted advert in this website!
How I came to build this website, and how SBI helped me!
Find out more about Tracey le Roux - the OT Mom behind this website
Contact OT Mom with your comments and queries.