Gross Motor Activities


Viewing this page on your device?
Please adjust your settings to enable images!
I use small photos to illustrate the information and activities that I share, and you will have a much better experience on this website if you can view the images.

Regular gross motor activities should be an essential part of every child's life. 
Through play, through games, and through sport, children should be developing their gross motor skills to prepare them for the demands of school such as handwriting, concentrating, following instructions, sport skills and team work.
These quick links outline the gross motor articles on my site...

Core and Shoulder Girdle Exercises

Your child's core muscles are vital to good performance in the classroom. Without a stable core, he/she will struggle to sit still at a desk and to carry out fine motor tasks.
Try these core exercises with your child to strengthen the trunk muscles.


Strong shoulder muscles are needed to help fine motor skills to develop well.
These shoulder exercises work on strengthening the muscles of the shoulder girdle.
 Coordination Activities

Bilateral coordination is the ability to use both sides of the body together in a coordinated way and is essential for many childhood tasks.
Try these bilateral coordination ideas.
Classroom Exercises

This article has useful tips and free printable PDF's with gross motor exercises that can be done at the desk and on the mat in the classroom.
There are also some ideas for vestibular activities you can do in the class!

Compiled from various pages throughout my site, the free printables on that page are suitable for teachers and homeschool moms of preschool to elementary kids. Visit my Classroom Gross Motor Exercises page!

Bean Bag Games

These games and activities use bean bags as a fun prop to boost various gross motor skills.
You can use them with just one child or with a group.
Hop on over and check out my photographed Bean Bag Games!

Gross Motor E-Books

OT Mom's Gross Motor E-Books give you all the information and activities you need to have fun doing focused gross motor exercises with your child at home.Click on the images to view each affordable e-book.

They are available individually as well as in special bundle deals.

Gross Motor Resources

You probably have a whole lot of resources already without knowing it! Balls, ropes, access to a play park - these are all readily available resources. Second hand shops often stock bats, smal trampolines and other gross motor items, so it is worth checking them out.
I have picked out a few really helpful items over at PFOT - check them out through the pic below. This is an affiliate link, which means I will receive a small commission if you purchase an item through my links - but you are under no obligation to do so!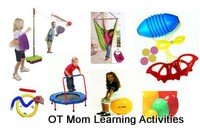 Gross Motor Products at PFOT
Scheduling Gross Motor Activities

There is no hard and fast rule about how often to do these activities. It depends on your child's abilities and also on your family's lifestyle. Take a look at your family's daily and weekly routine.
Each family is different and you need to decide what works best for you. I believe you will see the most progress if you can incorporate 10 to 20 minutes of fun activities 3 times a week, but see what works for you.
Daily routine: is there a time of day when it is generally possible for you to focus on your child for 10 minutes? After breakfast if you homeschool? After a rest time in the afternoon? Between bath and bed? Can you make a 10-minute break in the homework routine in the afternoon? Are there any activities you can make a regular part of family outings, family life?
Weekly Routine: Which afternoon are you usually home without extra-mural activities? Or can you head for the playpark while you wait for your other child to finish extra-murals? What about Saturdays before chores?
Remember that incorporating gross motor exercises into your family's life has wonderful long-term benefits!
Look at other ways of improving your child's general fitness levels with gross motor activities such as swimming, playing catch, cycling and walking on the beach.
Related Pages On My Site

Home › Gross Motor Activities
Thank you for visiting my site! I hope you found what you were looking for!
If this page was helpful, please share it with your friends!

Get 15% Off in my
Summer Activities Sale!
Summer vacation provides lots of opportunities
to work on your child's gross and fine motor skills.
Get a head start with 15% off ANY of my OT Mom E-Books
including my already discounted Bundle Deals!
Just enter the promo code summer2018 at checkout.
Then click "apply" to get your discount!

View a description of all my e-books here and don't forget to check out the Bundle Deals.
Offer ends on 30 June 2018.

Didn't find what you were looking for? Try a search of my site!