Occupational Therapy Products
Occupational Therapy Products


There are a wide range of occupational therapy products and resources that can be used by parents, teachers and therapists at home or at school. I have chosen these OT resources specifically to supplement the activities I suggest on my website, to help promote your child's optimum development. 
This page contains affiliate links (#Ad) from PFOT, Amazon, AppyTherapy and others, and I receive a small commission if you purchase a product through my links. This enables me to keep this free website running! However, you are under no obligation to purchase anything.

Toys And Games That Help Older Kids Build Skills

Sometimes a child needs a little extra motivation to work on certain skills. Especially older kids and teens! These kids can sniff out a "therapy activity" from miles away, and while they may engage with you on the activity for a short time, they don't exactly seek it out on their own.
So sometimes you need to provide toys and games that are motivating enough for your child to engage with it of their own accord, while still building skills.
I have a whole page about visual perception resources you can use with older kids.
And a review of Kaleidograph, explaining how to use it to develop visual perception and planning skills.

Handwriting and Letter Formation
Pediatric therapists who work in schools have got so many kids who need handwriting support. There are a lot of factors that can affect a child's handwriting, and occupational therapists are the best ones to assess what challenges to good handwriting your child is experiencing.
However, parents and teachers can still make use of these fantastic occupational therapy products to reinforce letter formation and basic handwriting practice.
I especially recommend the Handwriting Heroes packs to help kids learn their letter formations correctly from the beginning.
Using Handwriting Heroes, lower case letter formations are taught in "groups" of similarly formed letters. That means that 4 - 6 letters can be learned at a time, as they are formed in a similar way, thus reinforcing the formations.
On Mondays, you can introduce all the letters in a particular group and then review those letters from Tuesday to Friday, using the stories, songs, actions and practice sheets given.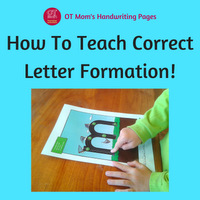 Cursive Handwriting Support

Because handwriting gets so little formal instruction in school these days, lots of kids need a bit of extra practice time. Especially when they get to cursive.
Some children really struggle to write (and to read) the loops of regular cursive handwriting.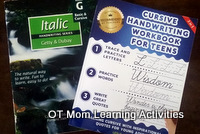 I recommend the Getty-Dubay italic cursive #Ad especially for kids who struggle with poor fine motor and visual perceptual skills, because there are fewer loops to confuse them, and the cursive letters look very similar to the print letters, which makes them more readable.
Italic Handwriting Book F
#Ad
is designed for use in Grade 5 for those who have used the earlier books.
But both Book F and
Book G
#Ad
would be suitable for older kids (sixth grade up) who want to work on their handwriting skills. If your child requires slightly easier work to start with, then try
Book E
#Ad
.
If your older child or teen wants to practice regular cursive, then try this cursive handwriting book for teens#Ad.
Use the letter practice pages to work on any letters that are still weak, then have your child practice writing words and quotes in regular cursive.

Occupational Therapy Products from PFOT

For many years, I have partnered with Pocket Full of Therapy (PFOT), who supply therapists and parents with all kinds of occupational therapy products. Many of these products have been featured or recommended on my OT Mom website and e-books, and PFOT have allowed me to compile my favorites on some pages of their occupational therapy products website.

Click on any category link to view a variety of specifically chosen resources that I recommend in that category.
Exclusive Offer to OT Mom Readers
Use the coupon code OTmom
and get 15% off your order of $35 or more at PFOT

If you are specifically interested in getting a pencil grip for your child, then you may find my article on Pencil Grips for Kids helpful.
I take a look at whether pencil grips are useful, review a couple of different kinds of pencil grips and give some pointers on how/when to use them.

Printable Activities and Worksheets
If these printable downloads had been around at the beginning of my occupational therapy career, I would have saved hours of preparation time!
Your Therapy Source has made some fantastic resources to help kids work on all kids of skills. I have a few favorites that I go to for specific skills, and on these pages of my website you will find descriptions and tips on how to use them, as well as links to purchase them if you are interested!.
The best part? No matter if you are a parent, a therapist or a teacher, you can use each resource over and over again with all your kids!

I hope you found something you can use among these resources! Most of these occupational therapy products have been designed, made or compiled by therapists themselves, so they are truly targeted to the child's needs.
Thank you for visiting!
Please do sign up for my occasional newsletter if you would like to stay in touch with new pages and resources that I add to my site!
Occupational Therapy Products
If this page was helpful, please share it with your friends!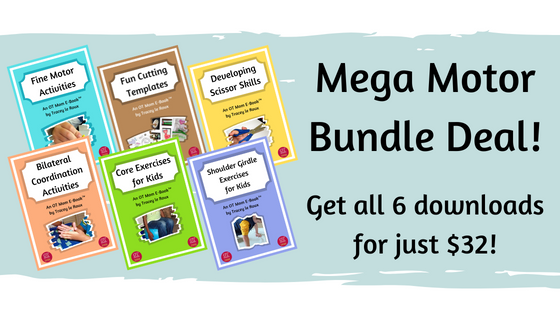 Didn't find what you were looking for? Try a search of my site!