All About Kids and Handwriting
Handwriting For Kids

This page gives a handy overview of all the OT Mom articles that deal with handwriting for kids - from pre-writing skills for preschoolers, to older kids and teens!
Why Is It Important To Focus On Handwriting?

Even in this age of technology, reading and marking a child's written work is still, often unfairly, the only way that elementary teachers figure out what their pupils know.
Kids with poor handwriting may be at a disadvantage when a teacher marks their written work, as poor legibility affects how the teacher scores their work.
They may also struggle to write creatively or even to write down answers correctly, as it takes all their concentration and effort to just get ANYTHING down on paper.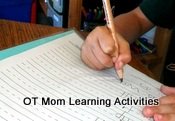 When kids struggle to write neatly and efficiently, they are often accused of being lazy, and this may affect their behavior and self esteem.
In high school years, kids who struggle with handwriting skills may suffer even more as they struggle to keep up with the volume of written work required.
For these reasons, parents and teachers should encourage the development of good handwriting for kids of all ages.

Laying The Foundation For Good Handwriting Skills

Good handwriting skills don't develop in a vacuum - they are the culmination of developing important foundations in the early years.
But do you know which foundations are important, and how to help your child develop these skills?
"Factors Affecting Kids Handwriting" is a comprehensive, free article on my site that gives parents a helpful overview.
On this page, I describe 10 different factors that can influence a child's handwriting, and I give some feedback on how parents can help to build these skills.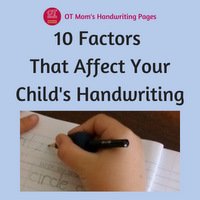 Handwriting With Young Kids

Many people, including myself, strongly believe that young children should not be practicing handwriting skills on paper. However, the preschool years are the perfect time to help your child prepare for handwriting, by laying down the good foundations I mentioned above.
These pages on my site will give you some important pre-writing activities you can do with your preschool and kindergarten children, with lots of helpful tips along the way.
If your very young child is interested in letters, reading and spelling, then encourage your child to explore letters with hands-on activities such using letter magnets to make words, and drawing in the sand, rather than writing on paper with a pencil.

Letter Formation
Learning to form letters correctly forms a big part of efficient handwriting for kids.
Many kids are simply copying letters off the board without learning where to start each letter, and simply forming them any which way. This often results in letter reversals, poor spacing and sizing of letters, awkwardly formed letters, and generally messy handwriting habits.

This is why I feel it is important to teach correct letter formations from the very beginning.
Once your child can write letters correctly and automatically, he/she will be able to focus more on the actual learning process and on writing creatively!
These inexpensive printable resources are a fantastic, multi-sensory way to teach kids the letter formations - I highly recommend them!

These pages of letter formation tips (with a free printable!) and fun letter formation activities on my website may help your child to learn number and letter formations even if your child has not yet mastered pencil control and fine motor skills.
Teaching letter formations properly can also help prevent letter reversals, as I explain on this page.

Handwriting For Kids Who Are Older

Many parents have asked how to improve handwriting for kids who are older, maybe even in their teens. The answer is not always straightforward, but I try to give some suggestions on this page.
You may also find it helpful to help your older child develop better fine motor skills. In many cases, improving hand strength and pencil control can help kids write more neatly.
If you feel your child's poor handwriting is affecting academic performance, please do seek an occupational therapy evaluation to help get to the bottom of the issues.
Handwriting Support and Resources  

Sometimes kids can benefit from handwriting workbooks, pencil grippers and other writing aids. But every child is different, and what works for one does not necessarily help another child.
If you are at all concerned about your child's handwriting skills, I do suggest that you take a look at the different factors that can affect handwriting for kids, and consult an occupational therapist or health professional for an assessment and individualized support.This website is not intended to diagnose or treat any disorders!

If, however, you are just looking for resources to support your child as he/she develops handwriting skills, then you may find these resources helpful!

This section contains affiliate links. If you purchase something through my links, I will earn a small commission which helps to support my site!

Kindergarten Handwriting Practice Books

Handwriting Heroes created a range of printable e-books that are used to teach letter formation and basic printing skills.
These can help your child master letter formations in just 5 weeks!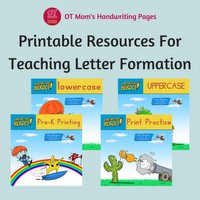 You may want to consider teaching Getty Du-Bay Italic Handwriting as a precursor to italic cursive, which many kids find easier to write and to read.
Italic Handwriting Book A
#Ad
and
Italic Handwriting Book B
#Ad
are suitable for kids who are just learning to write.
Cursive Handwriting Practice Books

Understanding the basic cursive rules may help your child master neater handwriting, especially if your child has not had any formal cursive writing lessons.

You can view Cursive Writing Rules and Free Worksheets at PrintnPractice! These are ideal for kids in grade school, with helpful explanations of how cursive works, and some free cursive practice worksheets!
There are also a range of handwriting workbooks that give kids opportunities to practice regular cursive, like this
cursive practice book designed for teens
#Ad
Italic Cursive Handwriting Books

Italic cursive handwriting for kids can be easier to read and write than regular cursive with all its loops, and for this reason it can be helpful for children who struggle with fine motor and visual perceptual skills.
Amazon stocks the italic cursive handwriting practice books below:

Thank you so much for visiting! I hope you found the support and resources you needed on this page!
Please do sign up for my newsletter if you want to stay in touch with new pages and updates when they happen!
All About Kids and Handwriting
If this page was helpful, please share it with your friends!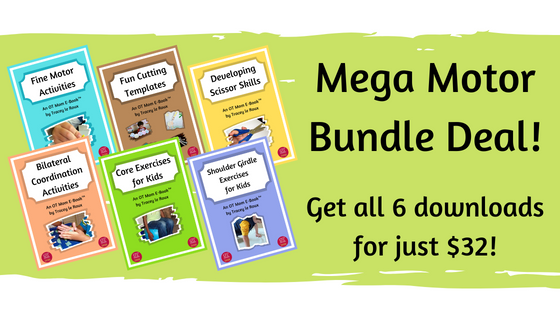 Didn't find what you were looking for? Try a search of my site!