Pencil Held Between Index and Middle Fingers
by Meghan
(Ohio)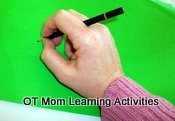 Photo added by OT Mom: D'Nealian Pencil Grasp
I had a student that grasped a straight pencil between his pointer finger and his middle finger. He seemed to have the correct look to his grip by his finger tips so I didn't correct it. Now I am hearing that his current teacher is very frustrated with having to reteach his grip. I know his grip wasn't ideal, but was it wrong?
Back To School Sale!
20% Off My Mega Motor Bundle!

Get 20% off my Mega Motor Bundle when you use this discount code at checkout!    Code:    backtoschool2018
Don't forget to click "apply" after adding the discount code!
Offer ends on 31 August 2018.

If this page was helpful, please share it with your friends!

Didn't find what you were looking for? Try a search of my site!