Pencil Held Between Index and Middle Fingers
by Meghan
(Ohio)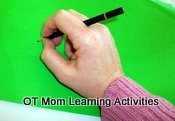 Photo added by OT Mom: D'Nealian Pencil Grasp
I had a student that grasped a straight pencil between his pointer finger and his middle finger. He seemed to have the correct look to his grip by his finger tips so I didn't correct it. Now I am hearing that his current teacher is very frustrated with having to reteach his grip. I know his grip wasn't ideal, but was it wrong?
If this page was helpful, please share it with your friends!

Get 15% Off in my
Summer Activities Sale!
Summer vacation provides lots of opportunities
to work on your child's gross and fine motor skills.
Get a head start with 15% off ANY of my OT Mom E-Books
including my already discounted Bundle Deals!
Just enter the promo code summer2018 at checkout.
Then click "apply" to get your discount!

View a description of all my e-books here and don't forget to check out the Bundle Deals.
Offer ends on 30 June 2018.

Didn't find what you were looking for? Try a search of my site!