Visual Perception Activities


Viewing this page on your device?
Please adjust your settings to enable images!
I use small photos to illustrate the information and activities that I share, and you will have a much better experience on this website if you can view the images.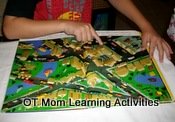 Visual perception activities can help a child to make sense of the information that the eyes are sending to the brain.

There is some overlap between the different categories of visual perception, and some activities can be used to boost more than one skill.

If you suspect your child has visual perceptual delays, please seek a professional opinion!
On this page you will find overviews of: 

Categories of Visual Perception

Form Constancy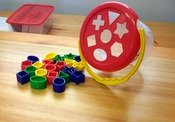 Try these form constancy activities and tips to help your child learn how shapes and forms remain constant.
This skill helps a child to realize that a letter remains the same no matter where it is seen!

Visual Discrimination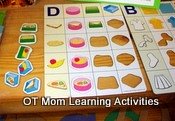 This skill can help a child to correctly perceive letters and numbers where there is only a small difference between them (eg S and 5).
Figure-Ground Perception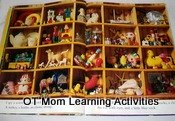 This skill can help a child to not lose his/her place when reading or when copying from the board.
Visual Closure Activities

These visual closure activities can help your child to make sense of things that are only partly visible.
This skill can help a child to read more fluently and decode words more accurately.
Visual Memory and Visual Sequential Memory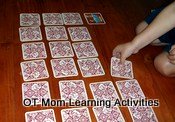 Make use of readily available household materials and inexpensive games to improve visual memory and visual sequential memory.
These skills can play a vital role in spelling and reading.
Visual Motor Integration Activities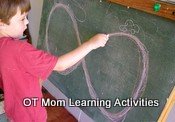 Jigsaw Puzzles

Children from deprived backgrounds and kids with developmental delays often struggle to grasp the concept of building puzzles.
These OT Mom articles contain step by step instructions to help parents teach their kids how to do puzzles.

Visual Perception Idea For Older Kids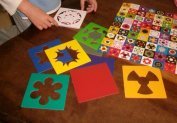 Find out how the exciting Kaleidograph toy can be used to get older kids to work on their visual perceptual skills!

More Info On Visual Perception

These pages on my site can help you learn more:

Printable Visual Perception Activities

Although children should be developing their visual perceptual skills primarily through play and exploring their environment (read more about that here), there is sometimes a place for good quality, well thought out printable activities and worksheets.
These are my favourite printable resources, with exclusive bundle deals for my OT Mom readers.

Helpful Therapy Products

Well chosen therapy products can be helpful in improving your child's visual perceptual skills.

I have selected a range of visual perceptual products that parents and teachers can make use of at home and in the classroom. You can use the coupon code OTmom to get 15% off your order of $35 or more. Click the images below to view the resources!
These are affiliate links to products I have picked out for your convenience.

Free Downloads

Download and print out these free visual perception information sheets to help others understand more about visual perception.
Please do not link directly to the PDF from your own blog – please link to this page. Thank you!

Por favor, no enlazar directamente con el archivo PDF desde tu propio blog - por favor enlace a esta página. ¡Gracias!
Thank you for visiting my site! I hope you were helped by this page. Why not sign up for my free, occasional newsletter to receive updates when new pages and activities are posted?

Home › Visual Perception Activities
If this page was helpful, please share it with your friends!

Get 15% Off in my
Summer Activities Sale!
Summer vacation provides lots of opportunities
to work on your child's gross and fine motor skills.
Get a head start with 15% off ANY of my OT Mom E-Books
including my already discounted Bundle Deals!
Just enter the promo code summer2018 at checkout.
Then click "apply" to get your discount!

View a description of all my e-books here and don't forget to check out the Bundle Deals.
Offer ends on 30 June 2018.

Didn't find what you were looking for? Try a search of my site!