Fine Motor Skills Activities
for Older Kids

Viewing this page on your device?
Please adjust your settings to enable images!
I use small photos to illustrate the information and activities that I share, and you will have a much better experience on this website if you can view the images.

Older children require a slightly different approach with fine motor skills activities.
They may feel that making something fun and crafty is just not cool! Or else their fine motor skills are so poor that traditional suggestions of origami, beadwork etc are frustrating because they simply don't have the skills to get a nice end result. You need to have good fine motor skills already before engaging in those activities, and kids with poor fine motor skills are likely to give up. (see my article on why some fine motor skills activities are better than others for improving fine motor skills)
The fine motor skills activities that I suggest for older kids will work on strengthening their hand and finger muscles, particularly before commencing a handwriting session. My own son does them before he tackles his piano lessons!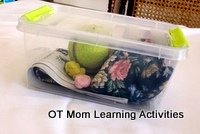 Here is a suggestion for a "Fine Motor Skills Activities Box" to have on hand, followed by instructions on carrying out the exercises for best effect.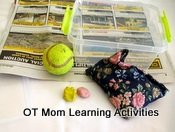 As you can see, the box holds simple materials to make it easy to help your child.
A tennis ball, some sheets of newspaper, a blob of modelling clay and/or a beanbag are all that you need to get started. See the photo gallery below to see how to use them.


Fine Motor Skills Activities
| | |
| --- | --- |
| | Crumple a sheet of newspaper or scrap paper in the hand until it is a tight ball. Try to do it while holding the hand in the air. That way, the fingers work harder! |
| | Use the fingers to "walk" a tennis ball up and down the legs. You could even go up one leg, across the tummy and down the other leg. A larger plastic kiddies ball also works well. |
| | Use modelling clay or "Plasticine" to roll small balls with the fingers. Here's how: break a ball of modelling clay into smaller pieces – I can usually get about 10 small blobs out of one stick of modelling clay… |
| | Using the "tripod" fingers (thumb, index and middle fingers), roll the blob into a neat ball. |
| | If your child struggles to isolate those three fingers, have them hold down their ring and little fingers like this, or ask them to hold down a piece of cotton wool with those 2 fingers. |
| | If rolling the balls is too hard, then try making sausages with a simple back and forth motion of the tripod fingers. |
| | Using a basic kids' beanbag, position the fingers under the beanbag, holding it level. |
| | Keeping the bean bag level, slowly rotate the bean bag 360 degrees, using the fingers and thumb to manipulate it. |
I feel the best approach is to help your child see them as
"daily exercises" as essential as brushing teeth and ask your child to complete one exercise before handwriting/homework/piano and do them as a break if their hand tires. In this way, they are fitting exercises into their daily routine, rather than doing playful activities.
Tips To Improve Handwriting in Older Kids
Find More Fine Motor Skills Activities and Ideas Here!


Return to Home Page of OT Mom Learning Activities


If this page was helpful, please share it with your friends!

Didn't find what you were looking for? Try a search of my site!