Fine Motor Activities for Older Kids
Fine Motor Skills Activities
for Older Kids

Older children require a slightly different approach with fine motor skills activities.
Fun activities that delight younger kids may be just "not cool"! And often traditional suggestions such as origami, beading and woodwork are frustrating because the child simply does not have the skills to get a decent end result on par with their peers.
As kids get older, through middle school and junior high, we need to get a bit creative to find ways to work on hand strength and dexterity in a way that is not boring or patronizing. On this page, I am sharing some simple ideas that can work in homework time, or in a homeschool schedule. Some of my readers have even used them as a warm up before music lessons!
If you are concerned about your child's fine motor skills, please get a professional Occupational Therapy assessment. The activities on this page are not a substitute for therapy!

Use these quick links to jump to a section that interests you, or browse them all!

This post contains affiliate links (#Ad)  to products similar to what I use. I may receive a commission if you purchase through my links.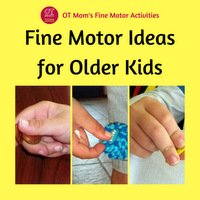 Quick Fine Motor Skills Activities With Everyday Objects
These fine motor activity ideas can be used as a quick break between school tasks or before beginning a handwriting or music lesson.
Crumple Paper
Crumple a sheet of newspaper or scrap paper in the hand until it is a tight ball. Try to do it while holding the hand in the air. That way, the fingers work harder!
Tip: Do this whenever paper needs to be discarded - wad it up with one hand and toss it in a basket!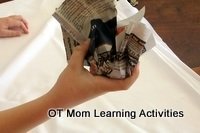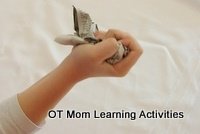 Walk a Ball
Use the fingers to "walk" a small ball up and down the legs. Your child could walk the ball up one leg, across the tummy and down the other leg. Most kiddie balls work well.
Make it harder: Ask your child to use just the tripod fingers (thumb, index and middle fingers) to walk the ball.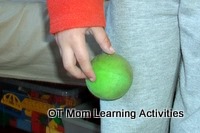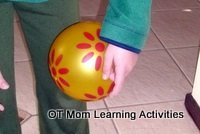 Twirl a Beanbag
Using a basic kids' beanbag, position the fingers under the beanbag, holding it level.
Keeping the bean bag level, slowly rotate the bean bag 360 degrees, using the fingers and thumb to manipulate it.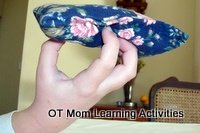 You could also try using a small bag of dried beans, popcorn or rice, if you don't have a beanbag on hand!

Bank Some Money

Have your child hold some coins in the hand and then work them up to the fingers one by one to push them through the slots of a money bank. Side slots get the fingers working hardest.
Tips: Upcycle an empty, clean food container to use instead of a money bank!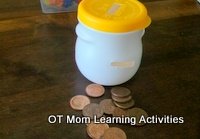 Useful Tip:
Keep the resources for these fine motor skills activities in a handy container to access whenever your child needs a break during schoolwork/homework.
Here's what your fine motor skills activities box could look like!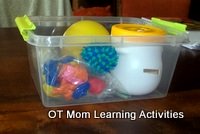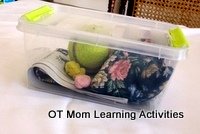 Fine Motor Skills Activities With Modeling Clay

Modeling clay #Ad (Plasticine) is a lot stiffer and harder to work with than playdough, which makes it the ideal challenge for kids in middle school and older.
Here are some ideas that you can encourage your older child to do with modeling clay!
Break a stick of modeling clay into smaller pieces – I can usually get about 10 small blobs out of one stick of modelling clay…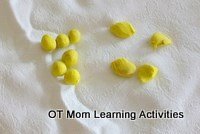 Modeling clay broken into balls
Using the "tripod" fingers (thumb, index and middle fingers), roll the blob into a neat ball.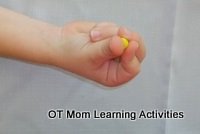 If your child struggles to isolate the tripod fingers, have them hold down their ring and little fingers like this, or ask them to hold down a scrap of paper with those 2 fingers.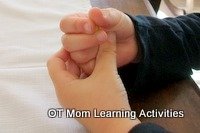 If rolling the balls is too hard, then try making sausages with a simple back and forth motion of the tripod fingers.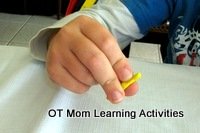 Your child can then use the balls as part of a model, or simply make 10 balls as a daily exercise.
Try Some Pencil Control Exercises!

Pop on over to my page of pencil control activities and try the photographed pencil exercises shown there.
They can easily be done before any major writing assignment, and even as a quick break during writing to ease tired fingers.

Scissor Cutting
You'd be surprised at how many older kids and teens struggle to cut neatly with scissors! I always emphasize the importance of cutting with scissors for preschoolers, but exactly the same principles apply for older kids - scissor cutting is an excellent fine motor activity for older kids!
Cutting with scissors strengthens the hand muscles, and also helps the child to isolate the movement of the tripod fingers (thumb, index and middle fingers for holding the pencil) from the rest of the hand.
Getting lots of opportunities to cut with scissors can help improve your child's fine motor skills.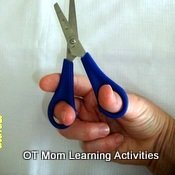 Use scissors that are a step up from kiddie scissors, but not too large. Fiskars scissors #Ad are good - remember to exercise caution with sharp scissors!
Whenever you need something cut out, ask your child to do it. Whether it's cutting open packets of food, cutting work related papers, snipping festive decor or cutting gift wrap, call your child to do it! The more opportunities you give your child, the more fine motor practice he/she will get!

Try kirigami - this is the art of cutting and folding paper, and some examples on this page make lovely decorative ideas.


If you are really stuck for scissor cutting ideas, you could try some of the printable resources on this page of my site - lots of fun end products that can motivate reluctant kids to cut with scissors.
All Of My Fine Motor Activities In One Place!
Do you want practical activities to help develop your child's fine motor skills with everyday resources?

Are you tired of lists of suggestions that don't show you HOW to do the activities?
My Fine Motor Activities E-Book contains lots of helpful information as well as more than 24 pages of photographed activities to help support your child's fine motor skills!
There are multiple activities on each page, making this a treasure trove for parents, teachers and therapists!

I personally find it very helpful to incorporate fine motor skills activities into my kids' daily routine. In this way, they see the activities as hand exercises, rather than "activities".
As homeschoolers, we tend to do them before handwriting tasks. Kids who attend school can do them as a regular part of their afternoon activities, such as before settling down to homework, or after an afternoon snack.
I hope you found this page helpful!
Please do stay in touch by signing up for my occasional newsletter!
Fine Motor Activities for Older Kids
If this page was helpful, please share it with your friends!

Related Pages
Massive Summer Savings!

Pay $25 instead of $32 during the month of June!
Didn't find what you were looking for? Try a search of my site!