Part 1: Teach Your Child How To Use Scissors
How To Use Scissors


If you want to teach your child how to use scissors correctly from the very beginning, you have come to the right page! Read on to find out how to help your toddler or preschooler learn to cut with scissors.

The Developmental Progression of Cutting Skills Can Be Summarized Into Two Main Stages:

1) mastering the grasp-release motion of the scissors
Learning the grasp-release motion is an important pre-cutting skill for preschoolers (and toddlers) and there are lots of fun activities you can try, in order to help them build this skill.
This page covers the following aspects of teaching your child how to use scissors:

Once your child can use the grasp release motion without scissors, try using scissors in simple snipping activities.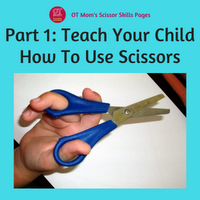 Part 1: This Page!
2) mastering the art of cutting along the line

Learning to cut along the line is a tricky task.
It involves bilateral coordination, visual-motor skills, motor planning and more!
Once your child has learned how to use scissors to snip, Part 2 of this mini-series will help you teach your child to cut along a line.

Pre-Cutting Activities: Master The Grasp-Release Motion

A key step in teaching your toddler or preschooler how to use scissors, is to help them master the grasp-release motion of the hands. This will help them learn how to open and close the scissors more effectively.
I like to use all kinds of activities to strengthen the hands using a grasp-release motion, without using any scissors!
1) Using Spray Bottles

Let your child use a spray bottle to water the plants outside or for some bath-time fun.
Squeezing and releasing the trigger helps your child get the hang of a repetitive grasp-release motion with the whole hand.

2) Clothes Pin Activities

Opening and closing a clothes pin (clothes peg) can help a child feel the squeeze and release motion that is needed for scissors.
Elsewhere on my site, I use clothes pins to work on isolating the tripod fingers, but if your child is still too young to use just three fingers, let them use these activities with the tips of all their fingers for the grasp-release sensation.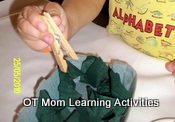 Pick up small crumpled papers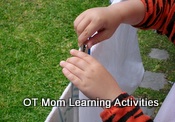 Hang washing on a line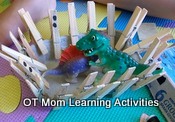 Make a cage with an egg carton
3) More Grasp-Release Activities
I have more grasp-release suggestions using craft punchers, hole punchers, tweezers and tongs in my Scissor Skills E-Book.

Pre-Cutting Activities: Snipping

Once your child has got the hang of the grasp-release motion, your child will be ready to learn how to use scissors properly.
Please note these important points:

Use age appropriate and blunt-nosed scissors, for your child's safety.
Make sure your left handed child uses left handed scissors - this is very important!
Use the correct scissor grip from the beginning, in order for your child's fine motor skills to develop properly
Why is scissor grip important?
When your little one is older and learning to write, the thumb, index and middle fingers will be controlling the pencil. I call them the tripod fingers. The ring and little fingers will be curled up on the side, providing stability and strength to the hand (the technical name for this is ulnar stability).

So when your child is learning how to use scissors, the thumb, index and middle fingers are the ones which should be opening and closing the scissors, while the ring and little fingers curl up on the side.
Take a look at the pics below to see the best way to hold different scissors.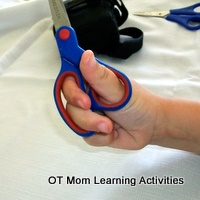 Round And Oval Holes: thumb through round hole; middle and index fingers through oval hole.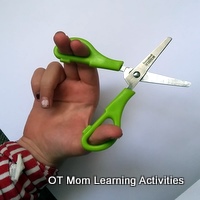 Two Oval Holes: thumb through one hole; index and middle fingers through the other hole.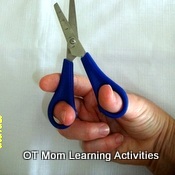 Two Round Holes: thumb through one hole; middle finger through other. Index finger on outside for stability.
Snipping Activities - Great For Toddlers and Preschoolers!

1) Snipping Playdough

Have your child roll out playdough sausages/worms and then snip them.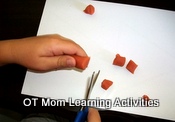 Snip playdough
2) Snipping Paper

Prepare narrow strips (1.5cm) of paper so your child can snip across the width.
Snipping narrow strips is easy to do, as the scissors only need to open and close once to be successful.You can use the snipped paper in a collage.
Lots of blogs suggest snipping straws, but this is so bad for the environment, so rather use paper!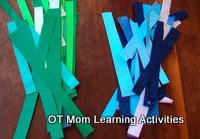 Give your child narrow strips of paper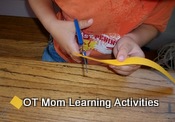 Snipping Paper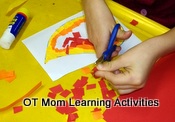 A Flame Collage Snipping Activity
3) Snipping cardstock

Cardstock is thicker than paper, and offers more resistance, so it is great for building up endurance.
A cheap source of cardstock is empty toilet paper rolls - have your child snip them to make trees or funny hairstyles like the ones shown!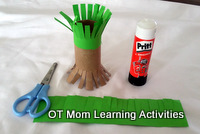 Make a tree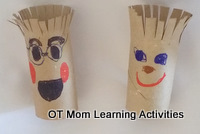 Make a funny hairdo
Resources To Help Your Child Learn How To Use Scissors

Cutting Printables
You will find a range of snipping activities in my compilation of printable Fun Cutting Templates!
These will give your child lots of cutting practice with lovely end products to build your child's confidence!
Suitable for a range of skills - from preschoolers who are just learning to use scissors, all the way to early elementary kids who need more practice with their scissor skills.
There are 19 different scissor cutting crafts, all with photographed instructions and a variety of templates - over 50 templates in all!
View my Fun Cutting Practice Templates now!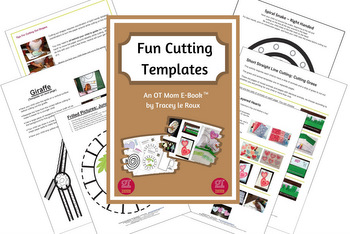 Special Scissors
If your child absolutely cannot get the hang of how to use scissors with a grasp release motion, you could try a pair of special scissors like these, that automatically open after your child has closed them.
(NB this is an affiliate link - I may earn a commission if you purchase something through my link. However, you are under no obligation to purchase anything!)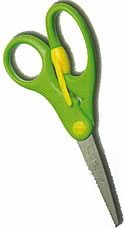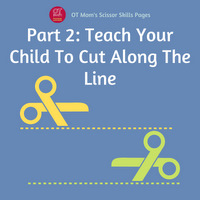 Part 1: Teach Your Child How To Use Scissors
Part 1: Teach Your Child How To Use Scissors
If this page was helpful, please share it with your friends!

More Scissor Skills Pages

Didn't find what you were looking for? Try a search of my site!