Coordination Skills


Viewing this page on your device?
Please adjust your settings to enable images!
I use small photos to illustrate the information and activities that I share, and you will have a much better experience on this website if you can view the images.

Whether playing games, taking part in sport or doing schoolwork, coordination skills are important for your child.

Coordination usually refers to whether a child can get the arms and legs to work together in a coordinated, effective way.
In addition, many tasks which require coordinated movement also require the child to have good motor planning to time their movements accurately.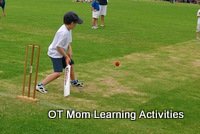 To get your child ready for school, there are 2 types of coordination skills activities that are are particularly important: bilateral and hand-eye.
Click on the quick links below for a brief description of each on this page.

Bilateral Coordination Skills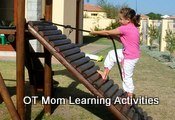 This is the ability to use both sides of the body together in a coordinated way. This girl is pulling herself up a rope using both hands in a coordinated way.
Children with poor bilateral integration may struggle with gross motor games or with fine motor tasks which require both hands to work together well.
Hand Eye Coordination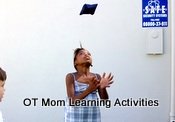 This is the ability of the eyes to guide the hands in movement.
Catching a ball and being able to hit a ball with a bat are obvious examples, but many parents don't realize that good hand-eye coordination can also help a child's handwriting.
Tips For Helping Your Child

If your child struggles with an activity you are doing, then try to make it easier, or drop it altogether. Try something different next time, or coming back to the difficult activity in a week or two.
Give lots of encouragement and praise good attempts, even if they are not perfect. My own kids love getting high fives to keep them motivated! You could say things like:

"You almost did it, well done!"

"That was much better!"

"Today is even better than yesterday!"

"That was a good try!"

Most importantly, your child needs to have fun with you!
You may find these related articles helpful or interesting:

How to Tie Shoelaces - if your child struggles to tie shoelaces, it may be poor coordination that is contributing to the difficulty.
Bean Bag Games can help your child learn to coordinate gross motor movements.

This article by Teacher Support Force explains how Reading Skills can also be improved through coordination games such as skipping! (Opens in a new page)

Does Crawling Matter? MamaOT discusses the benefits of crawling. (Opens in a new page)

Thank you for visiting my site! I hope you were helped!
Sign up for my occasional newsletter to stay in touch with new activities and articles!
Or check out my Gross Motor E-books below:

Gross Motor Bundle

Bilateral Coordination Activities
PLUS
Core Exercises
PLUS
Shoulder Girdle Exercises
at a special bundle price!
Home › Coordination Skills
If this page was helpful, please share it with your friends!

Get 15% Off in my
Summer Activities Sale!
Summer vacation provides lots of opportunities
to work on your child's gross and fine motor skills.
Get a head start with 15% off ANY of my OT Mom E-Books
including my already discounted Bundle Deals!
Just enter the promo code summer2018 at checkout.
Then click "apply" to get your discount!

View a description of all my e-books here and don't forget to check out the Bundle Deals.
Offer ends on 30 June 2018.

Didn't find what you were looking for? Try a search of my site!