Bean Bag Games and Activities


Viewing this page on your device?
Please adjust your settings to enable images!
I use small photos to illustrate the information and activities that I share, and you will have a much better experience on this website if you can view the images.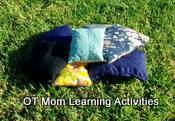 Bean bag games and activities make use of a fun and inexpensive prop to develop gross motor skills.
Younger children may find beanbags easier to handle than a ball, and because beanbags can't roll away, they may be less frustrating for the child with poor coordination skills.
Some of the games suggested can make great kids' party games too!
Click on the links to jump to the activity you want to view on this page, or scroll through them all for inspiration!

Bean Bag Balance Activity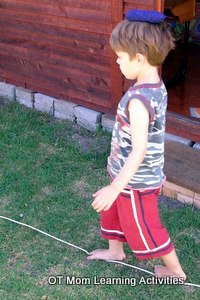 Walking while balancing a bean bag on his head
Have your child balance a bean bag on the head while walking along a balance beam, a length of rope, or along a line marked out on the ground.
Increase the challenge by asking your kids to keep the bean bag on their heads while:
doing a heel-toe walk
walking around obstacles
lowering the body to touch an object on the ground!
Bean Bag Games For Coordination

1) bean bag toss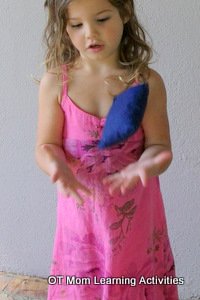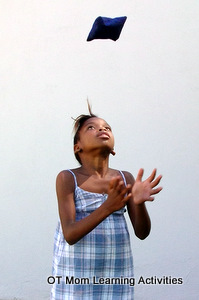 This bean bag activity develops hand-eye coordination. Show your child how to toss a bean bag gently into the air and then catch again. Younger children can do a very gentle toss, older kids can toss just above head level.

Increase the challenge by introducing a hand-clap between tossing and catching. (ie toss, clap, catch), or a one-handed catch for older kids.

For a child whose hand-eye coordination is particularly poor, tie the beanbag into a vegetable net bag, and suspend it from a tree branch with a rope.
The child can then practice pushing the beanbag away and catching it again. I have shown how to do this with a ball - have a look and do the same with a beanbag.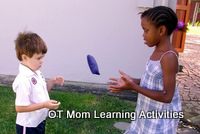 Bean Bag tossing between 2 kids
Two children can also practice tossing the bean bag to each other. Start off standing close together as shown and then increase the distance between the children.
2) bean bag relay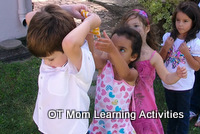 A relay game with bean bags
Relays are great bean bag games for toddlers and preschoolers!
You need a few kids for this – get them to stand in a line, one behind the other. Put a pile of beanbags in the front, and an empty bucket at the back.
The child in front grabs a bean bag and passes it overhead to the child behind and so on, until the last child pops it in the bucket, and then runs to the front to repeat the bean bag relay.

Your child will be using hand-eye coordination to accurately receive and pass the bean bag without dropping it, and bilateral coordination by using both hands together to receive and pass the bean bag.
You can also have the kids pass under their legs, or alternate passing under and over (harder).
Midline Crossing With Bean Bags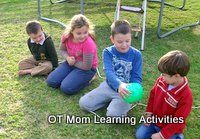 Crossing the midline with a relay
Use the relay format as described above, but have the children sit on their knees as pictured, or with legs crossed. Have them pass the beanbags to each other with both hands to cross the midline as shown.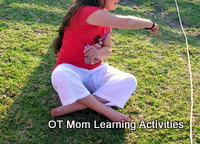 Crossing the midline with a bean bag toss
Tossing a beanbag at a target is good for coordination skills, but this activity can also be adapted to encourage children to cross the imaginary midline of their body.
Have your child sit on the floor cross-legged, or kneeling and throw a bean bag across the midline to a target.
A right-handed child should use the right hand to throw beanbags across the body space to a target on the left side.
A left-handed child should use the left hand to throw beanbags to a target on the right side.
Easy target ideas: hit a wall, or simply get the bean bag over a line
Harder target ideas: get the bean bag through a hoop on the wall, or make a clown face on cardboard with a large mouth for the beanbags to go through. You can also place a hula hoop flat on the ground and have your child toss the bean bag into there.

Improving Kids' Endurance

Hopping while holding a bean bag
Bean bag games can help your child improve in physical endurance. A boring exercise can seem more fun when there is something to carry from one place to another.

Put a pile of beanbags at one side of the yard and a bucket at the other, and have your child hop, run, jump, crawl or skip to take the bean bag to the bucket – your child can either hold the beanbag, balance it on the head, or balance it on an outstretched arm or even a spoon!
Easy Homemade Bean Bags

You can make your own bean bags by securely sewing squares of scrap fabric together, and half-filling them with beans/corn for heavier bean bags, or fabric stuffing for lighter bean bags.
I personally love taking all those lonely socks that accumulate over a year, and turning them into wonderful tossing blobs (for lack of a better word)!
You can either stuff a couple of lonely socks into one sock, and then stitch the edge closed, or put 2 lonely socks inside each other, half fill the inner one with some beans or corn, and then stitching the top half closed. NB Hole-y socks do NOT work well for this one!

Or check out MamaOT's idea for some non-sew bean bags.

If you don't feel like making your own, make sure you buy good quality bean bags that can stand up to some wear and tear during your bean bag games.
These sturdy ones from Bear Paw Creek are my favorite! They are  filled with with plastic pellets that are CPSIA compliant, are machine washable, and come in a drawstring fabric bag. They stand up to a lot of gross motor play!

You can view these bean bags and other fun gross motor products at the Bear Paw Creek website (get 10% off your order by using the coupon code otmom at checkout) or get them directly from Amazon by clicking the pics below.

These are affiliate links for your convenience. Always read reviews before you buy anything online!

Improving Gross Motor Skills

Did your child struggle with these bean bag games?

Then try some more gross motor activities in the specific area(s) with which your child was struggling, to give them more practice.
Thank you for visiting my site! I hope you were inspired and helped!
Back to Top
If this page was helpful, please share it with your friends!

Get 15% Off in my
Summer Activities Sale!
Summer vacation provides lots of opportunities
to work on your child's gross and fine motor skills.
Get a head start with 15% off ANY of my OT Mom E-Books
including my already discounted Bundle Deals!
Just enter the promo code summer2018 at checkout.
Then click "apply" to get your discount!

View a description of all my e-books here and don't forget to check out the Bundle Deals.
Offer ends on 30 June 2018.

Didn't find what you were looking for? Try a search of my site!