Fun Core Exercises For Kids!

Viewing this page on your device?
Please adjust your settings to enable images!
I use small photos to illustrate the information and activities that I share, and you will have a much better experience on this website if you can view the images.

Use these core exercises for kids to develop your child's core strength and stability.
Having good core strength can help your child sit well at a desk, and helps provide a stable base for gross and fine motor tasks.
As an occupational therapist and homeschooling mom, I have used these exercises in the schools where I have worked, as well as with my own children, so they are easy to do, and designed to be done by kids who struggle with coordination and strength.

You can use these quick links to navigate my page quickly, or just scroll through them all.

- Who can use these exercises?
Easy Core Exercises:
- More Core Exercises for Kids
- Why Are Core Exercises Important? (another article on my site)

Who Can Use These Exercises?

These activities are aimed at children in kindergarten and early elementary . Preschoolers will have fun trying to copy older children, but you may have to down-grade some of the activities for them according to their individual abilities.
These exercises are not meant to be intensive training for prospective athletes! They are designed to help kids who have weak core muscles and poor core stability, and who may struggle with coordination.
Not all children will become athletes, but all children do need core stability to be functional in daily school and home tasks.
These activities are not meant to diagnose or treat any conditions. Please contact your health professional if you are concerned about your child's development!
Before You Start!

Be cautious!


Make sure that you and your child are medically and physically fit to carry out these exercises. If your child is in therapy, please check with your child's therapist before commencing with any of my exercises and activities.





Motivate your child!
If your child is reluctant to do "exercises", call them by another name - I call them circus tricks and we do a few circus tricks at a time, it's a great motivator for children with poor gross motor skills.


Make it a game!


That means taking turns, which means that your child can get to be the leader in follow-my-leader, or the circus trainer, and that you, the parent or teacher, can get to do the exercises as well. My kids are very motivated to do even the ones they find demanding, if they know that they will get a turn to be in charge. Ham it up and make them laugh!



Quality is better than quantity!
All exercises for kids should be done slowly with as much control as possible - rather have your child do one or 2 good repetitions than many sloppy ones.


This is not therapy!
The advice and learning activities on this page are NOT a replacement for evaluation and treatment by an occupational therapist. They are meant to enhance your child's normal development.
Please contact your health professional if you are concerned about your child's development, and read my

disclaimer

before proceeding.
Easy Core Exercises for Kids

1) Snake Curls

You will need:
- a blanket or mat to lie on
- a beanbag or sock per child
- a toy flute or recorder if you have one (or just pretend to hold one)
This is an adaptation of a tummy curl and works really well if you get your child to hold for a few seconds and repeat it a few times per session. I play the recorder like a snake charmer and have the kids curl up when the music plays!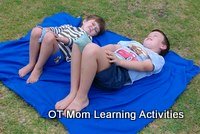 Starting position:
- Knees bent, feet flat on the ground.
- Put a beanbag between the knees to keep them together.
- Hands are resting on thighs.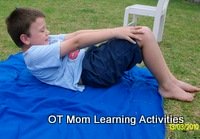 Have your child "curl up" by raising the head, sliding the hands up to the knees and maybe even hissing at you (holding the position) until you give the signal to go back down slowly.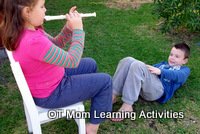 Have kids take turns being the snake charmer!

Emphasize SLOW movements, rather than fast jerky ones.

Tightrope Walker

You will need:
- a length of rope (5-10m) stretched out in a line
- a beanbag
- an empty plastic bottle
Very Important: Encourage your child to WALK SLOWLY! This will require more control from your child.

If your child keeps losing their balance in this activity, then show them where their tummy muscles are and ask them to pull them tight while they walk.
They can try pulling their belly button in towards their spine to activate their core muscles. Some kids just don't use their core muscles unless we remind them!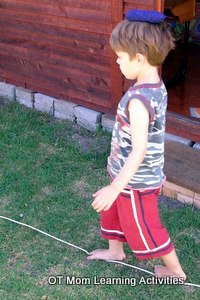 Have your child walk along the rope line while balancing the beanbag on his/her head.
Make it fun by saying there may be alligators in the water so don't step off the rope!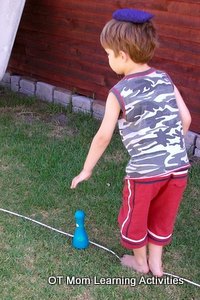 Make it harder by asking your child to stop, and bend over to touch the bottle midpath without letting the beanbag drop!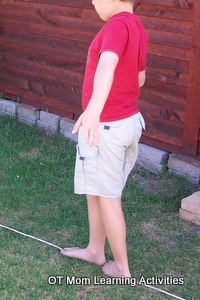 Walking heel-to-toe is harder and requires more core stability.
Try this once your child can walk normally along a length of rope without falling off.

Crab Walk

You will need:
- a length of floor or grass
- a beanbag or pair of rolled up socks
As this activity is quite demanding, set a short distance (2-3metres) for your child's first attempt, and include it as a small part of an obstacle course or follow-my-leader game. As your child's endurance increases, you can increase the distance set.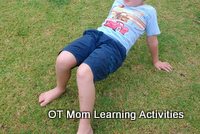 Ask your child to get into this position (you may need to demonstrate).
Crabs actually walk sideways, but this is really tricky for kids, so start by asking your child to walk backwards for a short distance, keeping the back and tummy straight and bottom off the ground!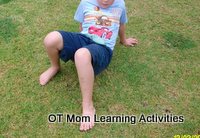 Put a beanbag or soft toy on the tummy – your child will have to keep it from falling off by not letting his/her back slump to the grass like this.

If your child really struggles to hold the crab position for any period of time, then try this "bridge" exercise to work on core stability and strength:

Have your child keep knees and feet together while lifting the buttocks off the ground. This is called bridging.

Make it fun by driving toy vehicles under the "bridge" as this child is doing!

Or try some of the core exercises for kids in my downloadable e-book to work on your child's core strength.

Leg Lifts

You get lots of different kinds of leg lifts, but this is a handy one for the classroom (although these pics were taken outside!).
You will need:
- a chair for the child
It helps for adults to demonstrate this exercise so the child gets a better idea of the pace - as always - SLOWER is best!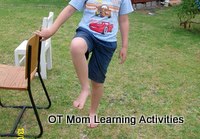 Have your child stand sideways behind the chair so the left hand is resting lightly on the back of the chair.
Slowly lift the left leg, keeping the knee bent until the hip is bent 90 degrees as shown.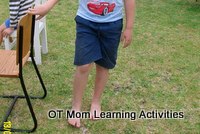 Now comes the tricky part!
Hold it, and slowly lower the leg ALMOST to the ground, don't touch the ground!
Now raise it again. Repeat once or twice.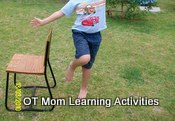 Harder: after raising the leg, slowly let go of the chair and keep your balance.
This child is struggling to keep his balance, as can be seen by the outflung arms and the lifted knee getting pressed against the other leg for stability.

Don't forget to turn around so the other hand can rest on the chair and do the exercises with the other leg.
Just do a few repetitions with each leg at the beginning and increase repetitions as your child's endurance increases.
If your child keeps losing their balance, then show them where their tummy muscles are and ask them to pull them tight while they lift their leg. They can try pulling their belly button in towards their spine to activate their core muscles.
Using Your Local Park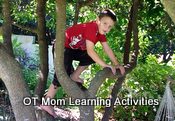 Climbing up trees and clambering over jungle gyms are "sneaky" core exercises for kids who dislike doing specific exercises like the ones suggested on this page.
Climbing, pulling and clambering can help your child work on core strength and stability. Your child will benefit immensely from hours spent at the park!
Any activity that requires your child to lift both feet together (eg to swing both legs over a bar, or lift them both to wrap around a branch) will use the core muscles.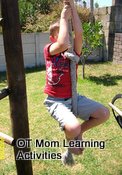 Encourage your child to pull up on knotted ropes or balance on low beams. If at first they don't succeed, encourage them to keep trying at least once every time they go to the park – they will soon surprise themselves!
More Core Exercises for Kids

The free core exercises for kids on this page are just a taster of the many core strengthening exercises and activities suggested in this OT Mom e-book.
For the price of a couple of cheap coffees you can download an e-book containing more than 20 pages of photographed core exercises for kids.
Read a full description and reviews over here!
I link to some products on PFOT for your convenience. These are affiliate links and I receive a small commission if you purchase a product through my links. However, you are under no obligation to purchase anything!

If this page was helpful, please share it with your friends!

Get 15% Off in my
Summer Activities Sale!
Summer vacation provides lots of opportunities
to work on your child's gross and fine motor skills.
Get a head start with 15% off ANY of my OT Mom E-Books
including my already discounted Bundle Deals!
Just enter the promo code summer2018 at checkout.
Then click "apply" to get your discount!

View a description of all my e-books here and don't forget to check out the Bundle Deals.
Offer ends on 30 June 2018.

Didn't find what you were looking for? Try a search of my site!