Fine Motor Activities


Viewing this page on your device?
Please adjust your settings to enable images!
I use small photos to illustrate the information and activities that I share, and you will have a much better experience on this website if you can view the images.

Using fun fine motor activities will give your child a sense of achievement while helping to develop essential handwriting skills.
Kids with poor fine motor skills often dread paper-and-pencil activities... don't worry, there is not a pencil or a crayon in sight for most of these fun learning activities!
So let your child improve fine motor skills without forcing the use of a pencil, and you may see some improvement in handwriting ability.
Click on the quick links below to see the range of pages on my site, each containing photographed activities and/or helpful information.

Hands, Fingers and Wrists

Scissor Skills And Playdough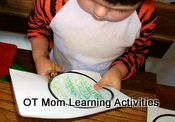 Some Questions Answered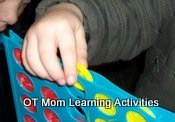 Helpful Tips

Some helpful tips from me and from other bloggers with a special interest in helping children!
If you want to have my fine motor activities, articles and tips in a printable, easily accessible format, with bonus activities and features, check out my Fine Motor Activities E-book!

Thank you for visiting my site! I hope you found it helpful!

Please sign up for my free newsletter to receive occasional updates when I post new activities and articles.

Home › Fine Motor Activities
If this page was helpful, please share it with your friends!

Get 15% Off in my
Summer Activities Sale!
Summer vacation provides lots of opportunities
to work on your child's gross and fine motor skills.
Get a head start with 15% off ANY of my OT Mom E-Books
including my already discounted Bundle Deals!
Just enter the promo code summer2018 at checkout.
Then click "apply" to get your discount!

View a description of all my e-books here and don't forget to check out the Bundle Deals.
Offer ends on 30 June 2018.

Didn't find what you were looking for? Try a search of my site!