Fine Motor Christmas Activity Pages
Fine Motor Christmas Activity Pages


Do you want Christmas activity pages that are much more than just coloring pages?
Do you want your child to work on fine motor and visual perceptual skills as well?

Try My Pack Of Fine Motor Christmas Activity Pages!

This accessible download contains more than 30 easy-to-use Christmas printables that can be used at home, at school and in Sunday school over the Christmas period.
The activity sheets focus on developing fine motor skills with a variety of techniques, and giving some visual motor practice with 9 different figure-ground mazes.
These printable Christmas activities can be used as a bonus activity for any Christmas Sunday School lesson, as they reflect different aspects of the Biblical nativity story, from the angel's visit, to Jesus' birth, to the shepherds and the Magi. There are even a couple of pages that reflect Zechariah and Elizabeth's story!

More than 30 different printable activities!
I usually teach Sunday School over the Christmas school holidays, but it is often a struggle to find Christmas activity pages that are Bible-based, fun for kids to do, and are more than just coloring pages.
I never really switch off my occupational therapy (OT) brain, and I love to help kids develop their fine motor skills during the activities after the lessons. So I designed these Christmas activity pages as Sunday School OT Mom!
All the Christmas activity pages are in black and white, to save on ink, and to allow your child to be as creative as possible when completing the activity. You can reuse the activities year after year with all your children / your new classes!
This pack contains more than 30 different Christmas activities!

What You Will Get In This Christmas Activity Pack!

A sample of the activities available in the pack
 -  An Overview of Fine Motor Techniques
There are 2 pages of fine motor techniques that will help your child get the most out of the activities.
These quick, photographed tutorials show you the best way to do the activities in order to develop fine motor skills.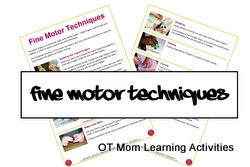 2 pages of fine motor tips and techniques
 -  13 Fine Motor Christmas Activity Pages to Decorate
These fine motor activity pages will give your child lots of practice in getting the fingers working!
Use scrunched up paper balls, little balls of cotton wool, snipped paper or torn paper to decorate these activities. Photo suggestions are provided!
Of course, they can also simply be used as Christmas coloring pages.

 -  7 Different Popsicle Stick Scenes

Make some lovely Christmas nativity scenes with these printables. Use jumbo popsicle sticks to make the outline of a stable or a flat roof house. Then use torn or snipped paper to make a collage background.
There are 7 different nativity scenes - some with just Mary, Joseph and Jesus, some with the shepherds, some with the wise men, and one with Zechariah and Elizabeth!
There are 3 additional simpler scenes with less background, for younger kids.
7 different nativity scenes for different parts of the Christmas story
popsicle stick nativity scene
 - 4 Pages of Spiral Decorations

There are 4 pages of illustrations which have been decorated with faded spirals – your child can trace the spirals to work on pencil control.
Spiral pictures and layered shapes
 -  2 Pages of Layered Shapes

Great for scissor skills - print the pages on different colors of paper and have your child cut out the shapes, then layer them in different sizes and colors.
You can also trace around the shapes to work on visual-motor integration.
Use the layered shapes for decorations, gift tags, place name holders...
 -  9 Different Christmas Mazes
There are 9 different Christmas mazes with varying degrees of difficulty, to work on visual perception and fine motor sklls.
There is one maze with Mary visiting Elizabeth, while the other Christmas themed mazes all convey a different part of the nativity story.

9 nativity based mazes
Purchase This Pack for Just $7!

Use your credit card to pay securely through PayPal OR pay with your PayPal account.
You will have the option to download your Printable Christmas Activity Pages straight away, or you can download the pack from the email you will receive shortly after payment.
Parents and teachers of single classes can make as many copies as they need for the children in their family or class. You can use the pack over and over each year!

Got Questions?
Pop over to my E-Book FAQ page for comprehensive answers to questions regarding payment, downloading, use of the e-books and troubleshooting.
None of the OT Mom E-Books TM serve as a substitute for an occupational therapy evaluation and treatment. Please read my E-Book Disclaimer for further details.
All OT Mom E-Books TM Come With A

Guarantee

! If you're not satisfied with your e-book purchase(s), just email me within 2 weeks of your date of purchase and explain why you are not satisfied - and I'll issue your 100% refund within a week.
Your e-book purchase is 100% safe and secure - and 100% risk-free.
Not Convinced? Try My Free Sample of Christmas Activities!

I developed some of these Christmas printables for kids a few years ago to help kids work on fine motor skills.  They were recently updated and combined into a single document.

You can download them from this page, to see if this product is right for you!
More Christmas Printables for Kids!

If you liked these printable Christmas activities for fine motor skills and figure-ground perception, then check out these other printable Christmas packs that I have developed!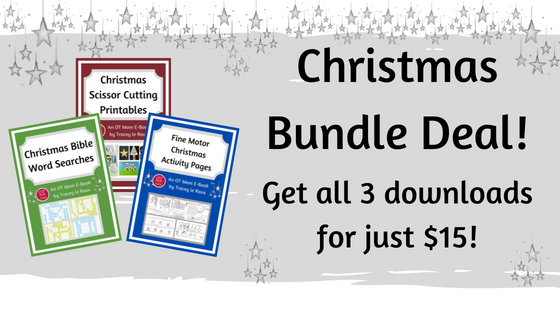 Thanks for your interest! I hope you are blessed and encouraged by these fun Christmas activities you can do with your child this year!
Fine Motor Christmas Activity Pages
Fine Motor Christmas Activity Pages
If this page was helpful, please share it with your friends!