Scissor Cutting FAQ


Scissor cutting should play a big part in preschool and kindergarten activities, because learning how to use scissors correctly can also help with developing pencil control skills.
Cutting with scissors is considered to be a pre-writing skill.

Use the quick links below to jump to answers to your questions on this page.
How Does Scissor Cutting Help Develop Pencil Control?

Have a look at this pic of a mature pencil grip and you can see how these tripod fingers (thumb, index and middle fingers) are working well together to control the pencil.
Children need lots of opportunities to strengthen the hand muscles and practice the dexterity needed for pencil control.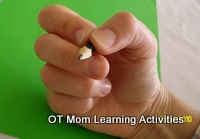 Cutting with a proper scissor grasp, will give the tripod fingers lots of practice in working together, and will help to strengthen your child's hand muscles.
This will help to improve fine motor skills and will help to give your child the foundations needed to develop pencil control for good handwriting.
Cutting out on a line can also help to strengthen visual-motor skills, which may help improve handwriting.

What Is The Correct Scissor Grip?

Because we want the tripod fingers to get lots of practice (in preparation for holding the pencil), the thumb, index and middle fingers need to be through the scissor holes. However, the type and size of the holes affects the exact positioning of the fingers.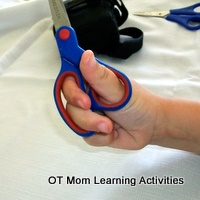 Round and oval holes. Thumb through round hole, middle and index fingers through oval hole.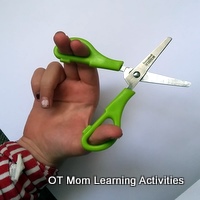 Two oval holes. Thumb through one hole; index and middle fingers through the other hole.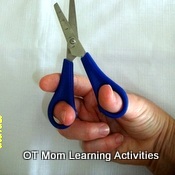 Two round holes. Thumb through one hole; middle finger through other. Index finger on outside for stability.
Holding the scissors in this way enables the tripod fingers to work together well.
You can help your child keep the ring and little fingers tucked away by holding a little piece of paper under them. Keeping the ring and little fingers tucked away develops "ulnar stability" , which basically gives the side of the hand more stability, which frees the tripod fingers up to move more accurately.
If your child is just learning to cut, or if your child has weak hands and poor fine motor control, then look for scissors that have a large oval hole that the index and middle fingers can both fit through.
But AVOID scissors that make your child use ALL the fingers in the scissor holes!

Read my indepth page about how to hold scissors, for more information on helping your child achieve the correct scissor grip.
Left Handed Children and Left Handed Scissors

If you look at the pictures of scissors below, the left handed scissors are on the left of each photo. Take a close look at how the blades are attached. They are reversed, when compared to the right handed scissors!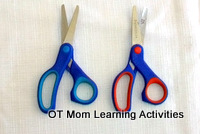 Left handed scissors and right handed scissors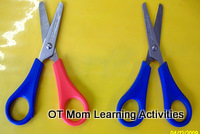 Left handed scissors and right handed scissors
Why are the blades reversed on left handed scissors?

There are two huge benefits to the reversed blades on left handed scissors.
The reversed blades work with the natural left handed cutting motion. If they use right handed scissors, the blades don't open and close as smoothly.
The reversed blades make it easier for the lefty to see the line along which he/she is cutting.
So-called "ambidextrous" scissors are NOT left handed scissors at all - they may have more comfortable handles, but the blades are attached as for right handed scissors, and your child will not get the benefit of the reversed blades as described above.
Common Scissor Cutting Issues For Lefties
A left handed child who uses the right hand for scissor cutting is

missing out on

strengthening and refining the left hand muscles in preparation for handwriting.


A left handed child who uses right-handed scissors in the left hand, may end up holding the paper or the scissors awkwardly in order to see the line properly, and this may result in untidy cutting.
So, if you want to teach your left handed child how to hold scissors correctly, the most important step is that you provide left handed scissors, like these from Fiskars#Ad.
Once your left handed child has left handed scissors, then all the principles of learning scissor skills apply in exactly the same way!

How Does A Child Learn To Cut With Scissors?

"Cutting out" involves two completely separate skills:
learning to use scissors correctly (how to hold them, and how to open and close them effectively)
learning how to cut out along a line
There are many activities and strategies that parents can use, in order to help their child master scissor cutting skills.

You can find out more in my step-by-step pages below:

More Scissor Activities And Resources

I hope you found this page of scissor skills information helpful! Thank you for visiting my site!
If this page was helpful, please share it with your friends!

References
Mitchell, A. W., Hampton, C., Hanks, M., Miller, C., & Ray, N. (2012). Influence of task and tool characteristics on scissor skills in typical adults. American Journal of Occupational Therapy, 66, e89–e97. https://dx.doi.org/10.5014/ajot.2012.004135
Ratcliffe, I., Concha, M. & Franzsen, D. (2007). Analysis of cutting skills in four and six year olds attending nursery schools in Johannesburg. South African Journal of Occupational Therapy. 37. 4-9.
Ratcliffe, I., Franzsen, D., & Bischof, F. (2010). Development of a scissors skills programme for grade 0 children in South Africa - A pilot study. South African Journal of Occupational Therapy. 41. 24-31.
Smith, Barbara A. MS, OTR/L. From Rattles to Writing – A Parent's Guide to Hand Skills. 2011. Therapro Inc.
Help Your Child Master Scissors

Is your child struggling to cut neatly with scissors? 
Do you want to teach your preschooler how to cut with scissors but don't know where to start?

My 33 page Scissor Skills E-book will help answer your questions, and will give you step by step photographed activities to help your child master scissor skills.

My Fun Cutting Templates E-book gives you 19 different scissor cutting templates to enable your child to learn to cut on straight lines and then to cut out shapes. All the activities are photographed so you and your child can see what you are working towards!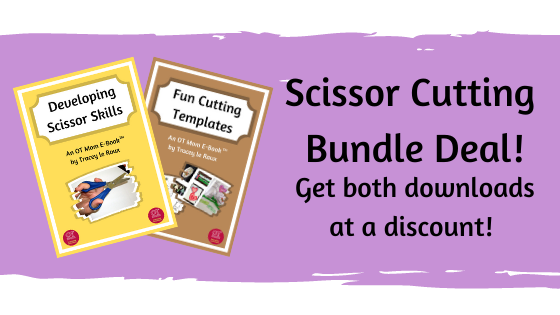 Didn't find what you were looking for? Try a search of my site!