Scissor Cutting FAQ


Viewing this page on your device?
Please adjust your settings to enable images!
I use small photos to illustrate the information and activities that I share, and you will have a much better experience on this website if you can view the images.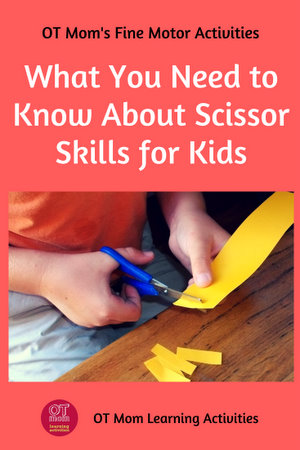 Scissor cutting should play a big part in preschool and kindergarten activities, because learning how to use scissors correctly can also help with developing pencil control skills.
Cutting with scissors is considered to be a pre-writing skill.

Use the quick links below to jump to answers to your questions on this page.
How Does Scissor Cutting Help Develop Pencil Control?

Have a look at this pic of a mature pencil grip and you can see how these tripod fingers (thumb, index and middle fingers) are working well together to control the pencil.
Cutting with a proper scissor grasp, will give these fingers lots of practice in working together, and will strengthen your child's hand muscles.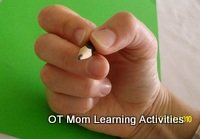 This will help to improve fine motor skills and to develop the correct pencil grasp and pencil control for good handwriting.
What Is The Correct Scissor Grasp?

This is the ideal scissor grasp: the thumb through one hole and the middle finger through the other hole, and the index finger resting on the outside of the scissors.
If the child's fingers are very small and/or if the finger hole is large, it is acceptable to put the index and middle fingers through the same hole.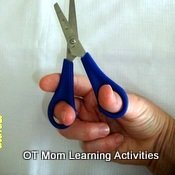 Holding the scissors in this way enables the tripod fingers to work together well. You can help your child keep the ring and little fingers tucked away by putting a little piece of paper under them.
What About Left-handed Kids?

Left-handed children should always cut with their left hand, using left-handed scissors.
Left handed scissors are vital to enabling them to cut successfully. This is important as it helps them to make their dominant hand strong and specialized.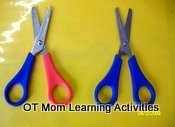 A left handed child who cuts with the right hand is missing out on strengthening and refining the hand muscles needed for good pencil control.
So-called "ambidextrous scissors" are a marketing ploy – it is not the comfort of the handles that makes a difference, it is the way the blades are fixed.
Look at the picture above: the scissors on the left are for lefties, and you can see how the blades are attached differently from those on the right-handed scissors. This enables the child to see the line effectively when cutting out.

When a left-handed child cuts with right-handed scissors in the left hand, the child usually ends up holding the paper or the scissors awkwardly in order to cut on the line, and this may result in untidy cutting.
If you are trying to get to grips with helping your left handed child, then visit this site designed especially to help left-handers (opens in a new window).
Or check out the range of scissors that also come in left handed versions, from PFOT.

How Does A Child Learn To Cut With Scissors?

"Cutting out" involves two completely separate skills:
learning the grasp-release motion of using scissors

learning how to cut out on a line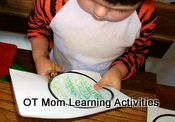 It is best to teach these two skills separately, and help your child to get the hang of opening and closing scissors before attempting any "proper" cutting out.

Head over to my detailed page to teach your child how to use scissors. Lots of photos and tips abound!
Scissor Activities And Resources

Help your child master the grasp-release motion and gain confidence with snipping before moving on to cutting on a line.
Lots of tips and photos to help you!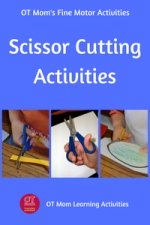 Head over to my Cutting Activities page to get some free scissor cutting ideas and a free cutting template download!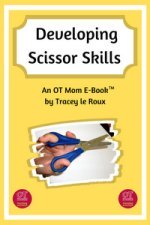 All my scissor skills information and tips in an easily accessible e-book download!

Comes with a Fun Cutting Template containing cutting activities not found on my site!

These awesome cutting printables will give your child lots of opportunity to master scissor cutting while creating lovely end-products!

Scissor Cutting Resources from PFOT
PFOT stock a range of self opening, adapted and other special resources that are designed to help kids who struggle with scissor cutting. Check out their resources here!

Exclusive Offer to OT Mom Readers
Use the coupon code OTmom
and get 15% off your order of $35 or more at PFOT

This is an affiliate link and if you purchase something through my link,
I will earn a small commission which helps to support my site!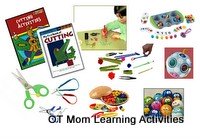 Related Pages On My Site

Thank you for visiting my site!

This is an affiliate link to an advent product I have used and love. If you purchase through this link, I may receive a small commission.
You are, however, under no obligation to purchase anything!

If this page was helpful, please share it with your friends!

Didn't find what you were looking for? Try a search of my site!