From Rattles To Writing

An Indepth Review


Although I received a copy of "From Rattles to Writing" as a gift from the author, the review is unpaid, honest and all mine. I believe this can be a valuable resource for new parents, caregivers of young children and therapists who are new to the field of pediatrics.

I have used my affiliate link to direct you to the book on Amazon for your convenience; however, it should be readily available from other bookstores and some libraries. If you purchase the book through my Amazon link, which you are under no obligation to do, I will receive a small commission which helps support my site.




About The Author:


Barbara A. Smith is an experienced occupational therapist whose passion for children blends beautifully with her instinct for using everyday resources to make effective activities.
About "From Rattles To Writing":
The blurb on the front cover says "A Parent's Guide to Hand Skills", but in all honesty this is only half the truth, because what Ms Smith does is cover the entire range of a child's development from birth to age five.
Among the developmental aspects covered are: visual perceptual and spatial relationship skills, visual-motor coordination, sensori-motor skills, gross motor skills, and communication skills, and more. Oh yes, and hand skills of course! At the appropriate ages, Ms Smith also covers a child's need for developing skills in independence and also gives ideas for early math skills.
From Rattles to Writing covers a child's development in stages, and the chapters of the book are arranged according to a child's age – the first year of life is split into age birth to three months; three to six months; and six to twelve months. Toddlers are covered in two sections: age 12 -18 months and 18-24 months, while ages 2, 3 and 4 years have a chapter each, with a brief look at the Kindergarten skills a child needs in age 5-6.
Ms Smith does a fantastic job of rounding up "old fashioned" rhymes, songs and activities that we may be familiar with from our own childhoods. Barbara shows how those activities play a role in your child's development, and guides parents in introducing them at appropriate times.
The activities usually make use of inexpensive every day materials, and some of them surprised me at the early age at which a child could make use of them!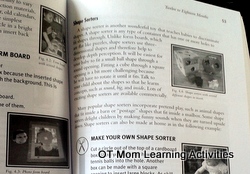 How To Read This Book:

Pick the chapter / age group relevant to your child and read that first. If you feel your child is somewhat delayed or lacking in certain skills, then read the previous chapter.
And if you want ideas to keep your gifted child stimulated, then skip ahead to the following chapter. As Ms Smith points out, all children develop at different levels – you may find that your child is "ahead of schedule" in some skills and "behind schedule" in other skills.
The beauty of this book is that the skills within each chapter are clearly set out and you can easily focus on the skill you want, and even track the development of that skill over a few chapters.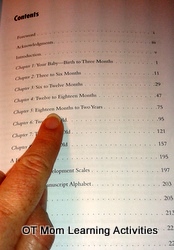 Who Would Benefit From This Book?

I would give From Rattles To Writing to new parents who are keen to make sure their child does not miss out on any aspect of appropriate development. The book does not have to be read in its entirety – new parents can check out just one chapter at a time as relevant to the age of their child.
I would also recommend the book for any parent whose child has a developmental delay, as well as for the caregiver/teacher who needs to work with that child. Start at the level your child is at, and then progress from there.

Nursery school teachers and day care moms would also benefit from the practical activities and ideas to ensure the children in their care are being stimulated and challenged to develop in all spheres.
Ms Smith strikes the balance between information that parents are looking for and the more technical details that a professional may enjoy. For this reason, I would also recommend this book for therapists who are new to working with young children, or those fresh out of studies. I would have benefited so much from this book in my early years of work, before I had my own children to experiment on!
View From Rattles To Writing on Amazon!
#Ad
(This is an affiliate link and I may receive a small commission if you purchase through my link.)
Thank you for visiting!

From Rattles to Writing
If this page was helpful, please share it with your friends!

Massive Summer Savings!

Pay $25 instead of $32 during the month of June!
Didn't find what you were looking for? Try a search of my site!