South Africa E-Book Prices


Viewing this page on your device?
Please adjust your settings to enable images!
I use small photos to illustrate the information and activities that I share, and you will have a much better experience on this website if you can view the images.

Thank you for your interest in my OT Mom e-books! This page will give you details on the South African e-book prices to enable you to pay in ZAR.
Gross Motor E-Books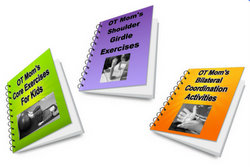 Bilateral Coordination Activities

Shoulder Girdle Exercises for Kids

View details of each Gross Motor E-book here.

Fine Motor E-Books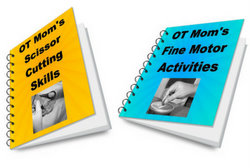 Scissor Cutting
(includes free cutting templates)

Christmas Cutting Activities

View details of each Fine Motor E-Book here.

Discounted Bundle Deals
Gross Motor Bundle
(Core + Shoulder Girdle + Bilateral Coordination)

Fine Motor Bundle
(Scissor Cutting + Fine Motor + Free Cutting Templates)

Mega Motor Bundle
(Core + Shoulder Girdle + Bilateral Coordination + Scissor Cutting + Fine Motor + Free Cutting Templates)

View details of each e-book here.

* Organisation Version
The Organisation Version permits the purchaser to make up to 10 copies of the e-book for use within the organisation (eg school hospital, clinic). Please specify the name of the Organisation. More details about the Organization Version.

How To Purchase In ZAR
1) Download my South Africa E-Book Price List, which includes my banking details (for security reasons I cannot post the details here). Your pdf download will start immediately, so check your download folder if it does not open on your screen within a few seconds.

2) Make your payment by EFT (NO cash deposits, please as I incur large bank fees for these!) - reference is E-Books - YOUR SURNAME

3) Send me an email specifying your name and the e-books you have ordered, as these are not given in the bank generated payment notification. You can use the subject SA E-Book payment, and attach your proof of payment. My email details are contained in the price list. I need these details in order to manually send you the download links for the e-books you purchased.

4) Once the funds are cleared, I will confirm this, and then will manually activate a download link for you, which will be sent to the email address you provide.This may take 2 -3 days as I do not get to my PC daily, and sometimes the funds do not clear immediately. Thank you for understanding.

Questions?
If you have any questions about this, please do contact me and ask away!
You can also check out my FAQ to answer any questions you may have regarding how the e-books work.
Back to Top
If this page was helpful, please share it with your friends!

Didn't find what you were looking for? Try a search of my site!