Shoulder Girdle Exercises
Shoulder Girdle Exercises
For Kids
Does your child need shoulder girdle exercises to strengthen the upper body?

Does your child have poor fine motor skills as a result of poor shoulder girdle stability?
Do you want to give your child the best possible foundation for handwriting, by working on upper body strength and stability?

This Printable Resource Full of Fun Shoulder Exercises May Help!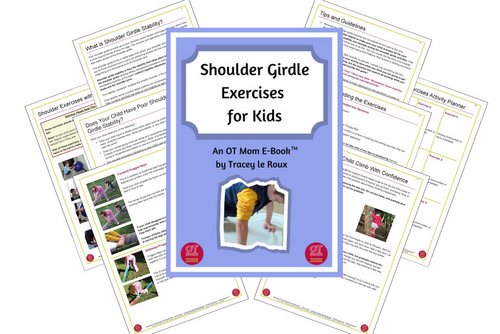 What You Will Receive

Information on shoulder girdle stability
Why good shoulder girdle stability is important for school
What it looks like when a child has a poor shoulder girdle stability
Tips and guidelines to help with the exercises
20 pages of photographed exercises and activity ideas to help develop your child's shoulder girdle stability.
What Kinds Of Exercises Are In This Download?
Shoulder girdle exercises can increase shoulder stability, which is an essential base for good handwriting.
Many children who struggle to control a pencil effectively and whose fine motor skills are poor, lack good stability and control of their shoulder girdle muscles.
There are 20 pages of photographed exercises, including:

Weight-bearing exercises
Pushing exercises
Pulling exercises
Exercises with a therapy ball
Chores that may help strengthen the shoulder girdle
Shoulder exercises you can do at a playpark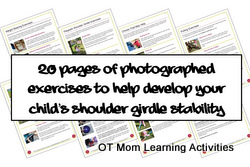 This 40 page e-book also comes with a goal planner, exercise planner and tips to help you integrate fun shoulder girdle exercises into your child's routine.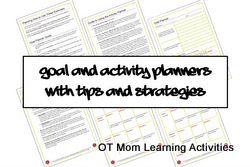 How To Buy The Shoulder Girdle Exercises E-Book
Use your credit card to pay securely via PayPal, or pay with your PayPal account. You will receive the download links by email shortly after payment.
Your e-book comes in a secure PDF format, which you can save on your device. You can then read it on your device, and/or print out the pages you want to have on hand.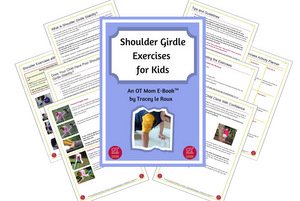 20 Pages Of Photographed Exercises And More!
This E-book is available at a discount in these Bundle Deals:

Got Questions?
Pop over to my E-Book FAQ page for comprehensive answers to questions regarding payment, downloading, use of the e-books and troubleshooting.
None of the OT Mom E-Books TM serve as a substitute for an occupational therapy evaluation and treatment. Please read my E-Book Disclaimer for further details.
All OT Mom E-Books TM Come With A

Guarantee

! If you're not satisfied with your e-book purchase(s), just email me within 2 weeks of your date of purchase and explain why you are not satisfied - and I'll issue your 100% refund within a week.
Your e-book purchase is 100% safe and secure - and 100% risk-free.
Additional Resources
Or just get the shoulder exercises e-book to work specifically on shoulder girdle strength and stability!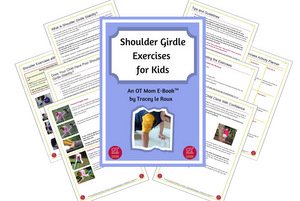 20 Pages Of Photographed Exercises And More!
Shoulder Girdle Exercises
Shoulder Girdle Exercises
If this page was helpful, please share it with your friends!