Core Exercises for Kids E-Book
Core Strengthening Exercises
for Kids

Are you looking for core strengthening exercises for kids that are actually fun?
Does your child struggle with typical core exercises like planking and sit-ups?
Does your child have a poor sitting posture and poor endurance of gross motor activities?
Does your child need to work on core strength but you have no idea where to start?

These fun core strengthening exercises for kids are a useful resource for parents, teachers and therapists!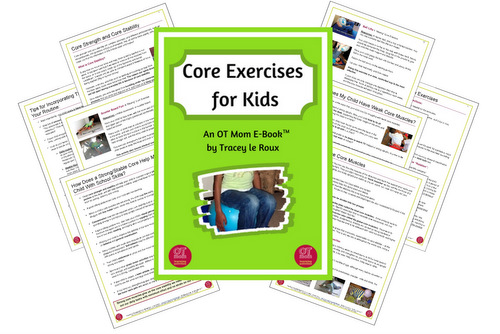 What You Will Get:
Information on the core muscles, core strength and core stability
How a strong/stable core can help your child in school
What it looks like when a child has a weak core
Tips and guidelines to help with the exercises
More than 20 pages of photographed core strengthening exercises for kids that may help develop your child's core strength.
What Kinds of Core Activities Are In This Download?
With these fun, achievable abdominal exercises, your child should soon develop a stronger core that will have lifelong benefits.
These core exercises include:
Core strength activities with minimal equipment (a mat or folded blanket)
Fun core exercises with easy-to-obtain items (eg balls, ropes etc)
Core exercises using a therapy ball
Core exercises using a mini trampoline
Playpark core strengthening exercises for kids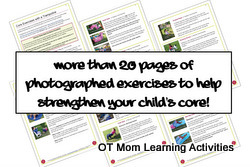 Lots of photographed exercises
This 49 page e-book also comes with a goal planner, exercise planner and tips to help you integrate fun core exercises into your child's routine.
The exercises are aimed at children from kindergarten through elementary school, but it is easy to upgrade or downgrade the activities according to your child's age and abilities.
Bonus pages!
How to Buy The Core Exercises E-Book
Use your credit card to pay securely via PayPal, or pay with your PayPal account. You will receive the download links by email shortly after payment.
Your e-book comes in a secure PDF format, which you can save on your device. You can then read it on your device, and/or print out the pages you want to have on hand. 
20+ Pages Of Core Exercises Plus Extras!
This E-book is available at a discount in these Bundle Deals:

Review of Core Strengthening Exercises For Kids

When my children's teacher pointed out that one child wasn't crossing his midline and the other child had weak core muscles, I felt worried. Until I found OT-Mom. She makes everything seem manageable and what's more, fun!
My kids and I have been incorporating the core exercises into playtime and I can already see such a difference.
The e-book is easy to follow and very encouraging. I feel that it is going to save us a fortune in OT bills and I'm very grateful for that.

I've been recommending OT-Mom to every mother I know because I think we all need to be aware of how far reaching these issues are. I've certainly realized where I myself am lacking in Core Strength! So the whole family is doing 'circus tricks' now!
Thank you Tracey.
Charisse L.
South Africa

Got Questions?
Pop over to my E-Book FAQ page for comprehensive answers to questions regarding payment, downloading, use of the e-books and troubleshooting.
None of the OT Mom E-Books TM serve as a substitute for an occupational therapy evaluation and treatment. Please read my E-Book Disclaimer for further details.
All OT Mom E-Books TM Come With A

Guarantee

! If you're not satisfied with your e-book purchase(s), just email me within 2 weeks of your date of purchase and explain why you are not satisfied - and I'll issue your 100% refund within a week.
Your e-book purchase is 100% safe and secure - and 100% risk-free.
20+ Pages Of Core Exercises Plus Extras!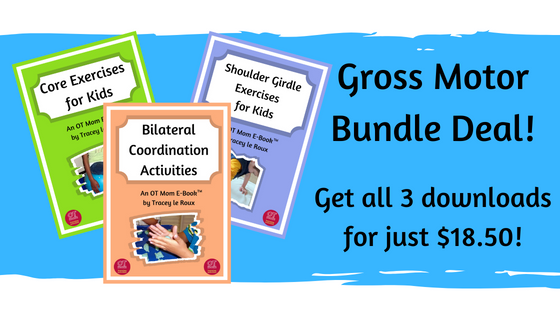 Thank you for your interest in my e-books!

Core Exercises for Kids E-Book
Core Exercises for Kids E-Book
If this page was helpful, please share it with your friends!