Pencil Grip Information Resource


Do you have questions about your child's pencil grip?
Are you wondering if your child is holding the pencil correctly?
Do you want to know how your toddler should be holding the pencil?

My Resource Book May Help Answer Some Of Your Questions!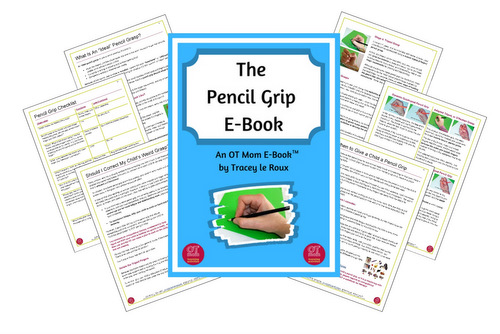 Contents
In this printable, accessible download, you will find answers to these questions:
What is an ideal pencil grasp?
What are the stages of pencil grasp development?
What are the different functional pencil grips?
What does a dysfunctional pencil grasp look like?
How can I help my child develop a functional pencil grip?
Should I correct my child's weird grasp?
And a bonus pencil grasp checklist!
Why a Pencil Grip E-book?
Some of my most popular pages on my website are the ones dealing with pencil grasp and the development of a "good" pencil grasp. Although I have a free printable on my site that deals with pencil grasp development, a lot of people are looking to have more information at their finger tips without having to wade all over my site!
This e-book aims to help teachers in particular, by giving photographed examples of different pencil grips which are functional, and should be encouraged.
Many people think that the dynamic tripod grip is the only functional way to hold the pencil, but in reality, there are some variations on the tripod grip that can also be functional – I show these in my e-book.
I also provide photographs of dysfunctional pencil grasps, with some feedback on what could possibly be causing the poor grip.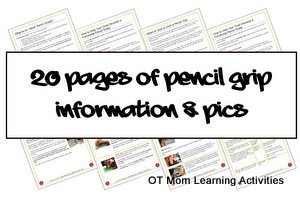 This download is intended to be an information resource, and as such, it does not contain specific activities to rectify poor grips. I do recommend an occupational therapy assessment if you are at all concerned about a child's poor grip.
However, the e-book does give an general guidelines for parents and teachers in order to encourage the development of a good grip, and you can browse my site (or purchase my other fine motor e-books) to get a wealth of fine motor activities at your fingertips.
How to buy this printable download for just $4!
Use your credit card to pay securely via PayPal, or pay with your PayPal account. You will receive the download links by email shortly after payment.
Your e-book comes in a secure PDF format, which you can save on your device. You can choose whether to read it on your device, or print out the pages that you want to have on hand.

More Than 20 Pages Of Information!
Got Questions?
Pop over to my E-Book FAQ page for comprehensive answers to questions regarding payment, downloading, use of the e-books and troubleshooting.
None of the OT Mom E-Books TM serve as a substitute for an occupational therapy evaluation and treatment. Please read my E-Book Disclaimer for further details.
All OT Mom E-Books TM Come With A

Guarantee

! If you're not satisfied with your e-book purchase(s), just email me within 2 weeks of your date of purchase and explain why you are not satisfied - and I'll issue your 100% refund within a week.
Your e-book purchase is 100% safe and secure - and 100% risk-free.
More Than 20 Pages Of Information!
Resources To Build Your Child's Fine Motor Skills
If you are at all concerned about the way your child holds a pencil, please do consider an occupational therapy evaluation to see what is contributing to the issue.
However, if you are wanting to give your child the best possible foundations for developing a good, functional grip on the pencil, then consider my accessible, affordable fine motor resources!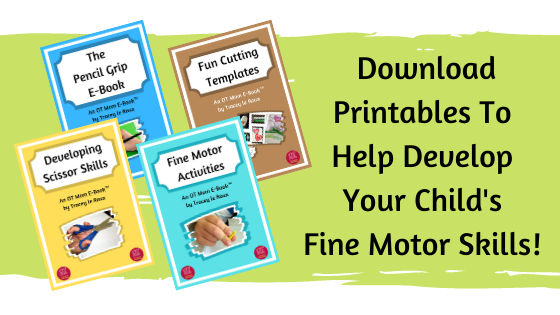 Thanks for your interest in my e-books!
If this page was helpful, please share it with your friends!