Sensory Processing Disorder


Viewing this page on your device?
Please adjust your settings to enable images!
I use small photos to illustrate the information and activities that I share, and you will have a much better experience on this website if you can view the images.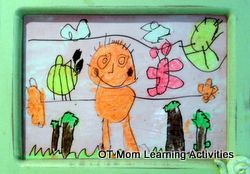 Sensory Processing Disorder (SPD) is a term that is becoming more and more familiar to teachers and parents. However, many people still don't fully understand what it is about or how it can affect day-to day life at home and at school.

This page gives an overview of sensory processing, with some helpful links to more in-depth information and some helpful SPD books.
Click on the quick links below to jump to the sections you want to read.

              - Sensory-Based Motor Disorder
              - Sensory Discrimination Disorder
What is Sensory Processing?

Sensory Processing is a normal process that takes place in all of our brains. Without it, we would be unable to function effectively!
Sensory information comes to the brain from:

The eyes (visual information)

The ears (auditory information)

The nose and tongue (olfactory and taste information)

The skin (tactile information)

Additional vital sensory information is obtained from:
The semi circular canals in the inner ears – this is vestibular information which tells the brain if and how the body is moving

The muscles and joints – this is proprioceptive information which tells the brain about the position of the various body parts
Normal sensory processing occurs when the brain:
receives information from all the senses of the body,
processes (or integrates) that information,
decides how the body should respond,
and then sends the message for the body to respond appropriately.
When the brain does not adequately process the information it receives from the senses, then the child may experience a disorder of sensory processing - also known as sensory integration disorder.

Sub-Types of SPD

Experts in the field have written numerous excellent books on sensory processing disorder, and the various sub-types that children can present with. I often refer parents to those books for a more in-depth understanding.
But for now, here is a quick overview of the different sub-types - and remember, a child may experience difficulties in more than one area!

1) Sensory Modulation Disorder

Sensory modulation is the ability to regulate, or modulate, the information that the brain is receiving from the senses, so that the amount of stimulation is just right - not too much, and not too little. A sensory modulation disorder can present in different ways:

2) Sensory-Based Motor Disorder

In normal sensory processing, the brain receives messages from all the senses of the body and then works with the information to tell the body how to respond to the information.
When the brain does not process information properly, and therefore does not send the right messages to the body, everyday physical (motor) tasks may be affected.
Here are some possible scenarios:

Poor postural control: This child may struggle to sit upright at a desk, and may struggle with balance and many gross and fine motor tasks.

Poor bilateral integration (bilateral coordination) and poor motor planning skills (dyspraxia):
Some examples of tasks requiring these skills are tying shoelaces, cutting with scissors, riding a bicycle, bouncing a ball and learning how to do new tasks.
3) Sensory Discrimination Disorder

Children who have difficulties in this area may struggle to process and understand
what they see - this may result in poor visual perception and spatial perception

what they hear - this may result in auditory perception problems, where the child struggles to listen, to remember verbal instructions and to make sense what is being said

or what they feel (tactile perception problems) - this may result in a child being clumsy because the brain is not understanding what the hands and body are feeling

Diagnosing
Sensory Processing Disorder

Before you rush into labeling your child or yourself, remember that sensory processing is a normal process we all experience, and we can all have good days and bad days. Sleep deprivation, poor nutrition, illness, and stress can all contribute to moments or days of poor sensory processing. Even PMS can make you feel like you are sensory defensive and heading for a meltdown *grin*.
What we are concerned about is a pattern of repeatedly struggling with the same issue over a period of time, to the degree that it affects your child's day to day functioning - eating, dressing, schoolwork, relationships etc.

Sensory processing/integration disorder is usually diagnosed by an occupational therapist, and occupational therapy is usually recommended.
Your occupational therapist will use sensory integration techniques that are designed to stimulate the appropriate sensory system and prompt the brain to process the information more effectively.Your OT should also help you to identify and implement strategies that will help your child at home and at school.

If you suspect your child may have a sensory integration disorder, please request an appointment with an occupational therapist as soon as possible!
It is important to recognize that sensory integration dysfunction cannot be cured with medication. It is a neurological issue and the underlying processing deficits can be addressed through intervention with sensory integration techniques.
However, there are some helpful sensory integration activities and exercises that parents can do at home to support and help their children who are struggle particularly with sensory modulation.
I also really recommend that parents and kids read at least one good book on Sensory Processing Disorder to better understand how to cope with daily challenges.
Sensory Integration Activities and more

Sensory integration activities are designed to stimulate the appropriate sensory system and prompt the brain to process the information more effectively. This should result in the child responding more appropriately.
Try these sensory integration activities particularly to help kids with sensory modulation issues.

Dig a little deeper with these pages on my site!
And last, but not least, a thought provoking article by Lemon Lime Adventures: 10 things to never say to a child with Sensory Processing Disorder!
I link to some products on Amazon and PFOT for your convenience. These are affiliate links and I receive a small commission if you purchase a product through my links. However, you are under no obligation to purchase anything!

SPD Resources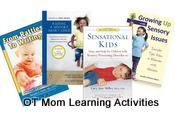 I review a variety of books on sensory processing on this page of my site.
There are books for preteens as well as for parents, teachers and therapists!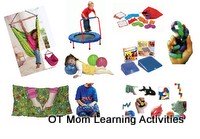 Weighted blankets, sensory toys, and lots more to help kids with SPD!
View the full range of products at PFOT. (Honesty point: I receive a small commission to support my site when you buy items through this link!)

Thanks for reading this page - I hope it was helpful!
Why not sign up for my occasional newsletter to be informed when new articles are posted on my site?
Home › Sensory Processing Disorder
If this page was helpful, please share it with your friends!

Get 15% Off in my
Summer Activities Sale!
Summer vacation provides lots of opportunities
to work on your child's gross and fine motor skills.
Get a head start with 15% off ANY of my OT Mom E-Books
including my already discounted Bundle Deals!
Just enter the promo code summer2018 at checkout.
Then click "apply" to get your discount!

View a description of all my e-books here and don't forget to check out the Bundle Deals.
Offer ends on 30 June 2018.

Didn't find what you were looking for? Try a search of my site!

What Other Visitors Have Said
Click below to see contributions from other visitors to this page...