All About Gross Motor Skills

Viewing this page on your device?
Please adjust your settings to enable images!
I use small photos to illustrate the information and activities that I share, and you will have a much better experience on this website if you can view the images.

Gross Motor Skills are skills that develop through using the large muscles of the body in a coordinated and controlled way.
Movements of the whole arms, the legs and the trunk are all gross motor movements.

Just a few examples are: catching a ball, balancing, climbing, jumping on a trampoline, playing tag and running races.
And those come after the momentous gross motor development that a baby undergoes in 16 short months of life: rolling over, sitting up, crawling and walking!
These are quick links to the different sections on this page that tell you more:

How Do Gross Motor Skills Develop?

Gross motor skills develop through practice and repetition, which is why a baby takes weeks to perfect the art of rolling, sitting or crawling, and a child can take a whole season to learn how to catch a ball while running.
Children need to be exposed to diverse opportunities to move freely and experiment with different resources to help their skills develop.

However, for normal gross motor development to take place, the brain, spine, nerves and muscles need to be intact and undamaged. If damage has occurred through birth trauma, accident or illness, then progress of motor skills, as that of other skills, may be affected.
If you suspect that your child has sustained some damage to the brain or the body, please consult your doctor right away.
See this section for baby development.
Factors That Affect Gross Motor Development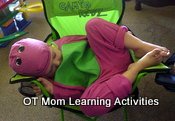 Encourage your kids to become more active!
There are many factors that can affect the development of gross motor skills:
Playing computer games and watching tv has given our kids great exposure to all kinds of information that the previous generation did not have, but the cost is that kids may miss out on opportunities to develop their physical motor skills in outdoor and indoor play.




The presence of

low muscle tone or high muscle tone can affect your child's ability to control his body.


Growing up in a protected environment can actually be hazardous to our health! We don't let our kids play outside, walk to the park or cycle to friends anymore.

We are trying to keep them safe, which is great, but their motor skills can be adversely affected by the lack of physical opportunity.



Babies tend to spend a lot of time in car seats, walking rings and in front of the tv.

These are all adaptations made necessary by the demands of modern life, but too much time in "baby gear" can have a detrimental impact on their motor development.


 A sedentary lifestyle, accompanied by too much rich food, means that adults are less likely to engage in physical games with their children.

Kids then don't have good role models, and prize other things more highly than physical activity and good health.


Underlying physical difficulties with coordination, balance, motor planning, and concentration can all affect a child's ability to take part in, and benefit from, gross motor activities.

These difficulties may stem from birth trauma, Sensory Processing Disorder, developmental delays, genetic abnormalities or many other causes.
Why Are Gross Motor Skills So Important?

Here are a few of the important benefits of developing good gross motor skills:
taking part in gross motor activities can have a positive impact on school readiness skills such as reading, writing and sitting posture. Read my article about school readiness skills and gross motor activities!

regular physical activity can help your child achieve long-lasting good health
your child's confidence and self-esteem may improve as he or she develops the ability to take part in games with other children
stress and frustration can be relieved and released through physical activity
How Can I Improve My Child's Skills?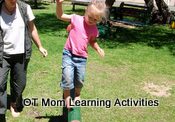 Balancing at the park!
Make frequent park dates and encourage your child to climb, swing and run.

When your child's friends come to play, spend a few minutes in an organized gross motor activity with them.
Show them how to jump rope, build an obstacle course, or play some relay races. They will love having you involved for a few minutes, and they may be inspired to continue with the activity once you're done!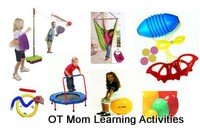 Gross Motor Resources at PFOT
Babies & Gross Motor Development

Some fellow therapists have written some helpful posts on gross motor development in babies:
I hope you found this page helpful! Thanks for visiting my site!
Honesty Point!
To help you, I have linked to a few useful products from various suppliers that reflect the activities suggested on this page.
I occasionally receive samples in exchange for an honest review, but the opinions expressed are entirely my own.
You are under no obligation to purchase anything, but if you do purchase something through my links, I will receive a small commission that will help support this website, at no additional cost to you.
Thank you!
If this page was helpful, please share it with your friends!

Get 15% Off in my
Summer Activities Sale!
Summer vacation provides lots of opportunities
to work on your child's gross and fine motor skills.
Get a head start with 15% off ANY of my OT Mom E-Books
including my already discounted Bundle Deals!
Just enter the promo code summer2018 at checkout.
Then click "apply" to get your discount!

View a description of all my e-books here and don't forget to check out the Bundle Deals.
Offer ends on 30 June 2018.

Didn't find what you were looking for? Try a search of my site!