Mastering Scissor Skills!
Do you need tips to improve your child's scissor skills?

Is your child struggling to cut neatly with scissors?

Does your child hack the paper when cutting?

Does your child struggle to stay on the lines when cutting out?

Do you want to know how to teach your preschooler to cut with scissors, but don't know where to start?
My Scissor Skills E-Book May Be Just What You Need!

Contents of This Download
My 33 page e-book is packed with helpful tips and strategies to help your child learn to master cutting out with scissors.
In the information section, you will find answers to the questions
Why are cutting skills important?
What is the best scissor grip?
What about left handed kids?
How can I help my child cut more efficiently?
There are 4 basic steps to learning to cut with scissors. These are covered in detail in my e-book, along with photographed activities to help your child master each step.
Step 1: Mastering the grasp release motion without scissors
Step 2: Mastering the grasp release motion through snipping with scissors
Step 3: Learning to cut on a straight line
Step 4: Learning to cut simple shapes
I have also included a brief section on helping your child master more advanced cutting activities.

Although much of the information is available on my website if you search through all my articles, my E-book provides you with all the information at your fingertips in an easily accessible, printable download.
In addition, there are tips, activities and a checklist that are found only in the e-book. 
I have also provided some photos of ways in which kids may struggle with cutting out, and I offer some practical advice that parents and teachers can use to assist these kids.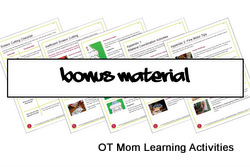 How to Use the E-Book
Your e-book comes in a secure PDF format, which you can save on your device. You can choose whether to read it on your device, or print out the pages you want to have on hand. 
As a homeschooling mom on a tight budget, I make a point of choosing activities that can easily be done at home with inexpensive everyday resources. As with all the activities on my website, real-life photos accompany the instructions.
My Fun Cutting Templates Pack was designed to supplement my Scissor Skills E-Book, with a range of graded cutting printables that help you put into practice the tips and suggestions in my Scissor Skills E-book.

Although the Cutting Templates are now sold individually, I strongly recommend that you get them with the Scissor Skills E-book, and for this reason, I offer a discounted bundle deal of the two books together.
You can view the Fun Cutting Templates here to see what you are getting in the deal!

How To Buy The Scissor Skills E-Book
Use your credit card to pay securely via PayPal, or pay with your PayPal account. You will receive the download links by email shortly after payment.

As I explained above, I really recommend that you get the bundle deal that includes the cutting templates.
The cutting templates have been designed to help your child systematically master scissor cutting skills as you work through the Scissor Skills E-Book.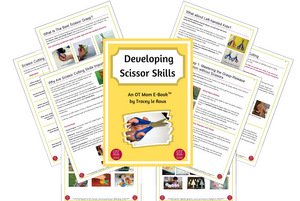 33 Pages of Tips and Activities!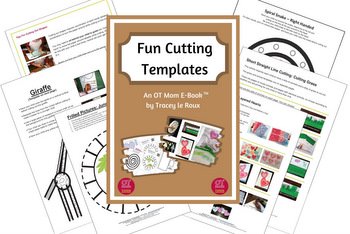 19 Different Cutting Templates Plus Photographed Instructions!
Multiple Sets for Organizations


What's This?



Only $25.50!

(value $33)
If you prefer to get just the Scissor Skills E-Book alone, then use the button below.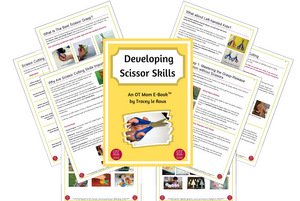 33 Pages of Tips and Activities!
This E-book is available at a discount in these Bundle Deals:

Got Questions?
Pop over to my E-Book FAQ page for comprehensive answers to questions regarding payment, downloading, use of the e-books and troubleshooting.
None of the OT Mom E-Books TM serve as a substitute for an occupational therapy evaluation and treatment. Please read my E-Book Disclaimer for further details.
All OT Mom E-Books TM Come With A

Guarantee

! If you're not satisfied with your e-book purchase(s), just email me within 2 weeks of your date of purchase and explain why you are not satisfied - and I'll issue your 100% refund within a week.
Your e-book purchase is 100% safe and secure - and 100% risk-free.
Thank you for your interest in my e-books! Please do check out my other e-books if you have not already done so!
If this page was helpful, please share it with your friends!