Part 3: Fun Cutting Activities For Practice
Fun Cutting Activities


It is so easy to create fun cutting activities for your kids! This page contains a free cutting template download with simple shapes to cut out, and lots of photographed ideas to help your child master scissor skills.
This is part three of my three-part series in helping preschoolers master scissor cutting skills!

Make sure your child is cutting with an appropriate scissor grasp, and preferably on paper that is about double regular thickness.
Use my free cutting template at the end of this page to print out the lines and shapes you need for these activity suggestions!

Straight Line Cutting Activities 

Be creative and give your child lots and lots of practice cutting on thick straight lines.
You can use the straight lines on the free template to carry out these activities.

Staple or tape the lines together to make a good old-fashioned paper chain, or a paper flower.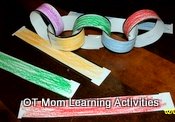 Make some paper chains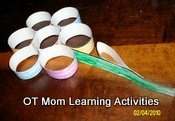 Some creative stapling will make a flower!
Or try a paper lantern or simple paper decorations.These make great holiday decorations!

The templates and instructions for the two activities shown below can be find in my Christmas Scissor Cutting E-Book.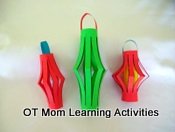 Paper lanterns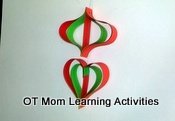 Paper decorations for kids
Cutting Circles And Spirals

Cutting out circles helps your child learn to use both hands together to get the scissors to cut around the shape.

Use the circles and lines in your free template to make the spider and the caterpillar shown below.

Spider Cutting Activity

Add a circle to 8 lines.
Stick or staple them together to make a spider.
Add some string to the middle to make a dangly spider.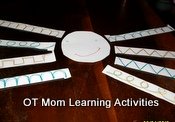 Have your child cut 8 straight lines and a circle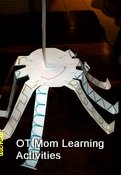 Caterpillar Cutting Activity

Cut 5 or 6 circles and stick them together to make a caterpillar.
Stick the "head" circle a little higher than the rest and give it a smiley face.
Add pipe cleaners (chenille sticks) for antennae/feelers.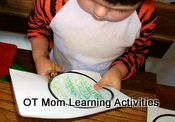 Cutting circles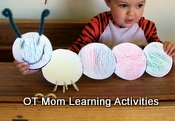 The finished caterpillar!
You can also add little pipe cleaner legs to the first segment - I folded 3 short sections of pipe cleaners in half and pushed them through three little holes.
Spiral Snakes

Spiral snakes are so much fun!
You can draw a spiral on a paper plate.
Please note: for a left handed child, the spiral needs to go the "other" way!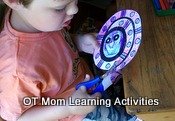 My Cutting Printables E-Book provides you with spiral snakes for both left handed and right handed children. There are also thicker and thinner line options, to cater for novice and more experienced scissor cutters.

Cutting Simple Shapes

Use the free cutting template at the bottom of this page to print out triangles and squares for your child to cut.
I like to cut the page in half, with one shape on each page, to make it more manageable for little hands.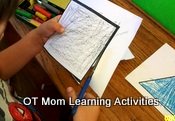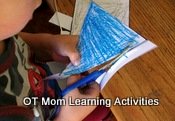 Now try some of these ideas below!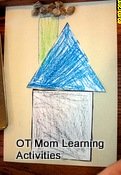 Build a house!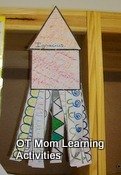 Create a Rocket!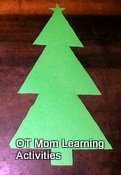 Make a Fir Tree!
My full compilation of fun cutting templates will give your child lots of cutting practice with lovely end products to build your child's confidence!
My free download contains only a few templates - with this e-book, you get LOTS of templates, plus full photographed instructions for each activity! 19 different scissor cutting crafts, with a variety of templates - over 50 templates in all!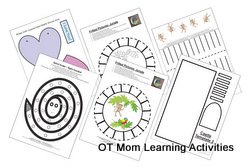 Some of the different printables contained in the pack!
Starting with simple snipping activities, the templates will enable your child to learn to cut on straight lines and then to cut out shapes. All the activities are photographed so you and your child can see what you are working towards!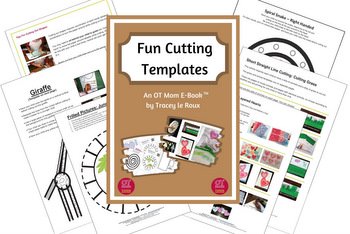 More Advanced Cutting

Once your child has mastered going around the external corners of squares and triangles, then he/she will need to practice manipulating the scissors around internal corners (such as hearts and stars).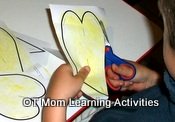 Cutting out smaller pieces and/or on a thinner line is also challenging, as it requires more careful control of the scissors.
Ask your child to cut out groceries from a supermarket flyer to make a shopping list!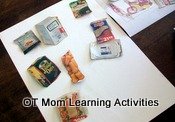 Look for activities with thinner lines, on normal-thickness paper, and with "interesting" angles and corners.
There are some lovely cutting resources from Your Therapy Source on this page that are perfect for older kids who need more cutting practice.

You can also try these simple kirigami ideas with older kids!
(opens to a different site in a new window)
Get Your OT Mom Free Printable!

This free PDF download contains printable templates to give your child practice in cutting along the line and cutting shapes. There are thick straight lines, circles, squares, triangles and also a house cutting activity.
These free cutting worksheets will enable your child to create the activities suggested on this page! Please note that only the actual cutting printables are included - the photos and instructions are in this article. However, if you get my Cutting Printables Pack, you will get photographed instructions for over 15 different activities!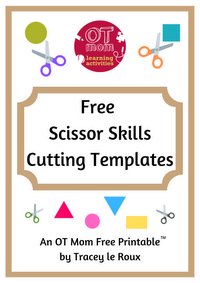 Free Cutting Templates Download!
Fill in the form below to unlock access to your freebie! You also have the option of signing up for my newsletter through this form!
Help! My Child Can't Cut With Scissors Yet!
If your child hasn't developed a good grasp-release motion on the scissors yet, or if you have no idea where to start teaching your child to cut with scissors, then these pages on my site may help...
I am so glad you found this page - thanks for visiting! I hope you found these cutting activities useful for your child!
If you need an accessible, printable resource to help your child master scissor cutting, then I really recommend my Scissor Cutting Combo deal - you will get an e-book packed with photographed instructions, tips and activities to help your child master scissor cutting, PLUS an e-book full of a variety of graded scissor cutting practice sheets (with photographed instructions) to help your child create fun projects while cutting out!

Part 3: Fun Cutting Activities For Practice
If this page was helpful, please share it with your friends!

Massive Summer Savings!

Pay $25 instead of $32 during the month of June!
Didn't find what you were looking for? Try a search of my site!