Christmas Activities For Kids


Viewing this page on your device?
Please adjust your settings to enable images!
I use small photos to illustrate the information and activities that I share, and you will have a much better experience on this website if you can view the images.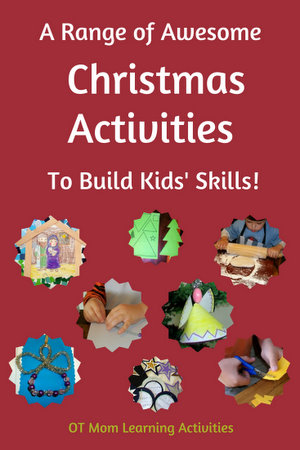 There are hundreds of creative Christmas activities for kids out there on the web, but how many of them are actually designed to help your child as well as having fun?
This page gives you ideas for fun Christmas activities that can also help build your child's skills. I've rounded up my own activities as well as creative ideas from other therapy sites!

Fine Motor and Scissor Skills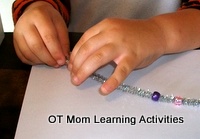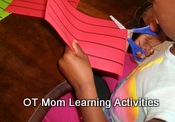 Kids are often motivated to do crafts that end in a nice decoration or gift, so combine that motivation with some focused activities and build their skills.

Therapists have come up with so many good Christmas activities for kids, I had to create a whole new page to contain them all!
So head over to my Fine Motor Christmas Activities page to be inspired and equipped! You will find lots of ideas for working on cutting skills, hand strength and finger skills!
Or try out my Christmas Angel Craft that uses pipe cleaners and pony beads!
My new Christmas Scissor Skills E-book contains a range of scissor cutting activities from easy to more challenging - check it out!

Christmas Worksheets

If you need to keep your child busy with a pencil-and-paper task, look for worksheets that build visual perceptual and visual motor skills. Here are a few suggestions:
Try some of my Christmas Word Searches to boost figure-ground perception skills - this is particularly suitable for older kids.

Brainy Maze has a whole bunch of Christmas Mazes - excellent for figure ground and visual discrimination skills.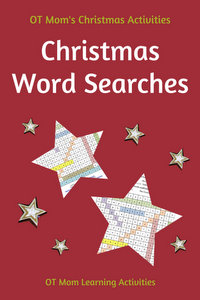 You can also check out these pages of my site for further educational Christmas activities for kids:
Winter Gross Motor Ideas

For those in the cold northern hemisphere at Christmas time, you often need to find ways to burn off your kids' energy indoors!

Have your kids move like animals up and down the hallway or around the table. Leopard Crawls and Crab Walks are particularly good for the core and shoulder muscles!
Marching is also a great way to warm up on a cold day as well as working on bilateral coordination skills - have your kids march around the house or on the spot between classroom activities.
My personal favorite when we have been cooped up indoors for whatever reason are the Brain Break printables by Pink Oatmeal pictured above (these are my affiliate linkies). They only cost a couple dollars but when your brain is fried (LOL) and you can't think what to do, having your kids grab one of the cards and do the exercises can be a life-saver! (The animal one is great for preschool kids!)

Christmas Paper Craft Ideas

Paper crafts are inexpensive activities which give your child lots of practice with cutting, tearing, tracing, pasting and folding paper. Great for working on fine motor, coordination and planning skills!
Head over and view my Christmas paper craft ideas with some free printable templates you can use!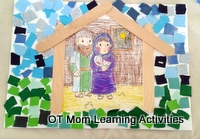 Edible Christmas Activities for Kids

Baking and "playing" with food can be so much fun, and kids can benefit so much from time in the kitchen with you! Get them involved in a few edible Christmas activities like making cookies and fruit kebabs/kebobs...
Christmas Cookies

I have my own yummy cookie recipes on my page about the benefits of baking with kids (just click on the image alongside), but there are lots of other awesome cookie recipes on the web that you can try!
You can especially look out for recipes that involve:
spiced cookies - good sensory experience
lots of ingredients to measure out - good for math skills, memory skills and following instructions
Your Kids OT has a lovely reindeer gingerbread cookie recipe you can try!
Or visit my baking page to download my own cookie recipes!

Fruit Kebabs / Kebobs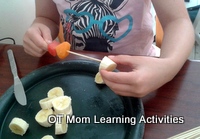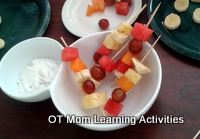 Have you tried making fruit kebabs with your kids? (Maybe you call them kebobs, depending on where you are in the world LOL!) With adult supervision, cutting fruit into chunks (with a safe knife) and then skewering them onto a kebab stick is good for eye hand coordination. Supervise your child at all times and make sure the kebab sticks are not sharp enough to hurt them.

Bananas, strawberries, melons and grapes are easy fruits to get onto a skewer, although bananas need to be eaten almost immediately. A great festive party food to serve with yogurt for dipping.
Thank you for visiting my site! I hope you were as inspired by these Christmas activities for kids as I am!
Here are links to the other Christmas pages on my site - have fun browsing them all!

Truth in the Tinsel - an advent e-book

If you are looking for a daily advent lesson and simple Christmas craft activity you can do with your preschooler, then I really recommend Truth in the Tinsel. My kids have thoroughly enjoyed this advent e-book!

My Favorite Advent E-Book!
Daily lessons and crafts for little hands to teach them the true story of Christmas.

Click on the pic to view the e-book or read my full review here.

Honesty Point: This is an affiliate link. If you like my site, please purchase your e-book through my link - I get a small commission if you do this, at no added cost to you! Thank you for supporting my site!
Home › Christmas Activities for Kids
If this page was helpful, please share it with your friends!

Didn't find what you were looking for? Try a search of my site!