Preschool Christmas Activities


Viewing this page on your device?
Please adjust your settings to enable images!
I use small photos to illustrate the information and activities that I share, and you will have a much better experience on this website if you can view the images.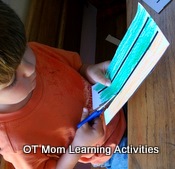 Use these simple, inexpensive preschool Christmas activities to keep little hands happy during the busy holiday season. These activities work specifically on fine motor skills.
Christmas Cutting Activities
Scissor cutting skills are so important (read more about that here), and getting the house ready for Christmas gives a great opportunity to practice!
---
Paper Chains

Your child simply needs to cut along the thick black lines on this template. Then loop the strips together to make a pretty, colorful chain, using staples, sellotape or glue.
---
Simple Paper Decorations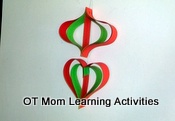 These easy paper decorations are made from strips stapled together. Have your preschooler cut out the colored strips while you staple them together -  have fun decorating your home!
Click on the images below to see more Christmas cutting activities:

Or check out my new Christmas Scissor Cutting Resource E-Book!
Christmas Fine Motor Activity

Use this Christmas tree template, and let your child crumple small crepe paper balls to decorate the tree.
You can find instructions on how to make small strips of crepe paper here, and read how to make the most of this activity to exercise your child's finger muscles.
---
But if you are looking for a range of simple crafts to do with your preschooler that covers advent, I really recommend Truth in the Tinsel.
My Favorite Advent E-Book!
This e-book is a fantastic choice if you are looking to do daily or regular devotions as a family to focus on the true meaning of Christmas. The hands-on crafts are accessible to young children, and will create lasting memories for them.

Daily lessons and crafts for little hands to teach them the true story of Christmas.

Click on the pic to view the e-book or read my full review here.

Honesty Point: This is an affiliate link. If you like my site, please purchase your e-book through my link - I get a small commission if you do this, at no added cost to you! Thank you for supporting my site!

This is an affiliate link to an advent product I have used and love. If you purchase through this link, I may receive a small commission.
You are, however, under no obligation to purchase anything!

If this page was helpful, please share it with your friends!

Didn't find what you were looking for? Try a search of my site!