Best Learning Gifts for Kids
Best Learning Gifts For Kids


Here are some of the best learning gifts for kids, from my perspective as an occupational therapist and homeschool mom! I have specifially chosen gifts to help kids build their skills.

These gifts can be really helpful for kids who need some motivation to work on the underlying foundations for school skills. The idea is to get them having so much fun with you and the gift, that they won't even realize you are helping them work on their skills!
Where possible, I have added details to explain why each toy or game is helpful, and I've also linked to pages on my site where you can get more information about that skill.
Although there are toys and games on the market that work on language skills, math and other areas of learning, I have focused mainly on gifts that build visual perception, spatial perception, planning and organization skills.

For your convenience, I have linked to the suggested resources on Amazon or other suppliers. These links, marked #Ad, are my affiliate links, which means I get paid a small commission if you purchase something through my links. However, you are under no obligation to purchase anything.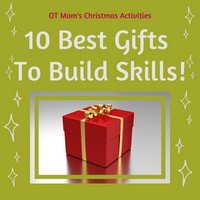 Gifts To Help Visual Perception Skills
Visual perception skills play a very important role in reading and writing, as well as other school skills. For this reason, toys and games that build visual perception skills are among the best learning gifts for kids!
 * Seek and Find Books
Seek and Find books can help your child develop figure-ground perception, visual scanning and visual discrimination skills.
They may also help your child learn to focus on a task at hand.
When looking for a suitable Seek and Find book, younger kids who are not literate may prefer a book that has a visual representation of what they need to look for (so they can use the book on their own).
The Seek and Find type books which have a word list of the objects to be found are better suited to older children who can read on their own, or for an adult to do with a younger child.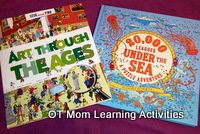 Seek and Find Books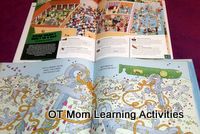 Inside the books
View "Seek and Find" type books on Amazon:

 * Spot It!
Spot It! is a fast paced, fun (and somewhat noisy!) game that uses visual discrimination and figure-ground perception skills.
Like the Seek and Find books, they help a child learn how to pay attention to small details,  which may help kids who are learning to read.
For younger children, or those with poor visual perception skills, read my tips for playing Spot It! here - these tips will help you to help your child master the game and build skills.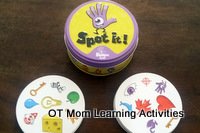 Spot It!
View Spot It! on Amazon:

 * Memory Games / Concentration
Memory Games are on my list of best learning gifts for kids, because they can help develop your child's visual memory skills, which can help with reading and spelling.
Toddlers usually have fun just matching the cards, but will soon learn how to play the memory version. Make the game more challenging by using more cards. I usually start off with about 1/3 of the pack until I see how well the child does and then I increase the number of pairs from there.
There are many different themes available, so it is easy to choose one that will interest your child! Kids often do surprisingly better than adults at these games, because we adults often have too many other things on our minds!

Get some tips on how to work on visual sequential memory with the same card game!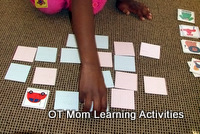 Playing Concentration
 * View a range of Memory Matching Games on Amazon! #Ad

Gifts To Help Planning and Organization Skills

 * Kaleidograph
Kaleidograph is one of the best learning gifts for kids who are a bit older who still need some encouragement with visual perception, spatial perception and planning skills.
This is an activity for a child to use on his/her own. Pick a design on the challenge sheet and then replicate it using the Kaleidograph cards.

Some of my teens still pick this activity to use on road trips and quiet vacations!
I have a full review of Kaleidograph on my site, with tips to help make it easier for kids who struggle with organization and planning skills.

 * View Kaleidograph at Red Hen Toys! #Ad

 * ThinkFun Toys

ThinkFun toys make some of the best learning gifts for kids! I absolutely love the STEM concepts behind ThinkFun and have bought my kids quite a few of their toys over the years.
Rush Hour and Gravity Maze are two of their favorites and have really helped build their planning, reasoning and spatial logic skills.
These toys are designed for the child to play individually (read - lots of quiet hours for the parents!) and the challenge cards range from easy to difficult.
My hubby also enjoyed completing the challenges with my kids watching!

Each challenge card requires the child to solve the problem (get the car out of the traffic jam or the marble through the maze). The answers are provided on the back of each card.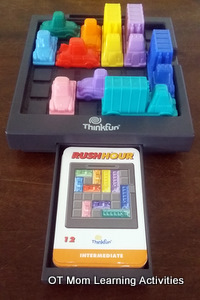 Rush Hour
 * View ThinkFun Games on Amazon! #Ad

 * Baking/Cooking Sets
I have written on my site about the benefits of baking with your kids, and I really believe that spending time in the kitchen can help your child in so many ways.
In addition to some fine motor and coordination skills, your child will be using planning and organization skills to follow a recipe, measure ingredients and clean up.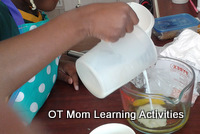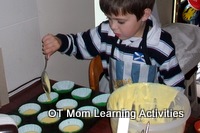 A baking kit can be a great way to get a child started in the kitchen - but be sure to make time in your schedule to help him/her make use of it!
Download my free printable cookie recipes to help you and your child get started!
 * View Kids' Baking and Cooking Sets on Amazon! #Ad

* Learning Resource STEM Toys
If your child is in preschool or kindergarten, check out the amazing STEM toys by Learning Resources #Ad.
Aimed mostly at kids around age 4 - 5, your child can explore basic physics and technology concepts with beautiful, sturdy sets. In addition, there are also affordable sets that work on 3D spatial perception and basic coding skills.
 * Strategic Board Games

Kids who struggle with planning and organization skills can really benefit from playing old fashioned board games that require strategic thinking and reasoning.
These games are particularly helpful as learning gifts for kids who are a bit older (age 8+ and teens).  Although they may seem like an expensive outlay, strategic games can give hours of family fun for years to come!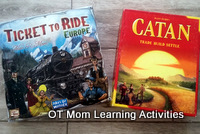 Strategic Board Games
If your child has trouble with planning and strategic thinking, here are some tips to keep in mind:
Once your child has played the game to get the hang of it, take some time to explain how to think strategically for that particular game.Sometimes we need to spell it out for our struggling child as the strategy does not come easily.


Losing all the time isn't fun, so where possible, give opportunities for your "planning-challenged" child to play against younger kids (where they have some advantage) or against kind adults who will gracefully lose on occasion!


Have a word with your more competitive, strategically minded kids, to informally encourage their sibling and give tips during the game. It is great when our kids are "big enough" to help others on their way.
View Some Popular Strategic Board Games on Amazon:

 * Construction Toys and Erector Sets - Some Of The Best Learning Gifts for Kids!
Construction toys and erector sets are definitely some of the best learning gifts for kids, because they help your child learn to follow instructions, work methodically, problem solve when things don't work/fit, and develop spatial reasoning skills.
And kids can be creative with them, too!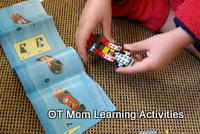 Building Lego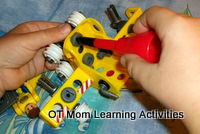 Erector Set
Here are two important tips I often pass on to parents:
If your child is one who just likes to build by the rules, and only makes what is in the instruction manual, then take some time to create something "new" together, to unleash some creativity.


If your child tends to randomly just play and make their own creations, they may be doing so because they struggle to follow instructions and work methodically. So take some time to help them build the model according to the instructions.
Both skills are necessary for learning and development!

View Construction Toys and Erector Sets on Amazon:

Puzzles Make Great Gifts, Too!

Jigsaw puzzles make lovely learning gifts for kids of all ages!
They are a great way to help develop visual perception, spatial perception and planning skills, and can be a lovely opportunity for families to spend time together.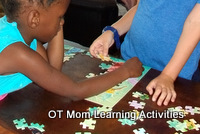 Doing a puzzle together
If you are looking to buy a puzzle:

Cloudberries make funky, environmentally friendly puzzles (that ship internationally) that are perfect for teens or young adults.They have stunning, off-beat designs, which look even more fabulous if you frame them after completion.
You can also visit Ravenburger's Store#Ad on Amazon to view a range of lovely puzzles for hours of family fun!
 * Personalized Wooden Name Puzzle For A Baby Or Toddler

My own toddlers loved their wooden name puzzles, which came from a local craft market years ago.
Repeatedly playing with a name puzzle can help to lay foundations for letter recognition in addition to developing hand-eye coordination and spatial perception as your child learns to orientate the letters of his/her name.
These make lovely gifts for Christmas and birthdays for the special toddlers in your life!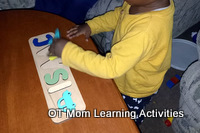 Doing A Crawoo Name Puzzle!
 * If your child struggles to do puzzles...
I have a number of pages on my site where I look at helping kids of all ages do puzzles, with lots of tips to help parents support their kids in developing these skills.
---
It isn't always easy to know what presents you can give a child, but I hope you were inspired by my very short list of the best learning gifts for kids that can build their skills while still having lots of fun!
Please read product reviews and keep your child's age and abilities in mind before making any purchases - my links are merely suggestions to inspire you, based on products I have personally used.

Thanks so much for visiting!
Best Learning Gifts for Kids
Best Learning Gifts for Kids
If this page was helpful, please share it with your friends!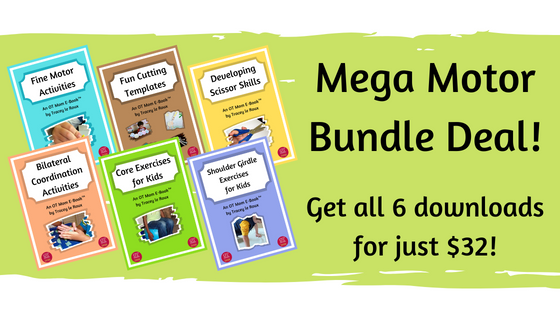 Didn't find what you were looking for? Try a search of my site!