Fine Motor Christmas Activities


Viewing this page on your device?
Please adjust your settings to enable images!
I use small photos to illustrate the information and activities that I share, and you will have a much better experience on this website if you can view the images.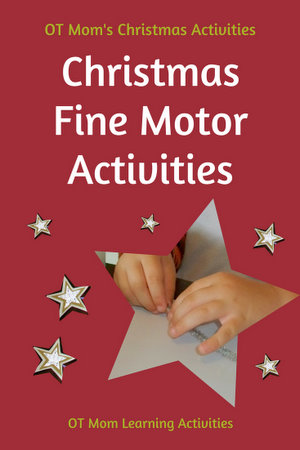 Try some of these fine motor Christmas activities to help improve your child's hand skills while still having SOOOO much fun!

Kids are often so much more motivated to work on hand and finger skills when they are making gifts or something decorative!

Here are the basic fine motor techniques and activities that I try to incorporate into our kids' Christmas crafts:
Christmas Scissor Activities

Cutting with scissors is an excellent way to strengthen your child's hands and get the tripod fingers working together. And at this time of year, it is so easy to get your child interested in practicing scissor skills!
If your child still does not know how to cut with scissors, go and read my how-to article first. Then come back and try these fun Christmas scissor cutting ideas!

Tearing and Crumpling Paper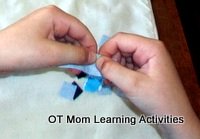 Tearing Paper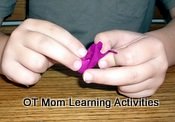 Crumpling Paper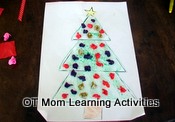 Decorating With Crumpled Paper
Give the tripod fingers a workout and decorate your activities with torn strips of paper or with tiny crumpled paper balls.
You can decorate this free tree template or check out Mama OT's tree with torn paper over here.
Try some of my paper craft activity ideas, that use torn paper pieces to make lovely pictures.

Read more about why these finger activities are important and get ideas to help your child.
Threading and Tying

Thread Beads: Chenille sticks (pipe cleaners) make it really easy for kids to thread beads. You can bend the stick into shapes (see my bead angel tutorial) and also use them to decorate gifts.
Tie Ribbons: Let your kids help you tie the ribbons and strings onto gifts. Not only are they giving their fingers a workout, but also their eye hand and bilateral coordination skills.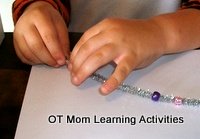 Threading Beads onto Chenille Sticks
Therapy Fun Zone has a great idea for a ribbon tree that can give your child some practice in tying. To make the activity a little easier, use fatter sticks, and plonk them in a jar to keep them still while your kids are tying the ribbons on.
If your child finds tying really hard, you may want to check out my article on why some kids struggle more than others with tying skills.
Working With Dough

Elsewhere on my site, I have highlighted the many benefits of working with playdough, and the different techniques you can bring into your child's playdough activity time. All that rolling and squishing is great for improving hand skills and bilateral coordination.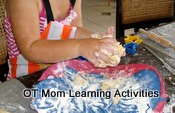 Why not extend your child's enjoyment of playdough and strengthen their hands with real cookie dough or craft dough such as salt dough or homemade clay? That way they can eat or keep their creations!
Read my page about the benefits of baking with your child, then try out Your Kids OT's cutest gingerbread cookie recipe.
Your Kids OT also has an easy homemade clay that she uses to make simple, beautiful ornaments. Check it out!
Stamping
Stamping is a lovely activity, especially if you do it on a vertical surface, as then it strengthens the wrist muscles and helps to develop upper body endurance, which kids need when they are sitting a desk.
Your kids can use stamps to decorate wrapping paper or plain gift bags, or even a paper table runner. Use potato stamps with paint, or invest in a decent set of rubber stamps with ink. Just be sure to have your kids wear old clothes!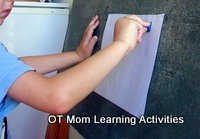 Stamping on a Vertical Surface
Try these
stampers with wooden handles
from Amazon - they are great for little hands to hold. This is an affiliate link and I will earn a small commission if you purchase a product through my links.
Your Kids OT shows how to use a potato stamp technique to decorate gift wrap.
Use A Craft Punch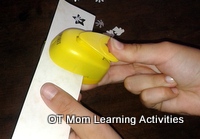 Use the tripod fingers to close the punch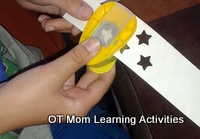 You can turn the punch upside down to position the hole
If you have a hole punch or a craft punch, why not let your child use it to punch holes in gift tags or to punch out shapes to decorate cards?
Mine is similar to
this one on Amazon.
This is an affiliate link and I will earn a small commission if you purchase a product through my links.
Squeezing the punch shut is great for strengthening little hand muscles - just please be sure to use one that is kid-friendly! Look for craft punches with little lever handles like the one above - your child can use the tripod fingers to push the punch shut.

The little ones with the round punch button don't really work for developing fine motor skills, so it's worth paying a little extra for the lever-type punches.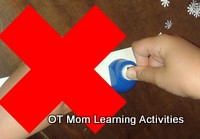 Using a round button punch does not get as much fine motor involvement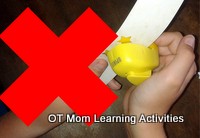 Help your child to use the fingers instead of the heel of the hand
Supplies For Fine Motor Christmas Activities

If you are looking for supplies to do the fine motor Christmas activities above, I have looked out similar products on Amazon for your convenience. These are my affiliate links and I will earn a small commission if you purchase a product through my links - but you are under no obligation to purchase anything!

I hope you feel as inspired as I did as I rounded up all these fine motor Christmas activities! Thanks for visiting - please feel free to browse my site!

Fine Motor Christmas Activities
Fine Motor Christmas Activities
Christmas Cutting Practice Printables!
Do you want to give your child more scissor cutting practice using a Christmas theme? Are you struggling to find good scissor cutting templates?
OT Mom's nativity-themed Christmas cutting templates will give your child lots of cutting practice with lovely end products to build your child's confidence!
There are 17 different scissor cutting crafts, all with photographed instructions and a variety of templates - over 40 templates in all!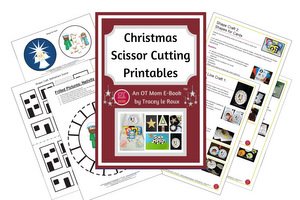 Suitable for a range of skills - from preschoolers who are just learning to use scissors, all the way to early elementary kids who need more practice with their scissor skills.
Starting with simple snipping activities, the templates will enable your child to learn to cut on straight lines and then to cut out shapes.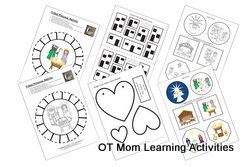 All the activities are photographed so you and your child can see what you are working towards!
View my Christmas Scissor Cutting Printables now!

If this page was helpful, please share it with your friends!

Didn't find what you were looking for? Try a search of my site!