Christmas Angel Crafts


Viewing this page on your device?
Please adjust your settings to enable images!
I use small photos to illustrate the information and activities that I share, and you will have a much better experience on this website if you can view the images.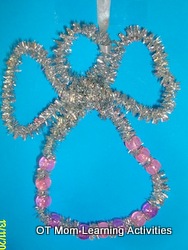 Make these super Christmas angel crafts with beads and chenille sticks (pipe cleaners)! These should be easy for early elementary kids to make, while younger children may need some help forming the shapes. 

Supplies Needed

Chenille sticks / pipe cleaners
Large kiddie beads / pony beads
Scraps of ribbon to hang the angels
If you will be attaching the angels to Christmas cards (a lovely idea), you will also need construction paper for the cards, and edging scissors if you want to cut a contrasting background. I have linked to the products on Amazon at the end of this page, for your convenience.

Instructions for Christmas Angel Crafts

Not suitable for children under 3 years owing to small parts. Adult supervision is needed at all times, owing to the small beads which can cause choking, and the pipe cleaners, which may have sharp ends. An adult should bend the wires into position, to avoid accidental injury to the child.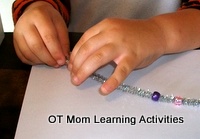 First, thread the beads onto the chenille stick / pipe cleaner. We used 11 beads per body of the angel – 4 to go along the bottom, and 3 on each side of the body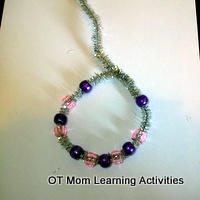 Bend the wire into a body shape by making a loop for the body with about 2/3 of the wire (all the beads should be in this loop).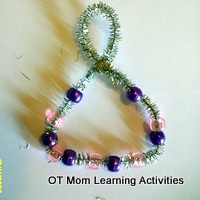 Now make a smaller loop for the head and twist the wire at the "neck" to fasten it to the body.
Shape the body into roughly a triangle shape.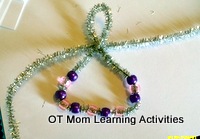 Take the second chenille stick and bend it in half so you can see the halfway point. Then twist the halfway point around the neck of the angel.
You can add more beads to the wings at this point if you like.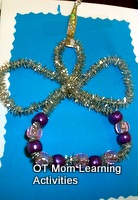 Bend the wings and fasten the ends at the neck.
Attach a loop of scrap ribbon or raffia to your angel's head.
Now you have a great decoration for a tree or a card!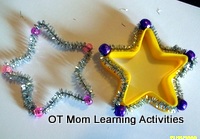 You could also use a cookie cutter to shape the chenille stick into a star or other shape.

Skills Practiced With This Craft

As with all OT Mom activities, there are very specific skills that are developed when you do these Christmas angel crafts with your child.
Bilateral and Eye-Hand Coordination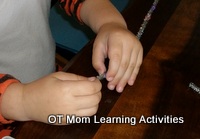 Threading the beads onto the chenille sticks gives your child an opportunity to get both hands working together (bilateral coordination). The stiffness of the pipe cleaner makes the activity a little easier than threading beads onto a floppy string.
Your child will also be using hand-eye coordination to help get the beads onto the stick.
Sequencing
If you make a sample angel that your child needs to copy, you will be working on sequencing skills as your child follows the color pattern of beads that you used.
You can also verbally request a certain sequence (eg blue, yellow, purple) that your child has to memorize and put onto the wire. This also helps with auditory sequencing skills.
Following Instructions and Planning

If you first demonstrate the Christmas angel crafts so your child has to watch and then complete the angel, then your child will be using planning skills to remember the instructions and complete the activity.
You can also give instructions one step at a time, or you can increase the concentration and memory demands by showing a few steps at a time that your child needs to follow in the correct sequence.

Scissor Cutting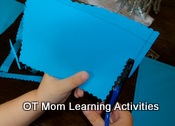 You can incorporate scissor cutting if you ask your child to cut a colored background for the angel to go on a card. Make it more fun by using edging scissors to make a pretty background. I drew a line where I wanted my child to cut along the frame.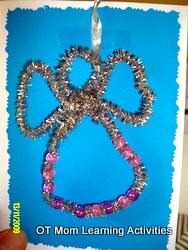 An angel on a cut-out blue background
Here are some other Christmas craft ideas you may be interested in:

For your convenience, I have used my affiliate links to show you these supplies on Amazon - I will receive a small commission if you purchase anything through these links, but you are under no obligation to do so :-)
If this page was helpful, please share it with your friends!

Didn't find what you were looking for? Try a search of my site!