Christian Christmas Crafts
For Kids

Viewing this page on your device?
Please adjust your settings to enable images!
I use small photos to illustrate the information and activities that I share, and you will have a much better experience on this website if you can view the images.

It's not easy to find Christian Christmas crafts for kids, in a world that is obsessed with the "festive' season!
With 3 kids of my own, I have done my fair share of searching for nativity based ideas that kids can enjoy at Christmas time.
On this page I have compiled some reviews and links to e-books and websites containing Christmas crafts with a Christian message. I hope you find it useful!
Just click on the links to view the section of the page you are interested in!

Honesty Point: These e-books are sold by Currclick and a private seller. If you like my site, please purchase your e-book through my link - I get a small commission if you do this, at no added cost to you! Thank you for supporting my site!

Truth In The Tinsel

This is my favorite! The focus of this e-book is on Bible-based lessons that bring out the real meaning of Christmas.
Primarily directed at preschool kids, older kids will still enjoy the lessons and bringing their own twist to the crafts.
Each day has a Bible passage focus (a mix of Old Testament and New Testament passages), followed by a simple craft to hang on your tree.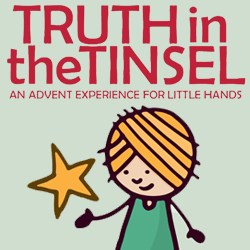 The author provides you with helpful discussion points so that you can chat to your kids about the Bible passage while doing the craft (or before doing the craft, whichever suits their learning style!).
The crafts are photographed and instructions are clear. They make use of easily available resources.

There are 24 lessons and Christian Christmas crafts for kids of preschool age, but if you don't have time to do a daily lesson and craft, the author helpfully shows how you can mix and match lessons to fit your schedule.
For example, you can do a 6-day theme on the basics of Christmas; a 10 day theme on the characters of Christmas; a 7 day theme on the prophecies…and so on.
This e-book is a fantastic choice if you are looking to do daily or regular devotions as a family to focus on the true meaning of Christmas. The hands-on crafts are accessible to young children, and will create lasting memories for them.
The crafts are really simple and use readily available resources, but if you don't have time to make them, you can buy the printable ornaments download for your kids to color, cut out and hang up instead. A great time saver for mom!
These are affiliate links to the e-book - I will earn a small commission if you purchase through my links but you are under no obligation to purchase anything!

Or read more about the plan behind the e-book first...

Click here to view Truth in the Tinsel.
Journey To The Manger

The focus of this e-book is on Christian Christmas crafts for kids aged about 5 and up.

The authors provide a one-page calendar for 1-25 December, showing 25 scripture readings and suggested crafts for each day.

The crafts can be done in any order and not necessarily linked to the reading for the day, although some are.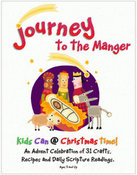 The crafts are illustrated, instructions are clear and templates are given where necessary. The crafts include 6 edible creations. The finished products could be used as tree decorations, gifts, room décor, etc.
Some of the crafts are accompanied by a brief history of the craft, or the history of the object the craft represents (eg the history of the Christmas tree, the meaning of Chrismon etc). Where a craft originates in a different culture, some background is given.

Only the scripture verses are given – there are no lessons or explanations, although most of the passages are self explanatory.

This e-book is a good choice if you are looking for religious Christmas crafts for kids age 5 and up this Christmas-time. You will also get lots of fuel for discussion from the interesting facts/background to many of the crafts.
Click here to view Journey to the Manger
A Christmas Adventure

This e-book helps families to shed light on the Christian origins of many Christmas traditions, as well as reinforcing the Nativity story, while making fun Christian Christmas crafts for kids and oodles of edible treats.

Each day there is either a passage of scripture outlining an event of the nativity (eg shepherd, wise men) or information describing from whence Christmas traditions have come (eg Christmas tree, candy canes, lights on trees, the meaning of Christmas greetings etc)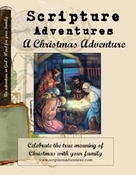 The information is well researched and well laid out, and can be read out loud in a family setting. The information often includes the country of origin, and scripture to support the tradition.

Every day has a craft or a worksheet and usually also a recipe suggestion related to the theme. Lots of recipes! Often more than one recipe at a time!

I really like the huge variety of recipes, and the Christmas coloring pages and templates for crafts are nice and clear.

Click here to view A Christmas Adventure
More Christian Christmas Crafts For Kids...

Here are some of my own Christmas ideas:
Helpful Sites

Do you have a blog or website with great Christian Christmas crafts for kids? Contact me and let me know and I'll check it out and add it here!
In the meantime, here are links to some free downloads that I have enjoyed:
Names of Jesus Ornaments by The Crafty Classroom (this site also has LOADS of other lovely nativity based activities)
Nativity Pack by The 3 Dinosaurs (this is more of a preschool worksheet pack than a craft pack, but still lovely)
Thank you for visiting my site!
If this page was helpful, please share it with your friends!

Didn't find what you were looking for? Try a search of my site!