Christian Christmas Crafts for Kids
Christian Christmas Crafts
For Kids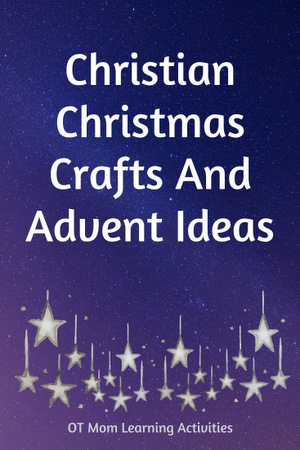 It's not easy to find Christian Christmas crafts for kids, in a world that is obsessed with the "festive' and holiday season! It is often a constant battle to keep our own eyes focused on Jesus, never mind keeping our kids' eyes focused on Him!

With 3 kids of my own, I have done my fair share of searching for nativity based ideas that kids can enjoy at Christmas time. This is where I link to craft pages on my own site as well as others.

This page is a work in progress and will be added to as time goes by - but for now, just click on the links to view the section of the page you are interested in! I've also added some advent devotionals that I have used over the years.

Honesty Point: On this page, I review and link to products produced by other moms, as well as my own pages and products. If you purchase an item through my link, I may receive a small commission, at no extra cost to you. Thank you for supporting my site!
Simple Nativity Crafts For Younger Kids

My Christmas Paper Crafts page has instructions on how to turn a simple nativity picture into a lovely nativity collage.
This is a simple angel craft using chenille sticks and pony beads. Hop on over and view my bead angel now!

Simple Paper Crafts

Path Through The Narrow Gate has some simple, but effective, Christian Christmas crafts for kids
This free Christmas ornament with the Names of Jesus is a great activity for parents to do with their kids.
Have your children cut out the circles (20 of them spread over 2 pages) and then you can help them fold the circles along the marked line, and paste them together to make a lovely paper Christmas ornament.
This is not the best activity to use in a large classroom unless you have one adult for every 2 kids LOL as the sticking is rather time consuming, but it is great for smaller groups.
A simpler activity would be the free Christmas bookmarks - your child can simply colour them in and cut them out!
Christmas Scissor Crafts

My (mostly) nativity-themed Christmas cutting templates will give your child lots of cutting practice with lovely end products to build your child's confidence!
There are 17 different scissor cutting crafts, all with photographed instructions and a variety of templates - over 40 templates in all!
All the activities are photographed so you and your child can see what you are working towards!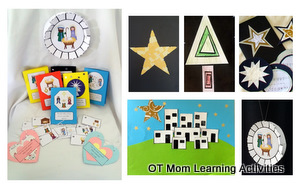 View my Christmas Scissor Cutting Printables now!
Nativity Christmas Lapbook
This Nativity Story Bible Study Lapbook is a lovely way to help your child get a deeper understanding of Jesus, the events surrounding his birth, and God's plan for Jesus' life.
Suitable for kids aged 5- 12, there are a variety of typical lapbook activities, such as accordion books, layered books, wheels and copywork.
I really appreciate the quality and depth of the Bible studies. These go deeper than just the familiar stories in the gospels, and your child will be looking at Old Testament prophecies, as well New Testament letters (such as Romans and Galatians) which reveal more about Who Jesus is and the reason He came.
The only thing I did not really enjoy about this Nativity lapbook was the illustrations. The author stayed away from cutesy nativity illustrations, but the woodland animals she used instead just did not do anything for me! I personally would choose neutral illustrations like stars and scrolls LOL.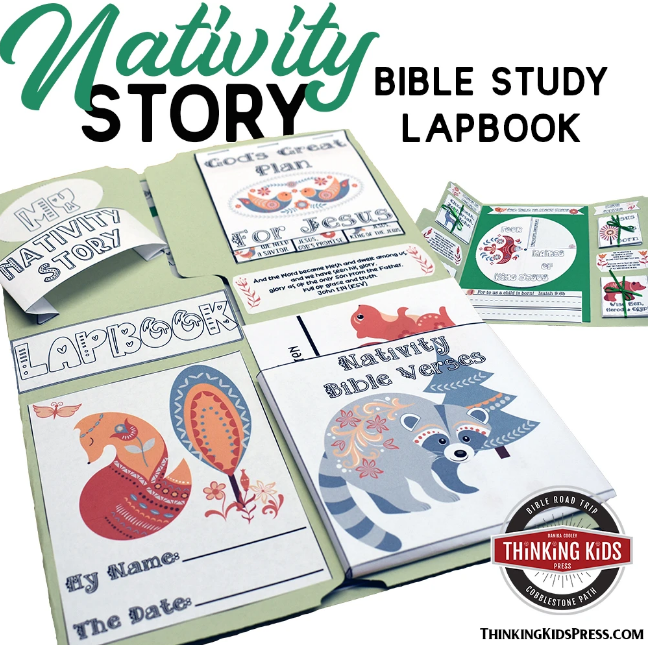 But if you don't mind the woodland illustrations, then the quality of the content will really inspire and encourage your kids this Christmas.
View the Lapbook over at Thinking Kids Press now! (this is an affiliate link - I may earn a small commission if you purchase something through my link)
Truth In The Tinsel

Daily Devotions and Activities for Preschoolers
This was my favorite Christmas resource when my kids were little! The focus of this e-book is on Bible-based lessons and crafts that bring out the real meaning of Christmas.
Primarily directed at preschool kids, older kids will still enjoy the lessons and bringing their own twist to the crafts.
Each day has a Bible passage focus (a mix of Old Testament and New Testament passages), followed by a simple craft to hang on your tree.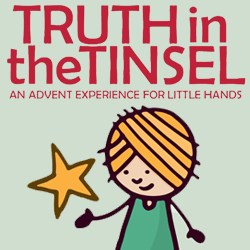 There are 24 lessons and Christian Christmas crafts for kids of preschool age, but if you don't have time to do a daily lesson and craft, the author helpfully shows how you can mix and match lessons to fit your schedule.
For example, you can do a 6-day theme on the basics of Christmas; a 10 day theme on the characters of Christmas; a 7 day theme on the prophecies…and so on.
The author provides you with helpful discussion points so that you can chat to your kids about the Bible passage while doing the craft (or before doing the craft, whichever suits their learning style!).
The crafts are photographed and instructions are clear. They make use of easily available resources.
The hands-on crafts are accessible to young children, and will create lasting memories for them.We still have some of these decorations on our tree even though my kids are teens now!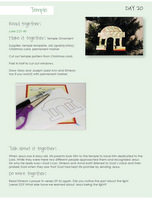 This e-book is a fantastic choice if you are looking to do daily or regular devotions as a family to focus on the true meaning of Christmas.

The crafts are really simple and use readily available resources, but if you don't have time to make them, you can buy the printable ornaments download for your kids to color, cut out and hang up instead. A great time saver for mom!
These are affiliate links to the e-book - I will earn a small commission if you purchase through my links but you are under no obligation to purchase anything!

View Truth in the Tinsel Here!
Names of Jesus: Family Advent and Activities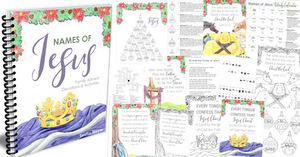 I found that once my kids had done a few years of Truth in the Tinsel, they were ready for something new, and I scratched around the internet to come up with the resources for advent devotionals using the Names of Jesus, which we really enjoyed, but it was a lot of work!
Well, Tauna over at the Proverbial Homemaker, has put together a lovely advent devotional on the Names of Jesus that I wish I had access to a few years back! This is a great resource if you want everything in one place!
With this printable advent devotional you will get:
4 main devotions and 4 memory verses (to coincide with the 4 Sundays of advent, but you can do them anytime).
25 daily readings with 25 different Names of Jesus. After the readings, your child can color and cut out an ornament with the Name on it, or color the ornament on the "tree" that is given (the ornaments are a bit tricky to cut, so better suited to older kids)

coloring pages and activity sheets related to the memory verses, and copywork pages related to the Names of Jesus
This is a thoughtful and encouraging advent devotional, one that you can use over and over again each year!
What I do is cut up the daily readings and put them into our wooden advent calendar with doors
(kind of like this one on Amazon)
, with little chocolates. This is my affiliate link and I may earn a small commission if you purchase a product through my link.
Each morning one of my kids opens a door, to get the reading and the chocolate. I'll be honest, we don't manage to sit down and do the readings every day, so there are days when we do a couple at a time to catch up! But it is so worth the effort to create a tradition like this!
Pop over to view and purchase the Names of Jesus devotional here!
Got Some Great Christian Christmas Crafts for Kids?

Do you have a blog or website with great Christian Christmas crafts for kids? Contact me and let me know and I'll check it out and add it here!
Thank you for visiting my site! Why not sign up for my free, occasional newsletter to stay in touch with new activities as they are posted?
PS Focus on the Family have a free advent devotional for families - check it out. This is a great resource for families with older kids who aren't into crafts as much, and we will be using it this year with our three teens.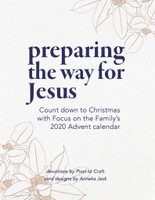 Christian Christmas Crafts for Kids
If this page was helpful, please share it with your friends!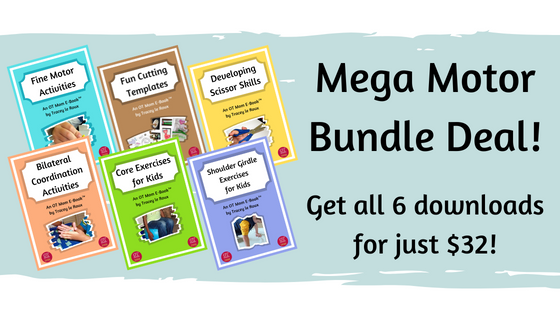 Didn't find what you were looking for? Try a search of my site!