Christian Christmas Crafts
For Kids

Viewing this page on your device?
Please adjust your settings to enable images!
I use small photos to illustrate the information and activities that I share, and you will have a much better experience on this website if you can view the images.

It's not easy to find Christian Christmas crafts for kids, in a world that is obsessed with the "festive' season!
With 3 kids of my own, I have done my fair share of searching for nativity based ideas that kids can enjoy at Christmas time. This page is a list of great resources that I have found and used for myself.

This page is a work in progress and will hopefully be finished by October 2020 - but for now, just click on the links to view the section of the page you are interested in!

Honesty Point: On this page, I review and link to products produced by other moms, as well as my own pages and products. If you purchase an item through my link, I may receive a small commission, at no extra cost to you. Thank you for supporting my site!
Simple Christian Christmas Crafts For Kids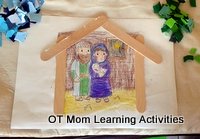 My Christmas Paper Crafts page has instructions on how to turn a simple nativity picture into a lovely collage.
This is a lovely angel craft using chenille sticks and pony beads. Hop on over and view my bead angel tutorial now!

Christmas Scissor Crafts

My nativity-themed Christmas cutting templates will give your child lots of cutting practice with lovely end products to build your child's confidence!
There are 17 different scissor cutting crafts, all with photographed instructions and a variety of templates - over 40 templates in all!
All the activities are photographed so you and your child can see what you are working towards!
View my Christmas Scissor Cutting Printables now!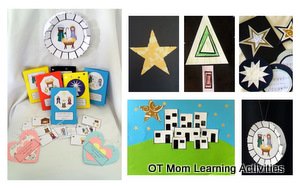 Truth In The Tinsel

This was my favorite Christmas resource when my kids were little! The focus of this e-book is on Bible-based lessons that bring out the real meaning of Christmas.
Primarily directed at preschool kids, older kids will still enjoy the lessons and bringing their own twist to the crafts.
Each day has a Bible passage focus (a mix of Old Testament and New Testament passages), followed by a simple craft to hang on your tree.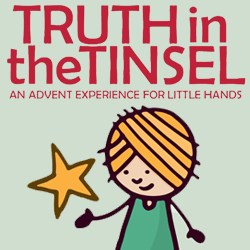 The author provides you with helpful discussion points so that you can chat to your kids about the Bible passage while doing the craft (or before doing the craft, whichever suits their learning style!).
The crafts are photographed and instructions are clear. They make use of easily available resources.

There are 24 lessons and Christian Christmas crafts for kids of preschool age, but if you don't have time to do a daily lesson and craft, the author helpfully shows how you can mix and match lessons to fit your schedule.
For example, you can do a 6-day theme on the basics of Christmas; a 10 day theme on the characters of Christmas; a 7 day theme on the prophecies…and so on.
This e-book is a fantastic choice if you are looking to do daily or regular devotions as a family to focus on the true meaning of Christmas. The hands-on crafts are accessible to young children, and will create lasting memories for them.
The crafts are really simple and use readily available resources, but if you don't have time to make them, you can buy the printable ornaments download for your kids to color, cut out and hang up instead. A great time saver for mom!
These are affiliate links to the e-book - I will earn a small commission if you purchase through my links but you are under no obligation to purchase anything!

View Truth in the Tinsel Here!
Helpful Sites

Do you have a blog or website with great Christian Christmas crafts for kids? Contact me and let me know and I'll check it out and add it here!
In the meantime, here are links to some free downloads that I have enjoyed:
Names of Jesus Ornaments by The Crafty Classroom (this site also has LOADS of other lovely nativity based activities)
Nativity Pack by The 3 Dinosaurs (this is more of a preschool worksheet pack than a craft pack, but still lovely)
Thank you for visiting my site!
Christian Christmas Crafts For Kids
If this page was helpful, please share it with your friends!

Didn't find what you were looking for? Try a search of my site!