Christmas Tree Cutting Activity
Christmas Tree Cutting Activity


This Christmas tree cutting activity is a great way to help your child practice cutting around corners. Your child will need to cut out three triangles and a small rectangle to create this tree.

Decorating the completed trees is another way to include fine motor skills in this activity - at the end of this page I will show you how to do this!
You will need:

Scissors for your child
Glue to paste the shapes together
Decorations (eg stickers, or small pieces of crepe paper to crumple)
Template printed on cardstock - download your free printable template from this page
- the color template has the shapes already colored in, and you can print it on white card stock.
- the black and white template has the outlines of the shapes and you can either print them on colored card stock or on white card stock for your child to color.

Instructions:

Most of the photos for this Christmas tree cutting activity show the black and white template which has been colored in, as this was my child's choice. But the same cutting technique applies for both!
Step 1: Prepare the Shapes

Have your child color in the shapes if desired.
We are working on wrist extension by doing this on a wall using a flat crayon to rub over the shapes.

Separate the shapes to make it easier for your child to handle the paper when cutting them out.
I simply cut the paper into 2 sections.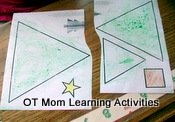 Step 2: Cutting Out

Have your child cut out the shapes.
Remember to make sure your child uses the scissors correctly and goes around the paper correctly.
See this page for more tips to help your child cut well.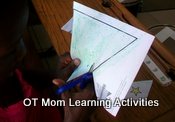 My child was able to tackle the smaller shapes, but you may need to assist with the star, or leave it out altogether.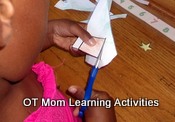 Step 3: Assemble the Tree

Assemble the pieces and paste them onto a background page as shown.
I preferred a darker background, but my child chose white.

Decorate The Tree!

Build more fine motor skills with this Christmas tree cutting activity!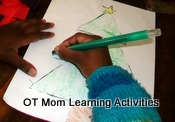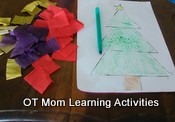 Use the tripod fingers to crumple the crepe paper into small balls. (This is explained in detail on my finger exercises page.)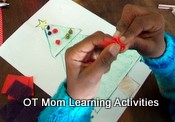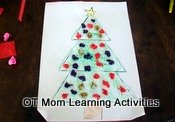 The completed tree!
If your child struggled with this Christmas tree cutting activity, try my scissor skills and cutting templates resources to help your child develop better scissor skills.
Thank you for visiting my site! I hope you found this activity helpful!

Why not sign up for OT Mom Activity Updates - my occasional newsletter to keep you in touch with the latest additions to my site?
Christmas Tree Cutting Activity
If this page was helpful, please share it with your friends!

Christmas Paper Craft & Cutting Printables!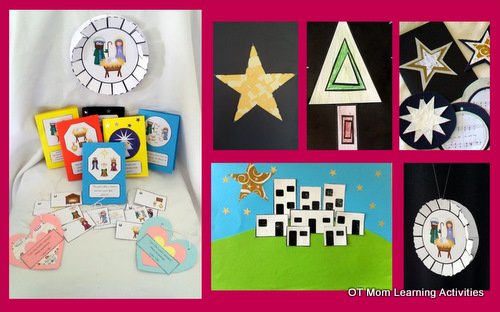 A variety of fun, simple paper crafts and cutting activities suitable for kids from preschool to early elementary.
Over 17 different paper crafts (over 40 possible templates) with photographed instructions.
View My Printable Christmas Scissor Cutting Templates!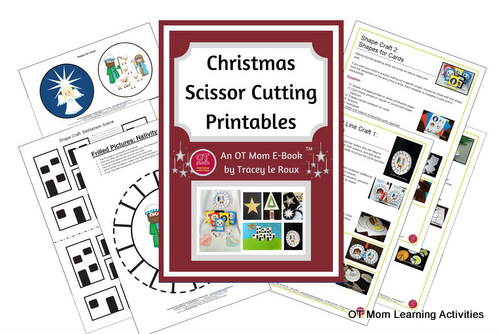 View my Christmas Scissor Activities now!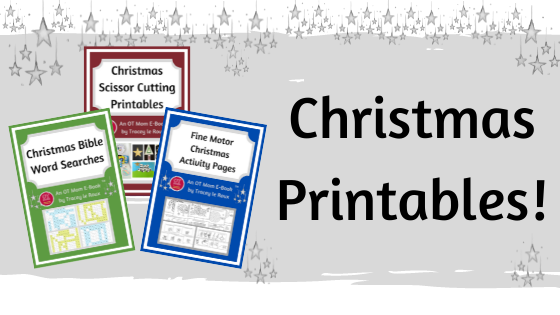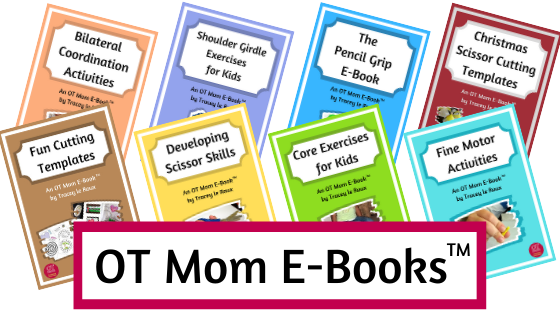 Didn't find what you were looking for? Try a search of my site!