Christmas Tree Cutting Activity


Viewing this page on your device?
Please adjust your settings to enable images!
I use small photos to illustrate the information and activities that I share, and you will have a much better experience on this website if you can view the images.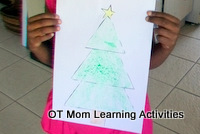 Use this Christmas tree cutting activity to let your child practice cutting out triangles. Decorating the completed trees is another way to include fine motor skills in this activity.
You will need:

Scissors for your child
Glue to paste the shapes together
Decorations (eg beads and chenille sticks, or crepe paper)

Template printed on cardstock:
the color template has the shapes already colored in, and you can print it on white cardstock.
the black and white template has the outlines of the shapes and you can either print them on colored cardstock (as shown above) or on white cardstock for your child to color. 
Instructions:

Most of the photos for this Christmas tree cutting activity show the black and white template which has been colored in, as this was my child's choice. But the same applies for all the templates!
Step 1: Prepare the Shapes

Have your child color in the shapes if desired.
We are working on wrist extension by doing this on a wall.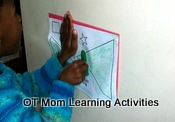 Separate the shapes to make it easier for your child to handle the paper when cutting them out.
I simply cut the paper into 2 sections.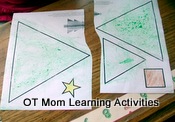 Step 2: Cutting Out

Have your child cut out the shapes.
Remember to make sure your child uses the scissors correctly and goes around the paper correctly.
See this page for more tips to help your child cut well.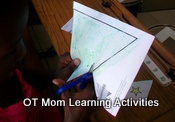 My child was able to tackle the smaller shapes, but you may need to assist with the star, or leave it out altogether.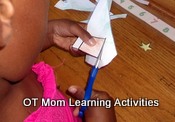 Step 3: Assemble the Tree

If making a hanging tree, stick the pieces together as shown.
Thread some ribbon or thread through the top of the tree and hang it up!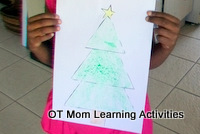 If making a tree to paste on a page, assemble the pieces as shown.
I preferred a darker background, but my child chose white!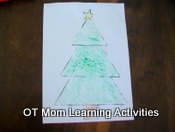 Decorate the Tree - Simple!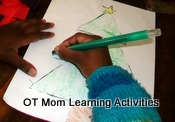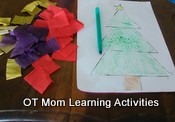 Use the tripod fingers to crumple the crepe paper into small balls. (This is explained in detail on my finger exercises page.)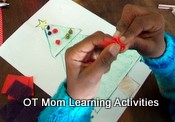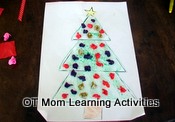 The completed tree!
Decorate the Tree - Beads

Provide pony beads and 3 chenille sticks (pipe cleaners) and let your child thread about 12 beads on each stick.
This uses bilateral coordination skills.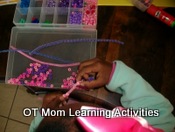 Use the opportunity to let your child sequence the beads - this is a good pre-math skill.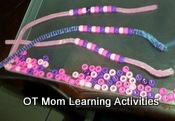 Once each stick is threaded with beads, twist the ends together to make one long stick. I apologize for the poor quality of this photo!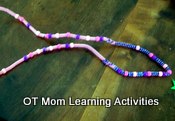 Space the beads out and bend the chenille sticks around the tree.
Once completed, thread some strong cotton through the top and you can hang your tree!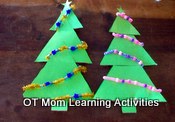 Thank you for visiting my site! I hope you found this helpful!
For more Christmas Cutting Activities, click on the images below!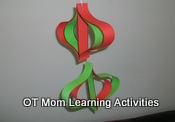 Paper Decorations
Why not sign up for OT Mom Activity Updates - my occasional newsletter to keep you in touch with the latest additions to my site?
If your child struggled with this Christmas tree cutting activity, my value-filled Scissor Skills E-book will give you lots of ideas to help.

If this page was helpful, please share it with your friends!

Didn't find what you were looking for? Try a search of my site!