Kindergarten Hand Exercises


Viewing this page on your device?
Please adjust your settings to enable images!
I use small photos to illustrate the information and activities that I share, and you will have a much better experience on this website if you can view the images.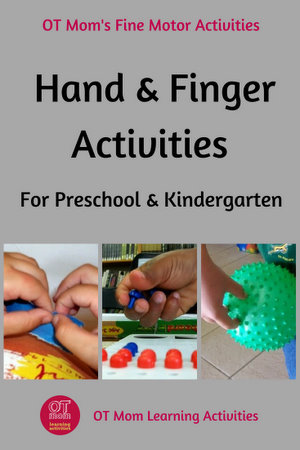 The aim of these kindergarten hand exercises and activities is to help develop your child's fine motor skills. Preschool and Kindergarten kids need lots of help to get ready for all the handwriting they are going to be doing in grade school.

Sometimes children hold a pencil awkwardly when their fine motor skills have not developed well enough for pencil control. The variety of fine motor activities suggested below may help your child's fine motor skills improve to enable better pencil control.
Just click on the quick links below to go to the section of my page you want to see!

These fine motor activities are intended to encourage your child's normal fine motor development.
If you suspect your child has fine motor delays, please seek a professional opinion.
Activities for the Whole Hand
1) Money Boxes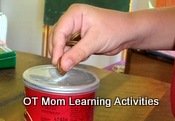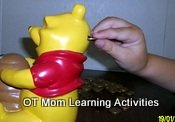 Use a regular money box or a recycled container and encourage your child to hold 2 or 3 coins in the hand and push them through one at a time without dropping the others.
Upgrade to using more coins as your child gets better at this task.
Putting coins in a top slot is easier than pushing them through a side slot.
If your child uses a side slot, make sure the thumb is under the fingers to get the most out of the exercise (as shown above).
NB be aware of the choking hazard with little kids!
2) Egg Carton and Beans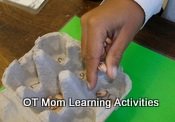 Another inexpensive activity with household materials!
This is the same concept as the moneybox idea above, but using dried beans and an egg carton.
In this example, we are reinforcing number concept by writing a number inside each hole, and the child has to add the correct number of beans.
Have your child hold a few beans in his hand, and place them into the container one by one by moving a single bean up to the fingertips each time. It is harder than it sounds, especially for kids with poor fine motor skills!
NB be aware of the choking hazard with little kids!
3) Playdough
Don't underestimate the potential of this age-old activity!
Leave out the paraphernalia and get your child to squash, squeeze, roll and pound the playdough to get those hand muscles moving.
Tripod Finger Activities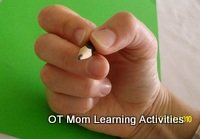 The Tripod Fingers
The thumb, index and middle fingers are the fingers used to control the pencil when writing. I call these the tripod fingers.

These kindergarten hand exercises will help your child learn to use those fingers in the first step to developing good pencil control.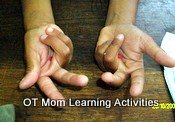 Show your child how to isolate the tripod fingers with a small slip of paper under the ring and little fingers (read why this is important).
Then try some of the activities below.
1) Scissor Cutting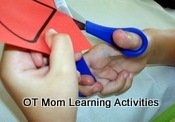 Scissor cutting is by far one of the best kindergarten hand exercises as it is a great way to getting the tripod fingers to work together well.
Make sure your child uses the tripod fingers in the holes, and give lots of practice cutting out on straight lines before moving on to shapes and pictures.
Read my scissor cutting pages for tips on helping your child cut with scissors, or check out my scissor cutting e-book!
2) Tripod Coloring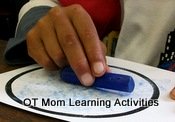 Ok, this activity does use a crayon, but it is used in such an undemanding way!
Use the tripod fingers to hold a crayon down flat and rub color all over a large area, like this circle which is about to be cut out.
Although square and triangular crayons are great, they can be expensive, but regular crayons do the trick just as well.
3) Tearing Paper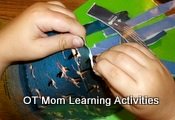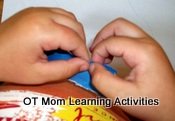 Tearing paper can be fun! First, check which way the grain of the magazine paper runs – the strips may run better horizontally or vertically.
Either you or your child can tear the strips from the page. Once strips have been torn, then tear the strips into small squares across the grain.
Use the tripod fingers to grasp the paper and tear. For best results, place the thumbs together on the top, and then pull one hand towards the body.
(The second pic has a preschooler tearing the paper and he is not using his tripod fingers yet, but the pic shows how the thumbs should be placed together for the best tearing)

You can use the paper squares to make a collage, which makes it a great preschool or kindergarten hand exercise for any theme!.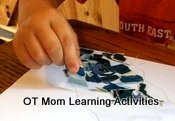 4) Clothes Pin Activities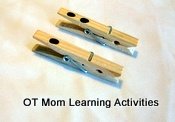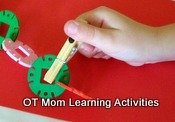 INCORRECT grasp of the clothes pin!!
Draw a single dot on one side of a clothes pin, and two dots on the other side. This shows your child where to place the fingers.
Your child should grip the pins with the pads at the tops of the fingers, and not at the side of the index finger as can be seen in the picture above!

Use the clothes pins to pick up and transfer items, or have your child pick up and place a number of clothes pins, making sure the tripod fingers are used correctly.  See the pics below!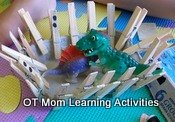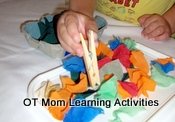 This child built a cage for his dinosaurs by placing clothes pins on an egg carton, then picked up "food" and transferred it to the cage.
5) Mini Paper Crumpling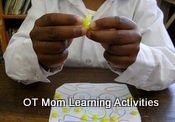 Crumpling small pieces of crepe or tissue paper into balls is a good tripod finger exercise and also makes a great decoration for craft activities.
In the activity below, we used the paper balls to add smoke to a house which was made as a cutting activity.
For more information on this versatile fine motor activity that can improve pencil control, pop over here.

6) Squirt Toys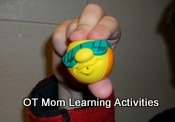 Available from some toy shops and therapy product suppliers, these little plastic toys that squirt water can be used effectively with the tripod fingers.

Add a couple to your stock of bath toys to add a fine motor boost to bath time!
PFOT stock a range of fine motor products like this one. This is my affiliate link to a few fine motor products that I have picked out over there.
More Than Just Kindergarten Hand Exercises!

Here are some more pages on my site that deal with the fine motor skills of the hands and fingers:

Hand Strengthening Exercises - head over to this page if your child has particularly weak hand muscles and finds the kindergarten hand exercises on this page too hard.
Extra Finger Exercises - head over to this page if your child needs to improve finger dexterity for pencil control.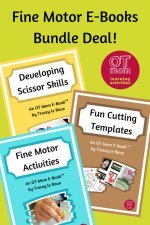 Related Pages

These pages give you more information to help you understand fine motor skills and what your child needs.

Fine Motor Resources from PFOT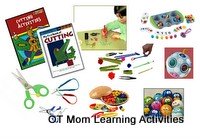 Exclusive Offer to OT Mom Readers
Use the coupon code OTmom
and get 15% off your order of $35 or more at PFOT

This is an affiliate link and if you purchase something through my link,
I will earn a small commission which helps to support my site!

Thank you for visiting my site!
I hope you found these activities helpful! If you did, please "like" my page so that others may be helped as well!

Why not sign up for my free occasional newsletter to stay in touch with new activity ideas on my site?

If this page was helpful, please share it with your friends!

Get 15% Off in my
Summer Activities Sale!
Summer vacation provides lots of opportunities
to work on your child's gross and fine motor skills.
Get a head start with 15% off ANY of my OT Mom E-Books
including my already discounted Bundle Deals!
Just enter the promo code summer2018 at checkout.
Then click "apply" to get your discount!

View a description of all my e-books here and don't forget to check out the Bundle Deals.
Offer ends on 30 June 2018.

Didn't find what you were looking for? Try a search of my site!