Preschool Visual Discrimination Activities
Preschool Visual Discrimination Activities


These preschool visual discrimination activities can be used to help your child learn to pay attention to details. This is an important skill that will help your child see the differences between letters, in order to learn to read and form letters correctly once formal schooling begins.
Although primarily aimed at preschoolers, you could also use some of these activities with your toddler, or with a kindergarten child who is struggling with visual perception skills.

NB many of the activity ideas below use small items such as LEGO and buttons - please supervise your child at all times to prevent choking!
For your convenience, I have linked to products on Amazon (marked #Ad) that are similar to the ones I use myself - I may receive a small commission if you purchase something through these links, which helps support this site. However, you are under no obligation to purchase anything!
Spot The Odd One Out

Spotting the odd one out can be the first step in learning to discriminate visually between items. Try and look for opportunities in everyday life where you can ask your child to point out the item that is "not the same", or the one that "does not match".
If possible, encourage your child to explain why the object is the odd one out - this will help to develop language skills.
Start with really simple differences like color and size, then progress to more subtle differences.
Take a look at the examples below for some simple preschool visual discrimination activities.

 - Spot the one that does not fit...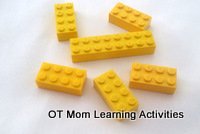 Size/length
Color
Shape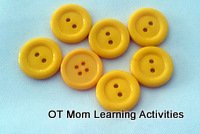 Number of holes
Please ensure your child is supervised at all times to prevent choking!

Having a bag of craft buttons #Ad or large preschool buttons #Ad on hand is great for these sorts of activities!

Sorting Activities for Visual Discrimination

Once you know your child can see the difference between objects, you can give your child lots of sorting activities to develop visual discrimination skills. Sorting teaches your child to look at basic details such as color, shape and size.

For very young kids, start with sorting according to just 1 feature (eg color) with just two options at first (eg red and yellow), and then increase the challenge by adding more colors, sizes and shapes.
 - Sorting for color and shape

Craft buttons, large threading beads, wooden blocks and jumbo pegboard pegs can be sorted for color and shape in so many different activities, but please take care so that no small items are put in the mouth.
You can put out a pile of items that are all the same shape, and sort them for color. If you have matching color cups into which the items can be placed, that often helps younger kids to master this task.
If your child is overwhelmed by the task of sorting all the colors, ask him/her to pick out just one color - this child is picking out all the pink pegs.
Picking out a specific color
You can also ask your child to sort a variety of shaped wooden blocks into groups of the same color.
If this is too hard, start with just two colors and then work up to more.

Sorting blocks by color
Using the same blocks, you can also ask your child to sort by shape. In the picture alongside, the rectangles all happened to be yellow, but you can see a variety of colors in the squares and triangles.
Again, start with just two very different shapes (eg circles and squares) and increase the challenge once your child has mastered these. Sorting rectangles and squares is more challenging than sorting circles and squares.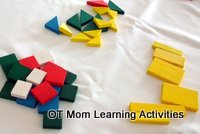 Sorting blocks by shape
Older kids who can recognize that shades of the same color go together, may enjoy sorting a big pile of buttons into a muffin tray.
You can see that there are light and dark shades of buttons in the same hole. This a great sorting activity that kids can do before using the buttons in a craft activity.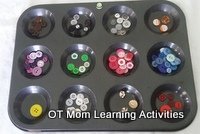 Sorting buttons into a muffin tray
You can view similar examples of Craft buttons#Ad, large threading beads#Ad, wooden blocks#Ad and pegboard pegs#Ad  on Amazon.

Please ensure your child is supervised at all times to prevent choking!

 - Sorting household items

If you have cutlery with different patterns, have your child sort them out into matching sets.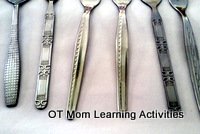 Sort cutlery by pattern
If you have different shapes of pasta, mix a few different shapes and have your child sort them out.
An empty egg box makes a great sorting tray!

Sort pasta into an egg box
Sort bottle tops - you can sort these by color or by size.
If your child is overwhelmed by a big pile of colors, you can ask your child to pick out just one color as this girl is doing with the purple tops.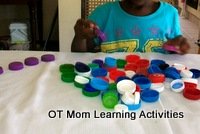 Sort bottle tops by color or size
Take a nature walk and collect all kinds of items. When you get home, sort your nature collection into categories such as cones, seeds and leaves.

Sorting nature objects
Please ensure your child is supervised at all times to prevent choking!

Matching Activities

Matching and sorting are very similar activities and overlap a lot. The difference is in quantity.
When your child sorts items, there will be a lot of items that fall into the same category, eg pink buttons, yellow blocks, macaroni pasta.


But when you ask your child to match items, there will only be one other item in the pile that is an exact match, and they need to pay attention in order to match them up.
 - Matching socks
Have lots of socks on laundry day? Ask your child to help find each matching pair! Start with socks that are very different, and then increase the challenge to socks that are similar.
You can do the same with cutlery.
Find the sock that matches each one!
Matching similar socks is more challenging
 - Matching any objects
Your child can also match nature objects, coins or any other household objects you have lying around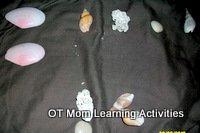 Matching nature objects
Straight Edge Puzzles (Mix and Match)

These straight edge puzzles are different to conventional puzzles in that the backgrounds are usually very simple and each puzzle is only 2 or 3 pieces. They are often called Mix&Match puzzles as your child can create their own animal/figure by mixing and matching creatively.
These puzzles make lovely preschool visual discrimination activities.

Your child has to pay careful attention to the color and lines of the picture in order to correctly build the figure.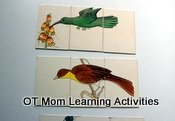 a mix & match puzzle
Because the pieces are not interlocking (and therefore not self correcting), the pieces can be used for fun creativity when not being used to build matching skills.
Here are some straight edge, Mix&Match puzzles I found on Amazon, but you can look out for them in your local toy department:

Printable Preschool Visual Discrimination Activities

Once a child has done a lot of hands-on activities like the ones above, there is a place for printables to help kids consolidate their skills.
I try to avoid paper-and-pencil activities at this age, so I really don't recommend worksheets.

Some of the resources below contain printable sheets that can be cut into activity cards, so they are still hands-on activities. Others look like worksheets but can be completed by the child pointing out the correct answer while looking at the sheet with you, or by putting a sticker or stamp over the correct answer.

These are my favorite printable visual discrimination activities and I have used them a lot!
Check them out by clicking on the images below:

More Info
If these activities are too simple for your child, take a look at my page of Kindergarten Visual Discrimination Activities.
Or read more about how poor visual discrimination can affect kids and view some ideas to help kids that are a bit older.
I trust you found this page helpful! Thank you for visiting my site!
Why not sign up for my occasional newsletter to keep in touch with new activities and resources when I create them?

Preschool Visual Discrimination Activities
If this page was helpful, please share it with your friends!

Related Pages
Here are some more visual perceptual pages that you may find helpful!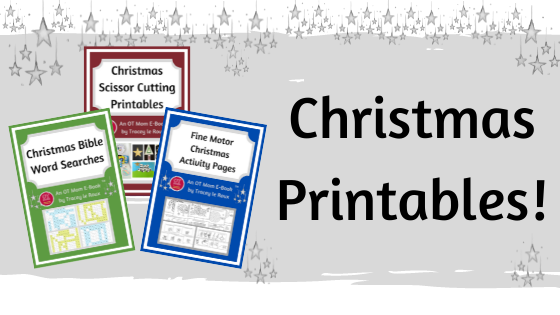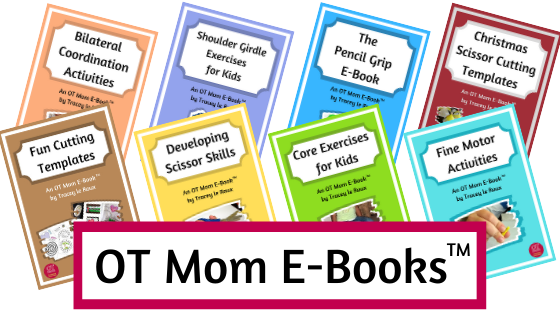 Didn't find what you were looking for? Try a search of my site!