Visual Discrimination Activities for Kindergarten
Visual Discrimination Activities
For Kindergarten


These visual discrimination activities for kindergarten will help your child build this important perceptual skill and learn to pay attention to detail.
This will help your child learn to see the differences between different letters and numbers, which is important for reading and for letter formation.
In addition, many learning activities such as spot-the-difference worksheets, and working with maps and graphs, require children to be able to pay attention to small details.

For your convenience, I have linked to products on Amazon (marked #Ad) that are similar to the ones I use myself - I may receive a small commission if you purchase something through these links, which helps support this site. However, you are under no obligation to purchase anything!
Matching Cards

Try and use cards which have similar background on all the cards, like the ones shown - then your child needs to pay attention to the details of the picture, and not simply match the color background!

Use a set of matching cards like you find in concentration/memory games. Mix up a few of the pairs.

Ask your child to find the matching cards.

You can increase the challenge of this activity by increasing the number of cards on the table.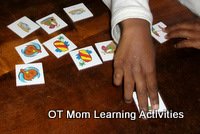 Find the matching card
Don't have matching cards? Try a charity shop, or take a look at this Woodlands Matching Game(#Ad) from Amazon.
Matching Shadows/Outlines

Matching shadows or matching outlines is a good visual discrimination activity for kindergarten as well as for preschool. Because there are no colors to give your child clues, then he/she has to pay more attention to the actual detail of the picture.

If your child has some activity books, look through them to find the pages where your child needs to match outlines or shadows like the ones shown below.
Sometimes you can find shadow match cards like these ones, and can also get shadow match books#Ad on Amazon.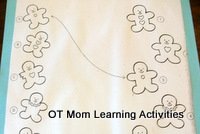 Match the outlines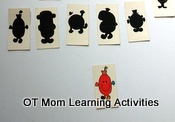 Match the shadow
Or you can purchase this inexpensive visual perceptual e-book that contains shadow bingo printables like the ones shown here.
I turn the bingo game into a matching activity for just one child.

Graphing Games

Teaching your child to pay attention to detail is an important step in developing good visual discrimination skills. I have found this printable download to be very helpful in developing this skill.

"Graphing Games" requires the child to look at the object and then place it in the correct position on the "graph" according to the color and contents of the picture.
This download of reproducible Graphing Games sheets is a fantastic resource packed with different themed graphs like this one.
Jigsaw Puzzles
Completing a jigsaw puzzle requires visual discrimination, visual closure and figure-ground perception skills in order to pick out the pieces required and orientate them correctly to fit into the correct place.

For this reason, jigsaw puzzles are a fantastic activity, not just for kindergarten, but all the way through childhood.
Good puzzles can be expensive, so why not swap with friends, or request them as birthday gifts? Make it a family tradition to complete a new puzzle each vacation.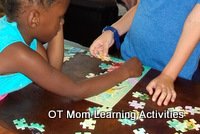 Building a puzzle
If your child struggles with the concept of building puzzles, then check out my page on teaching kids how to do puzzles.

These Ravensburger puzzles on Amazon#Ad are perfect for age 5 and older, but yard sales are also a great place to pick up puzzles - just check that all the pieces are intact before you purchase!
Printable Visual Discrimination Activities for Kindergarten

If you have been to my website before, you will have realized that I am not a fan of worksheets! I firmly believe that hands-on activities are much better for developing kids' skills.
These printable resources are fantastic as they either cut up into cards that can be used in a a hands-on activity or your child can point to the solution while doing the activity with you.
These are my favorite printable visual discrimination activities for kindergarten and I have used them over and over with the kids I have worked with.
Simply click on the image to read a description of the printable.

Thank you so much for visiting! I hope you found this page helpful!
If you are looking for simpler activities, then try these easier visual discrimination activities for preschool and toddlers.
Or get some ideas for slightly more challenging activities for older kids!

Why not sign up for my occasional newsletter to keep in touch with new activities and resources when I create them?

Visual Discrimination Activities for Kindergarten
If this page was helpful, please share it with your friends!

Related Pages
Here are some more pages that you may find helpful in building your child's kindergarten skills!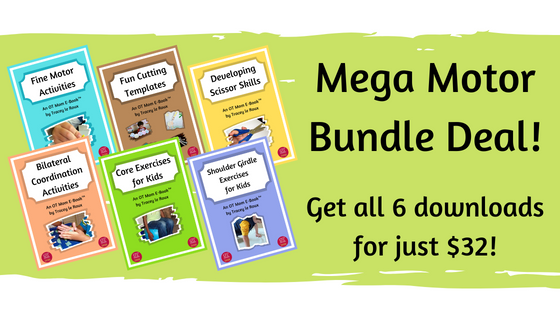 Didn't find what you were looking for? Try a search of my site!