Visual Perception Printable Activities for Preschool


Viewing this page on your device?
Please adjust your settings to enable images!
I use small photos to illustrate the information and activities that I share, and you will have a much better experience on this website if you can view the images.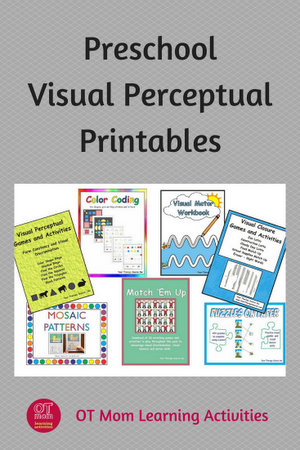 Use these visual perception printable activities to help your preschool child work on different visual skills.

My recommendation is that young children should be developing their visual perceptual skills primarily through exploring their environment and using hands-on activities.

However, these printable activities can be safely used with preschool children as they are designed to be more interactive than the usual paper-and-pencil tasks.

Many of the resources are cut into cards to be physically matched up. Some answers can be pointed to instead of marked and others can be traced with the finger.
So, as long as you are also incorporating other hands-on visual activities into your preschooler's life, then go ahead and get some of these visual perception printable activities for occasional desktop use!
I am an affiliate for Your Therapy Source, because I personally use and recommend their resources. If you decide to purchase one of their e-books, I will receive a small commission which helps support my site.
Clicking on the "add to cart" buttons will take you to their cart where you can complete the transaction. Have fun with their awesome products!
Click on the quick links below to read my review and description of each e-book below.

Visual Perceptual Games & Activities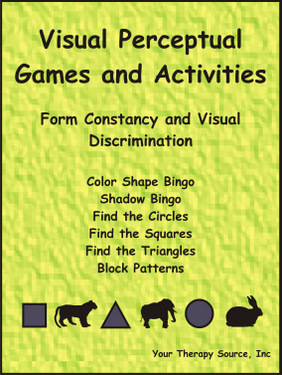 A nice collection of six visual perceptual games and worksheets that reinforce concepts that preschoolers are learning.

Only $4.99

The activities are:
- Color-Shape Bingo
- Shadow Bingo (visual discrimination and matching skills)
- Find the Circles
- Find the Squares
- Find the Triangles (form constancy worksheets)
- Block Patterns cards that are suitable for using with basic wooden blocks that are often standard in classrooms, and can reinforce spatial perceptual skills.
The bingo cards can be used with a small group of children or a family, but they can also be used with just one child as a matching activity (cut up the animals and have your child place them on the matching shadows).
Laminate them to make them last longer!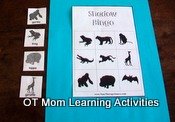 Printing:
The color-shape bingo must be printed in color, while Shadow Match Bingo can be printed in either color or black/white. The rest of the worksheets are black/white.
Included at a 30% Discount in the Preschool Budget Bundle Deal!
Color Coding

Although described as a book which gives practice with shapes, pre-writing strokes and letters, I tend to use this book with children who are not yet ready to write, but need to practice visually discriminating between different shapes, letters and numbers. I then let them do the activity orally with me, pointing out the correct answer, or by simply circling the answers with the given color instead of tracing the letter/number.

The coloring pages (coloring shapes with specific colors according to directions) reinforce form constancy, whereas the letters and numbers pages, which are designed to give children practice in tracing letters, can be used as visual discrimination worksheets instead - I let the children circle the letters in the given color instead of tracing them.

Printing: Although the pages are color coded so the child can see which shapes/letters should be which color, I personally printed the pages in black and white, and marked the color with felt tips after printing.
Included at a 30% Discount in the Preschool Budget Bundle Deal!
Visual Closure Games And Activities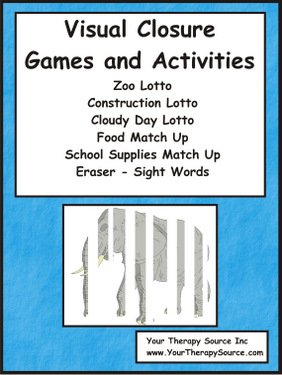 This e-book contains the printable resources to create 6 visual closure games and activities.
Only $4.99!

The contents are: Zoo Lotto, Construction Vehicle Lotto, Cloudy Day Lotto, Food Match Up, School Supplies Match Up, and Erased Sight Words.

Preschool children will enjoy the games, and they can also be used with kindergarten kids whose visual perceptual skills are weak. The food and school supplies match up worksheets are quite easy, but the Zoo and Construction Lotto games require the child to pay more attention to visually complete the picture.

Printing: I recommend the black and white printing to increase the visual challenge of the games, as the color ones are too easy for most kids.
Included at a 30% Discount in the Preschool Budget Bundle Deal!
Puzzles On Paper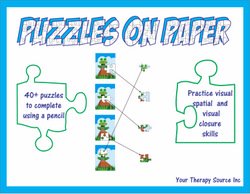 The puzzles are presented in a variety of ways, but in all of them, the child needs to use figure ground perception, visual closure or visual discrimination skills.
Only $3.99!

Some puzzles require a number to be written next to the correct piece, or a line to be drawn (which is a visual-motor requirement), but kids with poor pencil skills can do the puzzle one-on-one with you, and either point to the correct answer, or trace the line with their finger.
Included at a 30% Discount in the Preschool Budget Bundle Deal!
Mosaic Patterns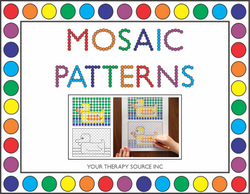 Mosaic Patterns gives a variety of sample pictures made from color dots; and black and white outlines of the same pictures for kids to copy.
Only $3.99!

Merely coloring them in is a bit time consuming but there are fun, crafty  ways to complete the pictures that work on fine motor skills. The author suggests crumpled tissue paper (my favorite, I recommend them elsewhere on my site), dot markers, using blobs of paint with cotton swabs. or stickers.
There are small, medium and large options.

Although it may seem to be a fine motor activity, copying the picture accurately also demands visual discrimination, position in space and spatial relations skills.
Included at a 30% Discount in the Preschool Budget Bundle Deal!

Visual Motor Workbook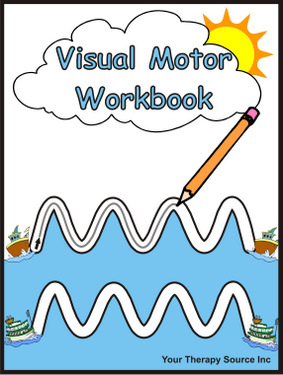 This is a LARGE download (about 25MB) owing to the high quality images used. Well worth it for the colorful and interesting activities!

Only $7.99

 A lot of work has gone into making these worksheets attractive for preschoolers. Even if you have to print these in black/white instead of color, the pictures and shading are still more attractive than the standard, boring worksheets often given for free on the net.
The worksheets are gently graded, and give preschoolers lots of practice in weak areas (eg diagonal lines, corners, curved lines). Your child can use a crayon or a finger to trace the lines; or laminate the sheets and use wipe-clean markers.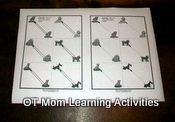 For older kids, I printed 2 pages on each sheet of paper, as older children are able to work over slightly smaller areas. Be sure to work "big" on the blackboard and in a sand tray before moving onto worksheets, though.
Included at a 30% discount in the Preschool Premium Bundle Deal and in the Preschool Visual Motor Bundle Deal (new page).

Match 'Em Up
A great resource for visual memory games as well as visual discrimination activities. Some of the pages would fit well into themed weeks (eg snowmen, fall leaves, Christmas trees), but honestly, they could all be used throughout the year!

There are 36 sets of beautiful cards, and you would need to print 2 copies of each set you select.

There are a couple of different alphabet and number cards that could be used as a form constancy exercise (ie that an "A" is an "A" no matter what the color or font).

Printing:
Only 6 of the 36 activities are color dependent and need to be printed in color in order for the activity to work well.
The other activities are beautiful in color, but if you are only able to print in B&W, this will increase the visual discrimination challenge of the activity, requiring the child to pay careful attention to detail without the clues of color.

Included at a 30% discount in the Preschool Premium Bundle Deal.
Bundle Deals!
Preschool & Kindergarten
Budget

Bundle

Only $16

Total Value = $22.95

Visual Perceptual Games & Activities
Color Coding
Visual Closure Games & Activities
Puzzles on Paper
Mosaic Patterns
Ideal for preschoolers and young kindergartners, this pack comprehensively addresses many of the visual perceptual skills needed for starting school.
If you buy this pack, I recommend that you also include visual motor activities and visual memory activities in your child's schedule (E-books for these skills are  included in the Premium Pack).

Preschool & Kindergarten
Premium

Bundle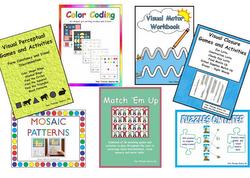 Only $27.95

Total Value = $39.93
Visual Perceptual Games & Activities
Color Coding
Visual Closure Games & Activities
Puzzles on Paper
Mosaic Patterns
Visual Motor Workbook

Match 'Em Up
Contains all the e-books in the Budget Bundle PLUS the Visual Motor Workbook to work on early visual motor skills and Match 'Em Up for visual memory and extra visual discrimination and matching practice. 
A fantastic way to make sure your child is developing all-round visual perceptual skills!
More Visual Perception Printable Activities!

These pages on my site offer different printable visual perception resources. Check them out!

How These Printable Downloads Work:
You are allowed to print as many copies as you need for the children in your family, classroom or therapy room, so they are great value for money. I have tried all these e-books myself and believe they are well worth the tiny investment if you want to improve your child's  skills. I have negotiated exclusive bundle deals just for my OT Mom readers.

If you are looking for free resources, there are lots of free activities on my site, just search with the box at the bottom of this page or work through my navigation buttons!
When you click on the "Add to Cart" buttons, you will be taken to Your Therapy Source's shopping cart.  Once your order is complete, pay for it and then you will receive download links for the e-books, which come in PDF format. Save them to your PC and then print out the pages as and when you need them.
Honesty Point
As an affiliate for Your Therapy Source, I will receive a small commission on the sale of any of these cutting skills e-books if they are purchased from my site. However, the reviews are all mine and completely honest. I had found and used their products myself before requesting to make their e-books available to my visitors.

Thank you for supporting my site!
I hope that you will find these visual perception printable activities as helpful as I did!

Pop over to my Visual Perceptual Skills page if you need some more information on visual perception and to find some free hands-on activities you can do at home.
Or find out about other Preschool Learning Activities you can do with your preschool child!

Thank you for visiting my site!

Visual Perception Printable Activities
Visual Perception Printable Activities
If this page was helpful, please share it with your friends!

Didn't find what you were looking for? Try a search of my site!