Gross Motor Activities
Gross Motor Activities are an essential part of every child's life. Through play, children should be developing their gross motor skills to prepare them for the demands of school such as handwriting, concentrating, following instructions, sport skills and team work. Staying active through gross motor exercise can also help children avoid the pitfall of obesity that can come through inactivity.
So, try these fun activities to develop your child's gross motor skills.



Core Exercises for Kids
Your child's core muscles are vital to his performance in the classroom. Without a stable core, he will struggle to sit still at a desk and to carry out fine motor tasks. Try these exercises with your child to strengthen his trunk muscles.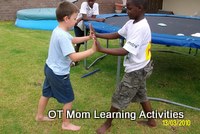 Shoulder Exercises for Kids
These shoulder exercises work on strengthening the muscles of the shoulder girdle. Strong shoulder muscles are needed to help fine motor skills to develop well.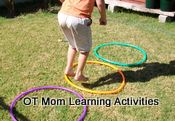 Bilateral Coordination Activities
Try these activities to improve your child's bilateral coordination skills. Bilateral coordination is the ability to use both sides of the body together in a coordinated way and is essential for tying shoelaces, using a knife and fork together, cutting with scissors, jumping, skipping and other childhood tasks.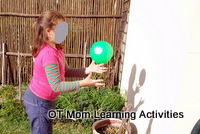 Hand-Eye Coordination Exercises
These fun and easy indoor and outdoor games can improve your child's hand-eye coordination. Hand-eye coordination is an important skill that affects handwriting and ball skills.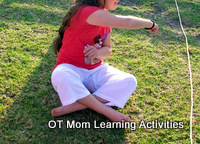 Midline crossing activities
Crossing the midline means that one hand spontaneously moves over to the other side of the body to work there, and is important in establishing hand dominance as well as in classroom tasks. This page contains some fun activities to boost midline crossing.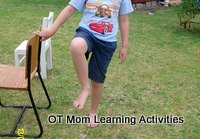 Gross Motor Exercises for the Classroom
Free Printable PDF's with gross motor exercises that can be done at the desk and on the mat in the classroom. Compiled from various pages throughout my site, these free printables are suitable for teachers and homeschool moms of preschool to elementary kids.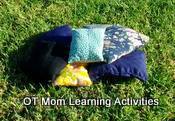 Bean Bag Games
These games and activities use bean bags as a fun prop to boost various gross motor skills.




Has your child got low muscle tone? Read a brief description of what muscle tone means.
Read my article on preschool gross motor activities and school readiness skills.
Or find out what can contribute to poor gross motor skills in today's children.
Return from Gross Motor Activities
to home page of OT Mom Learning Activities

Gross Motor Equipment including all sizes of Therapy Balls!
---
Click here to view the full range of products at PFOT