Occupational Therapy Products


Viewing this page on your device?
Please adjust your settings to enable images!
I use small photos to illustrate the information and activities that I share, and you will have a much better experience on this website if you can view the images.

There are a wide range of occupational therapy products and resources that can be used by parents, teachers and therapists at home or at school. I have chosen these OT resources specifically to supplement the activities I suggest on my website.
Many of the links below are affiliate links (from PFOT, Amazon and others) and I receive a small commission if you purchase a product through my links. However, you are under no obligation to purchase anything! I only link to products that I have used, or that are very similar to ones I have used.

Resources from PFOT

I have partnered with Pocket Full of Therapy (PFOT), who supply therapists and parents with all kinds of therapy products. Many of these products have been featured or recommended on my OT Mom website and e-books, and PFOT have allowed me to compile them on some pages of their site.

Click on any category link to view a variety of specifically chosen resources that I recommend in that category.
You may find my article on Pencil Grips for Kids helpful if you are looking specifically for pencil grippers.


Toys That Build Skills

Sometimes a child needs a little extra motivation to work on certain skills. These kids can sniff out a "therapy activity" from miles away, and while they may engage with you on the activity for a short time, they don't exactly seek it out in their "play" time.
So sometimes you need to provide toys that are motivating enough for your child to play with of their own accord, while still building skills. These are links to my reviews of a couple of toys that really hit that spot.
Home › Occupational Therapy Products
Was this page helpful?
Please like my page and let your friends know!
Didn't find what you were looking for? Then do a search on my site!

Get your Christmas Bonus Deal!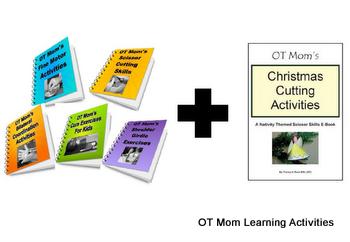 Get 15% Discount on the Mega Motor Bundle
PLUS
A free copy of Christmas Cutting Activities (worth $3.50).
Just enter the coupon code below at check-out to get your discount with the free e-book!

Christmas2017
Don't forget to "update cart" after adding the discount code!
View the deal here... or read a description of all my e-books first.
Offer ends on 31 Dec 2017.