Christmas Activities For Kids

Here are some OT Christmas activities for kids to give your child lots of practice in developing skills they need at school.
Some activities use fine motor skills, especially scissor cutting skills, while others involve bilateral coordination or visual perceptual skills.
These are the quick links that tell you more about each activity on this page. If you are interested, then head over to the specific page to more details and photographs!
I'm sure you will find some Christmas activities for kids that suit your needs!

Christmas Angels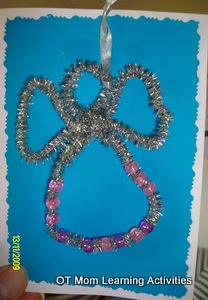 Encourages these skills: bilateral coordination in threading beads, sequencing of bead colors, cutting rectangles, planning skills (older children)

Comment: Although I do not usually recommend threading small beads if your child struggles with fine motor tasks, this task uses chenille sticks/pipe cleaners and gives a very rewarding end product! Older children (Grade 1) should be able to make the angel shape on their own, but an adult will need to complete the shape for a younger child.
Find out how to make these Christmas Angels here!
Christmas Paper Crafts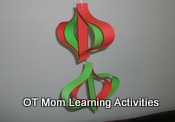 Encourages these skills: Scissor cutting skills

Comment: Try out a variety of Christmas cutting activities to give your child practice at cutting on straight lines and cutting out simple shapes.
Try out these Christmas Paper Crafts here!
Printable Christmas Activities for Kids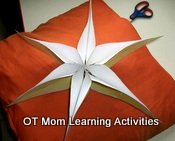 Encourages these skills: fine motor skills, particularly scissor cutting skills

Comment: This page contains free downloadable PDF's with various fine motor Christmas activities for kids, as well as reviews of affordable e-books that contain good Christmas cutting activities.
Check out the Christmas Printables here!
Christmas Baking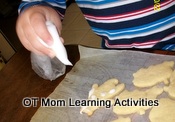 Encourages these skills: Mostly bilateral coordination, but visual perception and maths skills are also encouraged

Comment: Different methods of baking biscuits require different skills. Have a look and find a recipe that suits you and your child!
So head over and try some Christmas Baking with your kids!
Christmas Word Searches

Encourages these skills: visual perceptual skills (figure-ground perception; attention to detail)
Comment: Word Searches are a great way to help your child pay attention to visual detail. This page contains 4 different nativity Word Searches. Available as free downloadable PDF's.

Head over to view and download these free Christmas Word Searches now!
Christian Christmas Crafts (e-books)

Encourages these skills: fine motor skills are boosted by the variety of crafts on offer in these reviewed e-books; kids aged from preschool to early elementary will enjoy the crafts
Comment: This page contains reviews of some of the best Christmas craft e-books that I have used and recommend. Some of the e-books have good advent lessons for kids as well.
Check out the reviews and find an e-book for your family today!
Christmas Lapbooks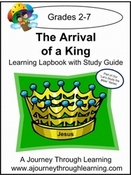 Encourages these skills: younger children can cut out the lapbook templates while older children fill in the answers and build the lapbook
Comment: I review and recommend 2 excellent Christmas lapbooks on this page. Ideal if you are looking for a project that will take a few days and get your kids involved in the preparations for Christmas!

Head over and view the Christmas Lapbooks now!
Truth In The Tinsel

My Favorite Advent E-Book!
Daily lessons and crafts for little hands to teach them the true story of Christmas.

Click on the pic to view the e-book or read my full review here.

Honesty Point: This is an affiliate link. If you like my site, please purchase your e-book through my link - I get a small commission if you do this, at no added cost to you! Thank you for supporting my site!
Thank you for visiting my site!
Home › Christmas Activities for Kids
Was this page helpful?
Please like my page and let your friends know!
Didn't find what you were looking for? Then do a search on my site!