Free Teacher Resources


Viewing this page on your device?
Please adjust your settings to enable images!
I use small photos to illustrate the information and activities that I share, and you will have a much better experience on this website if you can view the images.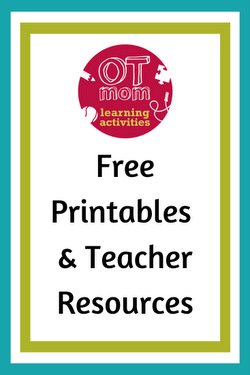 I offer these free teacher resources and printables out of my admiration and respect for teachers, who carry a huge workload and also have to find ways to help the special needs children and struggling learners in their classes.
They are aimed at preschool, kindergarten and early elementary teachers, but homeschool moms may find them helpful too!
I personally hate having to give out my email address to get a freebie - to me, that feels like paying with my personal identity. So, all my freebies really are free - you just click and download :-) . If you are interested in signing up for my newsletter, you can sign up on a separate page.
Click on the quick links to jump to the section you are interested in, or scroll through my entire page to see them all!

Information Handouts
For parent/teacher meetings, or parent seminars, you may find these printable handouts useful. They contain some basic information helpful to parents, and will direct them to specific pages on this website where they can find relevant activities.
Here's a brief overview of the contents of each handout: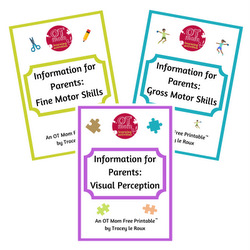 Gross Motor Skills (200 KB)
This handout explains why gross motor skills are important, and how they can help kids with the skills needed for learning to read and write.


Fine Motor Skills (450 KB)
This handout describes the four essential bases for good fine motor development, and gives some activity ideas to help kids.


Visual Perception Information (500 KB)
This parent handout gives an overview of the different aspects of visual perception, and gives some ways kids may struggle if their skills are weak.

Filling in this form will unlock access to all three freebies - you can then choose which ones to download!
You will not be asked for your email address or signed up for anything - you will just get access to the freebies. Please feel free to share these free teacher resources by linking to this page, not directly to the PDFs themselves.
Thanks!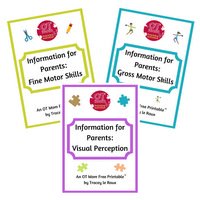 Español
Folleto informativo gratuito para padres en estas páginas:
Por favor, no enlazar directamente con el archivo PDF desde tu propio blog - por favor enlace a esta página. ¡Gracias!
Free Classroom Exercises

I have a page full of gross motor exercises on my website that are easy to implement in your classroom. Best of all, you can access a Free Printable OT Mom E-Book TM !

Hop on over to read my article - and don't forget to scroll down to get your free printable at the end!

Free Scissor Cutting Templates
Do your kids need to practice scissor skills?
You can get a free basic scissor cutting template on my cutting activities page. Visit the page and scroll down to get your templates!

Free Pencil Grasp Download

Are you wondering whether your child's pencil grasp is developmentally appropriate?

You can get a free pencil grasp information download on my Pencil Grasp Development page. Visit my page and scroll down to get the free handout!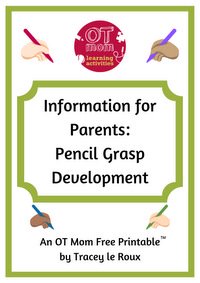 Free Letter Formation Tips Download

Is your child struggling to form letters correctly? Does your child want to start writing but you are not sure how to help teach correct letter formations?

You can get a free download of Letter Formation Tips and Strategies on my Letter Formation Tips page. Hop on over to read the tips and download the handout at the end!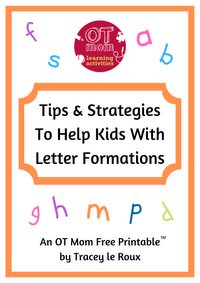 (Mostly) Free Christmas Printables

Head over to my Christmas pages to find some free teacher resources you can use in your classroom or homeschool setting.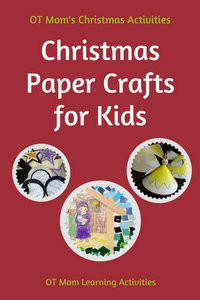 Christmas Paper Craft Ideas has some simple activities that kids can do in the classroom, with a couple of free template downloads.
Christmas Fine Motor Activities - ideas to help kids work on fine motor skills at Christmas.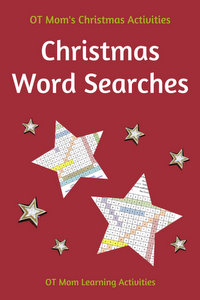 Free Printable Christmas Word Searches can be used to boost figure-ground perception and visual discrimination skills.
Christmas Scissor Cutting Resources - this is not free but excellent value for money and has timeless printable cutting templates that can be used over and over again.
More Free Teacher Resources

Kay M. Donato has a valuable page on Teaching Strategies that I think is immensely helpful for anyone who is teaching any child with special needs, not just autism.
So head over to her page on Teaching Strategies for Autism and be encouraged and inspired!

There are lots of free information and activity ideas on this website, so please sign up for my free newsletter to keep in touch with new pages and new ideas as I post them.
These free teacher resources arise from requests made and needs identified by teachers who have contacted me.

It is my hope that teachers all over the world will find these pages helpful, which will enable more children to be the best they can be!
Home › Free Teacher Resources
If this page was helpful, please share it with your friends!

Didn't find what you were looking for? Try a search of my site!