Great Hand Exercises For Kids!
These easy Hand Exercises For Kids are designed to help kids with
poor fine motor skills or weak hand muscles.
As an occupational therapist and homeschooling mom, I have tried these exercises many times over the years with countless children as well as my own, and there are loads of photos to inspire you as you see how easy the activities are.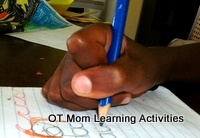 When the muscles of the hand are weak, or when the fingers have not learnt to work together well, the child often compensates by using a poor or faulty pencil grip. A poor pencil grip may also occur when one of the Essential Bases for fine motor skills has not developed well.


In these pages we will help the hand muscles to work well together using lots of FUN hand exercises for kids. But before you start, ensure that you understand what the different Essential Bases are for fine motor development.
The exercises on this page focus on developing the general strength and dexterity of the hand muscles. Some of these hand exercises for kids will require your child to use both hands at the same time – this will improve his bilateral coordination skills as well!
For hand exercises that require your child to use just one hand, make sure he uses only his dominant/preferred hand. You can read my articles on hand dominance for more information.
Once he has developed proficiency at doing these hand exercises for kids, move on to some Finger Exercises For Kids. These will help his 3F to work together well in order to develop better pencil control.
Hand Exercises For Kids
| | |
| --- | --- |
| | We used a large plastic ball that can be easily seen in the photo, but smaller tennis balls or pet balls work just as well. Using the fingers of the hand, "walk" the ball up one leg, across the tummy and down the other leg. Make sure your child uses his "dominant hand" and does not switch hands! Also, watch to make sure he is using a "walking" motion with his fingers and not a grabbing motion! |
| | Using an egg box, have your child hold 6-10 beans in his hand, and place them into the container one by one. Here, we are reinforcing number concept by writing a number inside each hole, and he has to add the correct number of beans. You could also have a race to see who can put 5 beans into each hole in the fastest time! The important thing is to do it one bean at a time. |
| | You can do the same thing with a money box, where your child holds a few coins in his hands and pushes them through the slot one at a time. Make sure the coins are placed with the tips of the fingers, not the sides of the fingers. Not as easy as it sounds! |
| | Here, you can see how the muscles of the hand have to work to hold the coins as well as maneuver a single coin up to the fingertips. |
| | You could also cut slits in the top or side of a clean used food container to use instead of a money box. |
| | Playdough gives great exercise – try squashing, rolling, pounding and moulding with the hands, without using any cutters or other traditional playdough toys. |
Scissor cutting is also a great hand exercise, so check out our scissor cutting tips and ideas.
If your child is still in Preschool or Kindergarten, then the
Kindergarten Hand Exercises may be more appropriate.
An older child may benefit from a slightly different approach in these
fine motor skills activities for older kids.

Return from Hand Exercises for Kids to "Fine Motor Activities"

Return to Home Page of OT Mom Learning Activities