Fun Finger Exercises For Kids
Can Help Improve Handwriting
And Fine Motor Skills!


As an occupational therapist and homeschooling mom, I have tried these finger exercises for kids many times over the years with countless school children as well as with my own, and there are loads of photos to inspire you as you see how easy the activities are.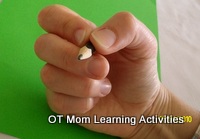 In order to control a pencil and develop good handwriting skills, a child's hand muscles need to work well together in a coordinated way. In particular, as you can see from the picture alongside, three fingers: the thumb, index and middle fingers work together to control the pencil in what is called a dynamic tripod pencil grasp.


I refer to these 3 fingers as the tripod fingers. The tripod fingers are designed to work well together to write with a minimum of effort, and most "faulty" pencil grips will increase the effort required to write.
If your child tires easily when writing, or struggles to control the pencil to form letters neatly and easily, then these finger exercises should help.
Ideally, these finger exercises for kids should be done after some proficiency has been reached with hand exercises. Hand Exercises For Kids has some good ideas.
If your child is still in preschool or Kindergarten, or if your child has not yet learnt to use the tripod fingers separately from the other fingers, then take a look at Kindergarten Hand Exercises, before trying these finger exercises.
For best results, try to do one type of "Finger Exercises for Kids" every day, especially ahead of handwriting lessons.
Some of the exercises will require your child to use both hands at the same time – this will improve his Bilateral Coordination Skills as well! For exercises that require your child to use just one hand, make sure he uses only his dominant/preferred hand. Have fun!
Finger Exercises For Kids
Show your child how to isolate the use of the tripod fingers with a small slip of paper under the ring and little fingers.

I tell my kids that the thumb, middle and index fingers need to work together, so we are going to keep the other fingers out of the way with this piece of paper.
Use playdough to make a pinch pot, after first rolling and squashing the dough for general hand exercise.

Roll into a palm-sized ball, insert thumb into the centre and use the outer 2 fingers (index and middle) to pinch the pot.
Use the thumb, index and middle fingers all the way around until the pot is completed.
Roll small balls with the tripod fingers to make eggs for a nest, or food for the pot (meatballs anyone?!)
Crumple small pieces of crepe or tissue paper to make small balls. These can be used to decorate pictures.

In the next set of photos, I will show you the best way to cut the paper, and how to use them in activities.
Once your child has got the hang of doing the ball walk with his whole hand (see hand exercises), let him try it with just his tripod fingers.
.
Preparing the Paper for Paper Crumpling
| | |
| --- | --- |
| | Crepe and tissue paper usually come folded up. Cut a strip about 3cm wide, right across the strip. |
| | Cut the strip in half, and then snip the ends off so the folds are removed. |
| | After both ends are snipped off, you should be able to fan out the layers of crepe paper. |
| | Separate the layers, and then they are ready for your child to use. I keep an ice-cream container of various colors of paper, ready to add to whatever project my child is busy with. |
| | Small paper balls made this way make great stars in any astronomy picture. They can also be used as leaves on a tree, snowflakes, plankton in the sea… |
| | Here, my son used paper crumpling to add smoke to his chimney. The house was made as a cutting activity. |
Do you think these exercises will help your child? Ensure that you understand what the different Essential Bases are for fine motor development to see what other areas you can work on to improve your child's fine motor skills.
Scissor cutting is also a great hand exercise, so check out our scissor cutting tips and cutting activities.
Return from Finger Exercises for Kids to "Fine Motor Activities".

Return to Home Page of OT Mom Learning Activities.