Christmas Lapbooks

Viewing this page on your device?
Please adjust your settings to enable images!
I use small photos to illustrate the information and activities that I share, and you will have a much better experience on this website if you can view the images.

I had a couple of great Christmas lapbooks on this page, but they were hosted by Currclick, which closed in April 2019 :-(
While I source some new resources to recommend, here are two other Christian Christmas resources that I can recommend.
If you have any recommendations for Christmas Lapbooks, please do contact me and let me know!

Truth In the Tinsel

This is not a lapbook, but contains daily lessons and crafts for little hands to teach preschoolers the true story of Christmas.

Click on the pic to view the e-book or read my full review here.

Honesty Point: This is an affiliate link. If you like my site, please purchase your e-book through my link - I get a small commission if you do this, at no added cost to you! Thank you for supporting my site!
Christmas Cutting Practice Printables!
Do you want to give your child more scissor cutting practice using a Christmas theme? Are you struggling to find good scissor cutting templates?
OT Mom's nativity-themed Christmas cutting templates will give your child lots of cutting practice with lovely end products to build your child's confidence!
There are 17 different scissor cutting crafts, all with photographed instructions and a variety of templates - over 40 templates in all!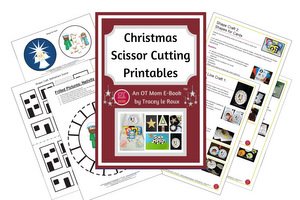 Suitable for a range of skills - from preschoolers who are just learning to use scissors, all the way to early elementary kids who need more practice with their scissor skills.
Starting with simple snipping activities, the templates will enable your child to learn to cut on straight lines and then to cut out shapes.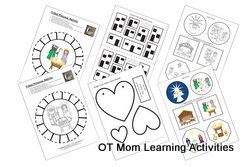 All the activities are photographed so you and your child can see what you are working towards!
View my Christmas Scissor Cutting Printables now!

Thank you for visiting my site!
Christmas Lapbooks
If this page was helpful, please share it with your friends!

Didn't find what you were looking for? Try a search of my site!