Scissor Cutting Practice Templates


Viewing this page on your device?
Please adjust your settings to enable images!
I use small photos to illustrate the information and activities that I share, and you will have a much better experience on this website if you can view the images.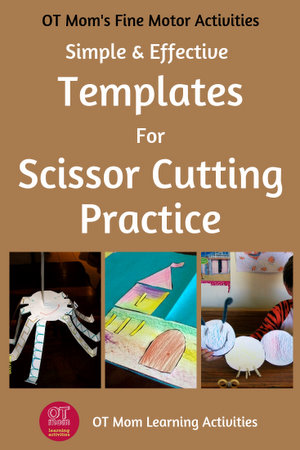 Does your child need more scissor cutting practice? These simple, effective templates can be used to help improve your child's scissor skills!
I believe that kids are more motivated when they have a tangible end product. Therefore, I prefer to make use of templates that create something specific instead of worksheets where kids cut across pages and end up with a pile of paper!

Each of my scissor cutting practice e-books provide templates and basic instructions and/or photos to get you started.
The cuttine activity ideas within each e-book range from simple to more challenging, to help your child make progress with scissor skills!

Fun Cutting Templates
This mini e-book contains cutting templates and some photographed activity ideas to inspire you.The cutting lines are thick and easy for young kids to start with.

For best results, especially with younger children, print the templates onto thin cardstock to make it easier for them to handle.
This e-book is included free with every purchase of my scissor skills e-book, but can also be purchased individually with the buttons below.

Contents of this mini e-book include templates for:

straight lines, circles and basic shapes
a house

a castle
a rocket
a giraffe
flags
a boat
Christmas Cutting Templates

This is a complete e-book that comes with detailed photographed instructions followed immediately by the template needed for that activity, making it easier for you to print out exactly the template you want.
The nativity themed activities and will give your child lots of scissor cutting practice as well as satisfying end products, which can be used for Christmas decorations. 
Contents of this E-book:
Scissor Cutting Tips to help your child make the most of every cutting activity


Two Snipping Crafts for beginners, including a basic Bethlehem craft.


Three Straight Line Crafts to help your child master cutting on a straight line.


Seven Shape Crafts which will help your child learn to cut basic shapes, ranging from circles and rectangles, to stars. A more advanced Bethlehem cutting activity is included here.

Templates - All the templates are repeated and collated again at the end of the e-book for your convenience and ease of printing.
Cutting Template Bundle Deals

You can get both sets of these scissor cutting templates for a special bundle price!
Remember, the Fun Cutting Templates are included with my Scissor Skills e-book, but if you are just looking for cutting templates, then this bundle deal is a great buy!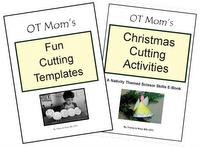 Free Scissor Cutting Practice Templates

If you are looking for free templates for scissor cutting practice, you can find them on these pages of my site:

Related Pages
For more information on helping your child learn to cut with scissors, check out these pages on my site!

Scissor Cutting Resources from PFOT
PFOT stock a range of self opening, adapted and other special resources that are designed to help kids who struggle with scissor cutting. Check out their resources here!

Exclusive Offer to OT Mom Readers
Use the coupon code OTmom
and get 15% off your order of $35 or more at PFOT

This is an affiliate link and if you purchase something through my link,
I will earn a small commission which helps to support my site!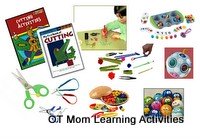 If this page was helpful, please share it with your friends!

Didn't find what you were looking for? Try a search of my site!