Visual Discrimination Activities

Visual discrimination helps a child to see subtle differences between objects or pictures and to see if something matches up. This visual perceptual skill can be described as "paying attention to detail".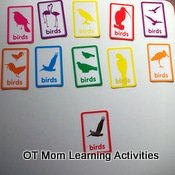 How Does It Affect Kids?

Younger children with poor skills may struggle to
match clothing, socks, or cutlery, especially when the differences are subtle

see the difference between similar objects (eg coins, especially foreign coins which are similar to local currency)
A school-going child with poor skills may struggle to
see differences between similar looking letters and words (eg b / d,    b / p,    5 / S,    won't / want,    car / cat)
complete spot-the-difference type activities

read maps

Try these activities and games to help your child develop this essential visual perceptual skill.
These visual perception activities are intended to encourage your child's normal visual perceptual development. If you suspect your child has visual perceptual delays, please seek a professional opinion.

Preschool Sorting and Matching Games

These preschool ideas can range from sorting cutlery to matching socks!
You can also go on a nature walk and collect seeds, leaves and so on, and have your child sort them into groups of similar / identical items.
You can view some Preschool Sorting and Matching Games here.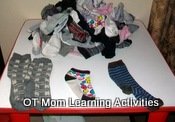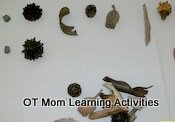 Paying Attention to Detail

   1) Straight Edge Puzzles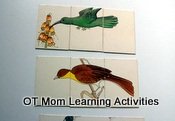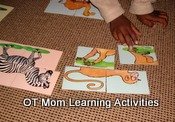 These 3 and 4 piece puzzles are different to conventional puzzles in that the cards have straight edges, and the pieces are mixed up with other pieces.
Your child then has to pay careful attention to the color and lines of the picture in order to correctly build the animal.

   2) Lotto Games and Graphing Games

Preschool Lotto Games
encourage your child to pay active attention to spot the small differences between the playing cards.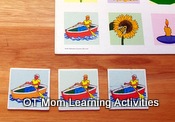 Graphing Games require the child to look at the object and then place it in the correct position on the "graph" according to the color and contents of the picture.
I was unable to find a similar product to mine to recommend online, but this e-book of reproducible Graphing Games sheets is fantastic.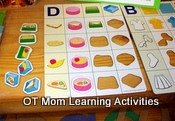 Matching Identical Objects/Pictures

  1) Matching Cards

Use a set of matching cards. Place a few picture cards on the table (one of each pair).
Then hand your child one or the remaining cards and ask him/her to find the matching card from the pool on the table.
Increase the figure-ground demand of this activity by increasing the number of cards on the table.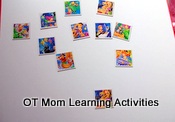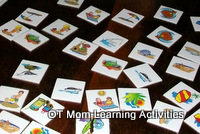 2) Shadow Match

Sometimes you can find shadow match cards like the ones shown below.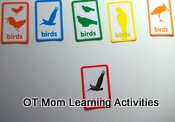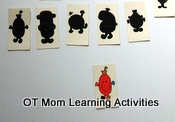 Or you can purchase this inexpensive visual perceptual e-book that contains shadow bingo printouts like the ones shown below.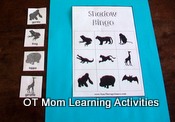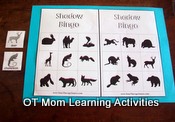 Look out for sheets in your child's shop-bought activity books that require your child to pay attention in order to match identical objects.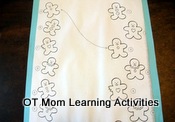 Useful Resources

Therapy Products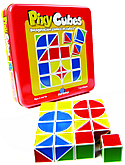 Therapy Products to Improve Visual Discrimination
Worksheets &
Activity E-books

Visual Perceptual Worksheets and Activities
More Visual Discrimination Products from Amazon

I trust you found this page helpful! Thank you for visiting my site!

Visit my figure-ground perception page for more ideas that could help with visual perceptual discrimination skills.
Or read more about the importance of  Visual Perceptual Skills.

Other Helpful Websites...

Preschool Visual Discrimination Activity Cards (on the PreKinders website)

Simple Kindergarten Worksheets
(on School Sparks website)
Honesty Point!
To help you, I have linked to a few useful products from various suppliers that reflect the activities suggested on this page.
I occasionally receive samples in exchange for an honest review, but the opinions expressed are entirely my own.
You are under no obligation to purchase anything, but if you do purchase something through my links, I will receive a small commission that will help support this website, at no additional cost to you.
Thank you!
20% Off!

Back To School Sale!

Get 20% off any OT Mom E-Book Products when you use this discount code at checkout!
backtoschool2016
Don't forget to "update cart" after adding the discount code!
View a description of all my e-books here and don't forget to check out the Bundle Deals. You can apply the discount code to individual e-books and/or to bundle deals!
Offer ends on 30 September 2016.

Was this page helpful?
Please like my page and let your friends know!
Didn't find what you were looking for? Then do a search on my site!