Christmas Angels For Kids:
Make simple bead angels & stars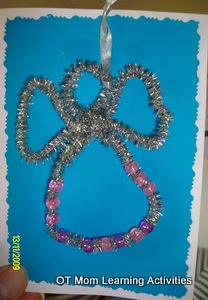 These Christmas angels for kids should be easy for your early elementary child to make. Kindergartners will need some assistance in forming the shape, while Preschoolers will enjoy threading color beads in sequence while you form the shape.
They make great tree decorations, or can be used to decorate Christmas cards.
You will need: chenille sticks ( 2 per angel) (colorful pipe cleaners used for crafts – available in large stores and craft shops), large children's beads that will fit on the chenille sticks, some scraps of ribbon to hang it.
If you will be attaching your angel to a card, you will need stiff paper folded to make a card, and some coloured construction paper for the background.
As with all OT Mom activities, there are very specific skills that are developed when you make Christmas Angels for kids. Let's have a look at some of the skills that your child will be encouraged to develop through this craft: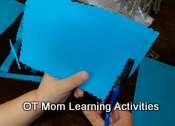 If you make the card, then your child will be practising scissor cutting to cut out the background.




Threading beads – bilateral coordination. Although I do not usually recommend threading small beads if your child struggles with fine motor tasks, this task uses chenille sticks/pipe cleaners and large beads and gives a very rewarding end product! If you request a specific sequence of colour beads, this will develop sequencing skills, which is an essential early maths skill.
Creating the angel shape – following instructions, planning skills



Directions for Christmas Angels for Kids:
| | |
| --- | --- |
| | First, thread the beads onto the chenille stick. We used 11 beads per body of the angel – 4 to go along the bottom, and 3 on each side of the "skirt". |
| | Your early elementary child should be able to bend the wire into a body shape. |
| | First, make a loop for the body with about 2/3 of the stick (all the beads should be in this loop). |
| | Now make a smaller loop for the head and twist the wire to fasten it, and then mould the base into a triangle shape. |
| | Take the second chenille stick and bend it in half so you can see the halfway point. Then twist the halfway point around the neck of the angel. You can add more beads to the wings at this point if you like. |
| | Bend the wings and fasten the ends at the neck. Attach a loop of scrap ribbon or raffia to your angel's head. Now you have a great decoration for a tree or a card! |
| | You could also use a cookie cutter to shape the chenille stick into a star or other shape. My kids found this much trickier than the angels. |
Like these Christmas Angels for Kids?
Try these other Christmas Activities for Kids

Return to Home Page of OT Mom Learning Activities


Receive free regular updates by signing up for my RSS feed - see the block under the Nav Bar. No email address needed!