Free Christmas Word Search!


Viewing this page on your device?
Please adjust your settings to enable images!
I use small photos to illustrate the information and activities that I share, and you will have a much better experience on this website if you can view the images.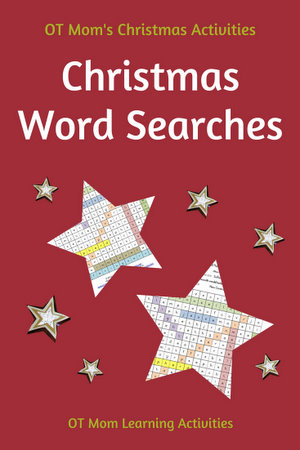 Try a free printable Christmas word search to help improve your child's visual perceptual skills! These OT Mom printables are all nativity based, and suitable for a range of ages.
Looking for letters in a busy background of other letters can help your child to develop better figure-ground perception and learn to pay attention to visual details.
These free printables are downloadable in PDF format, and consist of 2 pages: the first page is the wordsearch itself, and the second page is the answer sheet. They are less than 100KB, and the words are in lower case font, which makes it easier for kids to scan and read.
Just click on the image to download the wordsearch immediately - no need to sign up for anything! You will need Adobe Reader or equivalent to open the PDF.

The "Real" Christmas Word Search

"People of Christmas" Word Search

Nativity Bible Passage Word Search

Christmas Prophecies/Names of Jesus

This is the hardest nativity word search on my site so far, suitable for kids in about third to fourth grade.
Kids search for nine Names of Jesus and prophecies, that come from various Old Testament Scriptures.
This word search is harder than the rest as the grid is larger and contains more letters but fewer words.

If you enjoyed these Christmas nativity printables, check out some of the other Christmas activities on my site!
If your child needs more visual perception resources, check out these pages of my site for activities and information.

Thank you for visiting! I hope you found these resources to be helpful!
If this page was helpful, please share it with your friends!

Didn't find what you were looking for? Try a search of my site!

Fun Summer Activities For You To Do With Your Child!
Click on the image to view the OT Mom E-Book bundle details!

This is an affiliate link - I may earn a commission if you purchase something through this link.
However, you are under no obligation to purchase anything!