Fun and easy ideas to
practice letter formations and numbers
without a pencil!
Poor fine motor skills can seriously hamper your child's handwriting efforts. And it is easy to get frustrated with your child when it is a battle to practice numbers and letters.
As an occupational therapist and homeschooling mom, I have found that these tips have helped other moms of Kindergarten and Grade 1 kids, and I hope they help you, too! You will find the tips in a photo gallery to inspire you along the way! But first, some useful information...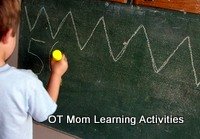 In kindergarten and Grade 1, there are 2 separate sets of skills being taught in handwriting lessons – one is the art of forming numbers and letters and drawing patterns, and the other is the art of controlling the pencil in order to work neatly.

I have found that with this age group, when fine motor skills are poor it really helps to separate the 2 skills, and to deal with them individually.
That means working on fine motor skills WITHOUT pencil-and-paper!

And working on letter formations and patterns for handwriting WITHOUT pencil-and-paper!
Why??
Because, when your child has poor fine motor skills, he/she will struggle with pencil control.
And that means that pencil-and-paper tasks are tiring and frustrating, which takes away from the ability to really apply themselves to learning the correct number and letter formations.
The chances are that your child is bright and understands exactly what the teacher wants; it is just that putting it down on paper is really hard.
So if your child needs to practice handwriting at home, or you are homeschooling, give the opportunity to experience success with these fun and easy activities to reinforce letter formations, number formations and patterns without using a pencil and paper.
At the end of the day, it is really important for your child to develop good habits in letter formations and patterns, so make opportunities to practice these skills, while working on fine motor activities on other occasions.
All of the activities shown in the gallery below are great for practicing number and letter formations as well as handwriting patterns and general shape drawing.
| | |
| --- | --- |
| | Most kids love the chance to write on a blackboard. Draw the patterns for your child to trace over with different colors of chalk for extra practice (I call this rainbow patterns). Hint: fat "sidewalk chalk" is best for kids with poor fine motor skills. |
| | Graffiti appeals to most kids! Using fat sidewalk chalk on a vibracrete wall (or a sidewalk) works well. Write the number for them to trace over; or they can try it on their own as a reward for practicing the formations indoors first. |
| | Of course, getting to play with water on a warm day while scrubbing the wall, just adds to the appeal! |
| | Outdoor activities are always more fun than indoors, and practicing numbers and patterns in the sand hardly seems like work! To keep him focused, draw a "page" in which he should draw his numbers. |
| | Mirror, mirror on the wall…Use a whiteboard marker to draw on a mirror. (It usually wipes off easily with a DRY cloth, but test your mirror first). A whiteboard marker is fatter than a pencil and easier to control, and working on a vertical surface develops wrist stability. |
| | Ok, this one is really messy, but loads of fun. Stick your child in a bath or shower cubicle with a handful of shaving cream to smear and write in. Caution: shaving cream can irritate sensitive skins, so use the sensitive skin variants, and don't let your child get it all over his body. You may prefer to let him keep his clothes on. |
| | Let him try using his whole hand to form the number, instead of just his finger. This may be easier if he struggles to point his index finger, and also makes for a god tactile experience. |
There are some lovely and easy
kindergarten hand exercises
to develop fine motor skills and pencil control, so have a look at those pages if you haven't already. You will be working on pencil control without even using a pencil!
Return from "Letter Formations Without A Pencil" to Fine Motor Activities

Return to Home Page of OT Mom Learning Activities